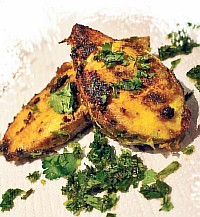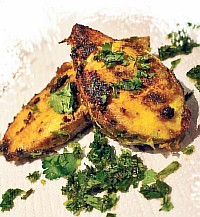 It might be a late monsoon in Bengal but that doesn't deter food lovers from indulging in some Hilsa delights
Ilish Pulao
 
Ingredients:
2 cups Basmati rice
8 ilish pieces
5 cardamom,cinnamon and cloves (each)
4 bay leaves
3 red chillis
1 tbsp ginger paste
3 tbsp ghee
1 lemon juice
1 cup oil (refined)
1 pinch turmeric powder
2 tsp ginger juice
4 green chillies
Method:
Marinade fish pieces with ginger and lemon juice, salt and turmeric powder for 30 minutes.
Soak rice in water and keep for 30 minutes.
Cook rice, remove all the water. Heat oil, shallow fry the fish pieces.
Add red chilli,cardamom, cinnamon,clove,bay leaves, ginger paste, green chilli. Stir a bit.
Take a container with lid. Apply ghee over its inner surface. Keep 2 pieces of fish.
Add one layer of cooked rice and little ghee and salt over it. Repeat the process with balance rice and fish.
Close the container with its lid. Keep it over absolutely slow heat for 15 to 20 minutes.
Tetul Pata Ilish
Ingredients:
125 to 150 gm Hilsa Darne
30 gm baby tamarind
10 gm of tamarind leaves
3-4 green slited chillies
3-4 spoons of mustard oil
2-3 green chilli paste
3/4 tumeric powder
salt and sugar to taste
Method:
Apply salt and part of the turmeric to the fish and keep aside.
Boil the baby tamarind in water and prepare a pulp
Heat oil in a kadhai and temper with onion seeds and chillies.
Dissolve tumeric in water and add to the spices.
Stir and add the fish and saute carefully.
Add the tamarind pulp, chilli paste and water.
Add seasoning.
Cover and simmer.
Now add the washed tamarind leaves.
l Simmer, covered.
l Pour a little mustard oil over the broth and remove.