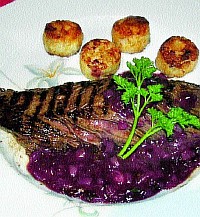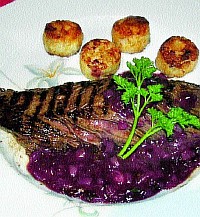 If you eat out a lot, you've probably been noticing the new sauces that are appearing on menus.
Fruit coulises are increasingly being paired with meat like duck and you are also likely to encounter jus and reductions of other exotic ingredients. At the same time, the classic sauces, whether a French Hollandaise, Italian marinara or a South American chimmichurri are all finding a place on fine dining menus. They may take a more minimalist form, both in terms of quantity and richness, but most accomplished chefs will tell you there's no getting away from the core of classic sauces.
The other day, I had a splendid meal of roast leg of lamb, the meat studded with garlic, infused with rosemary, wine and olive oil and served with no more than a small mound of vegetables, saute potatoes and, of course, a divine sauce. It was made simply by gathering the drippings and pan juices from the roasting meat, reducing and thickening it. That, in fact, is what the essence of the French Bordelaise sauce is all about. Here is the recipe for the sauce which brings out the best in a superior cut of red meat.
You will need…
1 tbsp oil
1/4 cup diced shallots
1/4 cup chopped onion
1/4 cup sliced leeks
1/4 cup diced carrot
1/2 cup seeded and chopped tomato
3 garlic cloves
1 bottle of full bodied red wine
2 cups of pan juices from the roasting tray
Warm the oil and sauté shallot, onions and leek until they begin to turn golden. Add the carrot, garlic and tomato. Cook for a minute and add the bottle of wine. Boil uncovered, until the liquid is reduced to half.. Add the pan juice and continue cooking until reduced once more by half. Allow to cool and then whizz for a few seconds in the food processor. Strain and season with salt and white pepper. Heat gently and serve over the meat.
If the Bordelaise is red and robust, the Hollandaise is the classic white sauce, perfect over poached fish, vegetables and, of course, the key element in a good eggs Benedict. Here's the recipe.
You will need…
3 egg yolks
1 tablespoon cream
1 cup melted butter, cooled to room temperature
1 tablespoon lemon juice or white wine vinegar
1/2 teaspoon salt
A double boiler works best, or place a small, heavy bowl in a heavy bottomed pan with water in it. Put the egg yolks and cream in the bowl or upper section of the double boiler and stir with a whisk until blended – do not beat. Place the bowl in the bigger pan with the water and bring gently to a simmer. Stir the mixture continuously till it is thick and creamy. Now add the cooled melted butter in a slow, steady stream, stirring all the time. Once all the butter has been used up, add the lemon juice or vinegar a drop at a time and immediately remove from heat. Add salt to taste.