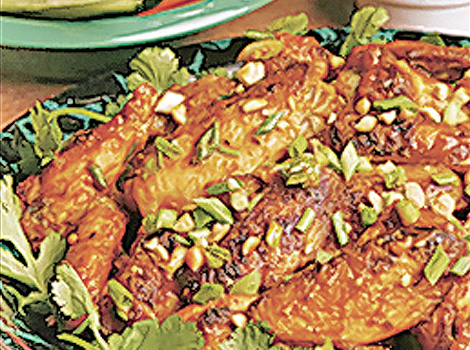 This article was last updated on April 16, 2022
Canada:

Oye! Times readers Get FREE $30 to spend on Amazon, Walmart…
USA:

Oye! Times readers Get FREE $30 to spend on Amazon, Walmart…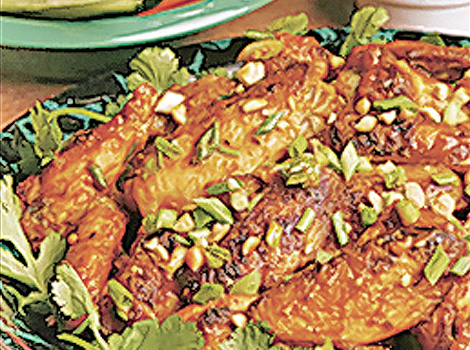 I've lost count of the number of people who have raved about Trishna to me recently. If you live in Bombay, then you know all about Trishna already. If you are reading this in one of the HT's other editions, then you may have heard friends from Bombay bragging about Trishna.
If not, here's what Trishna is: it is a determinedly unfancy restaurant in the heart of Bombay's old business district, a few minutes from the central Flora Fountain, the Jehangir Art Gallery and Bombay House, the headquarters of the Tata empire.
It comprises two rooms, both side by side and though there is no real distinction, the one on the left is usually regarded as the centre of the restaurant. The menu is extensive. There's a junk Chinese section and a tandoori selection but most people go for the Mangalorean menu and for the sea food in particular.
To Trishna must go the distinction of creating the craze for whole crabs. In the old days, when you ordered a crab, they would ask you if you wanted a male or a female. Then they would bring it to the table, still alive, its claws kicking away at the air. You okayed the choice, bade the poor beggar a cheery goodbye and they would take him off to the kitchen and assassinate him. When you next saw him, his body would be submerged in a sea of garlic butter or a puddle of pepper sauce, his soul having already ascended to crustacean heaven.
These days many restaurants pull the live crab stunt – though Trishna rarely bothers any longer. But Trishna was the original and all the others are merely following in its footsteps.
The restaurants of central Bombay had traditionally been run by Bunts, a community of restaurateurs from Udipi (notable members: Aishwarya Rai, Shilpa Shetty and Sunil Shetty who is himself a restaurateur) who made their name selling idlis and dosas to office workers in Bombay. Sometime in the 1980s, they found new fame serving the classic seafood dishes of their native Mangalore.
Trishna was at the forefront of that trend and stood out because it attracted a well-heeled South Bombay clientele who loved the idea of eating ethnic. Soon the foreign media discovered Trishna. It became a staple of articles on the Bombay food scene and its moment of glory came when the late R W Apple Jr of The New York Times wrote about it for his paper, treating it as his discovery and raving about the crab.
If you live in Delhi then think of Swagath, a sort of Trishna clone with a similar menu, also run by an Udipi restaurateur (Jairam Bannan) who made his name selling idlis and dosas in Sagar. Many of Swagath's dishes are copies of Trishna's and I suspect that at least some Trishna cooks were stolen for the opening of Swagath.
I hadn't been to Trishna for something like five years. My memories of the restaurant told me that it was a fun place but that much of the food was not authentically Mangalorean. The curries were rubbish and many of the masalas had been Bombayfied so that they tasted nothing like they should.
Nevertheless, I was delighted to be taken there a couple of weeks ago by a friend who is in the hotel business and swears by the food. It helped that my friend is a regular. We got exceptional service and I had the distinct sense that at least some of the staff were auditioning for jobs. (Worth a try. My friend once went to a restaurant in Cochin along with a colleague. They ate wonderful squid, marched into the kitchen, and asked who had cooked the squid. When a man put his hand up, they promptly hired him and today, he cooks at their hotel, earning several times his old salary.)
My visit this week confirmed my original view: the food was as authentically Mangalorean as Mickey Mouse. The clientele was about 50 per cent touristy (and white) and the manager told us proudly that 80 per cent of his tables were booked by guests from the Taj and the Oberoi. That's why, he explained, it did not make sense to cook authentic Mangalorean food. The branch in Andheri, which is largely patronised by locals, served the real thing, he said. "But over here, we cater mainly to foreigners."
But here's the thing: I had a terrific meal anyway. We had two large crabs (there were four of us) in garlic butter (not a sauce that is especially well known on the Udipi coast) and they were significantly better and more enjoyable than the crabs at Swagath or Gajalee, my own favourite of Bombay's Mangalorean restaurants.
Some of this had to do with the quality of the fish. Because they knew my friend, the condemned crabs were brought to our table before being put to death (other tables, I noticed, did not get the same treatment) and so of course they were fresh, but they were also exceptionally tasty. A large pomfret was so fresh that it had not a whiff of the fishy smell that bedevils fish in most Bombay restaurants.
But it also had to do with the cooking. My friend ordered large prawns. The manager served them (and yes, we saw them before they were cooked) but pointed out, accurately, that in his experience, such prawns tended to be rubbery and tasteless. "They only look good because they are big," he said. (Given that my friend ordered them each time, I guess the manager has just blighted his prospects of being offered a job by my friend's hotel.)
Nevertheless, for all of the manager's protestations, the prawns were firm and fleshy. A dish of masala fried squid was exquisite, the calamari cooked to just the right level of tenderness and taken from the oil seconds before they could turn rubbery. The fried bombil was the best I've ever had.
The non-Mangalorean food (to the extent that what we ate was Mangalorean at all) was of dubious provenance. The naans had not risen and looked like tandoori rotis. A Hyderabadi dal was one that is as yet unknown in Hyderabad. But it was still amazingly good. If you forgot that the naan was wrong and just used it to soak up the crab sauce, it was fine. (Trishna does no appams at its main branch apparently on the grounds that foreigners don't know what they are; the Andheri branch, which has fewer foreigners, serves them). The Hyderabadi dal, made from tuver and masur dals and distinguished by a garlicky tadka was to die for. It didn't matter whether it came from Hyderabad or not; it was terrific anyway.
After we had finished this vast meal, washed down with a bottle of Kingfisher (it came to a little over Rs 7,000 which is not bad considering how much we ate), I reckoned I knew why Trishna was such a phenomenon. The vast majority of people who visit it imagine that they are forsaking the glitzy five star world of Bombay for some authentic south Indian food. In fact, the food is so inauthentic as to be laughable. But it is still remarkably tasty.
What Trishna has done is to tweak Mangalorean dishes so that they appeal to big city tastes. In the process, it has made them more accessible. It has also turned eating into a fun experience. In Delhi, Bukhara did something similar by encouraging guests to wear bibs and tear their chickens with their bare hands. Trishna makes diners wear aprons so that when they suck the meat out of the crab shell, it doesn't matter if some of the butter dribbles down their chins and onto their chests. It's the idea of eating as a free-for-all, exuberant sensory experience.
Others who have tried to replicate the menu (with the exception of Bannan whose Swagath stays true to the Trishna model) make the mistake of sticking to traditional recipes. At the Konkan Café, my friend Ananda Solomon serves wonderful food, using recipes sourced from coastal homes and often, some handed down by his mother.
At ITC's Dakshin restaurants, the emphasis is also on authenticity. No Mangalorean who comes to the Dakshin in Bangalore will claim that the food is bogus – it is recognizably the real thing.
But while there's a time and place for the real thing, there's also a demand for junk Mangalorean, for food that doesn't claim to be handed down over generations but which is essentially a restaurant cuisine, devised to appeal to the big city palate north of the Vindhyas and especially in the centre of South Bombay.
Trishna works because (a) the recipes have been perfected so that they appeal to the general eater (b) the experience is fun, both daring and still, safe (c) the quality of the fish is excellent and (d) because the kitchen knows its stuff so that each dish is cooked just right; nothing is over-cooked or over-seasoned, under-sauced or
under-done.
In its own way, this is a bigger deal than just reproducing traditional recipes. It takes dedication to produce authentic food. But it takes flair to turn it into a hot cuisine that sweeps urban India.
You can publish this article on your website as long as you provide a link back to this page.