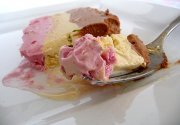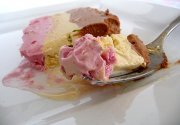 Spumoni
Ingredients:
• 4 egg yolks
• 2 tablespoons of cold water
• 1/4 cup of sugar
• 1/2 cup of marsala
• 1/4 cup diced mixed candied fruit
• 1 cup heavy cream, whipped
• chocolate ice cream
Directions:
1• Beat yolks well. Add the water, then sugar, the wine and beat well.
2• Place mixture in double boiler over hot water and cook over low heat, beat the entire time until mixture thickens.
3• Remove from heat and cool. When cool, stir in candied fruits and fold in the cream. Pour into a tray.
4• Make chocolate ice cream. When cool, spoon it over the first layer in the tray and freeze overnight.