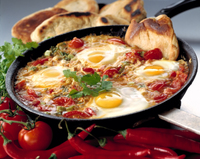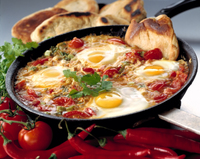 Mexican Eggs
Ingredients:
6 eggs
4 slices bacon, diced
1 (28 ounce) can stewed plum tomatoes, broken up (drained)
1 1/2 cups Monterey Jack cheese, cubed
2 cloves garlic, minced
1 onion, minced
2 tablespoons chopped fresh green chilies
1/4 cup chopped fresh cilantro
1/2 teaspoon dried oregano
1/2 teaspoon salt
On the side
flour tortillas (warm)
guacamole
Preparation:
In a 10-inch frying pan, cook the bacon until crisp. Remove from the pan using a slotted spoon and drain well. Add the garlic and onion to the bacon drippings in the pan; cook until the onion is soft. Stir in the chilies, tomatoes, oregano and salt. Bring to a boil, stirring constantly. Continue boiling for about 15 minutes (until the sauce thickens). Reduce the heat to low.
Crack the eggs and slowly slip into the sauce, one at a time. Sprinkle the bacon and cheese over the top. Cover and simmer for about 5-6 minutes (until the eggs are set). Sprinkle with the cilantro. Serve with warmed flour tortillas and guacamole on the side of the plate, if desired.