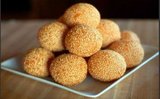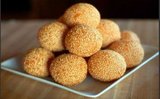 Deep Fried Sweet Potato Balls
Ingredients:
1 lb sweet potatoes
1 cup glutinous or sweet rice flour
1/3 cup of brown sugar
½ cup sesame seeds
Oil for deep frying
Directions:
Put the potatoes in a saucepan, cover with water and bring to the boil. Reduce the heat and simmer for 15 to 20 minutes or until the potatoes are tender. Drain and peel. Mash the potatoes, then beat in the glutinous rice flour and sugar.
With dampened hands, form the mixture into walnut-sized balls. Roll each ball in sesame seeds until well coated.
Heat the oil to 160°C/325°F. Deep fry the potato balls until golden brown. Drain on absorbent kitchen paper. Serve hot as dessert.