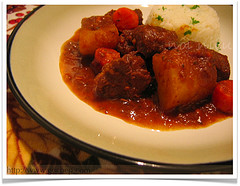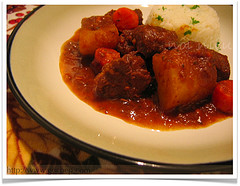 Potato Thoi
Ingredients:
2 potatoes (medium size)
3 green chillies
2 red chillies
½ tsp mustard seeds
3 tsp oil
1 spring curry leaves
asafoetida water
salt to taste
Method:
Boil potato. Peel. Cut into small cubes.
Drop them into 3 cups of water. Mash lightly.
Add slit green chillies and salt to taste. Cook.
Bring to boil. Remove from flame.
Season with red chilli bits, mustard and curry leaves oil.
Add a few drops of asafoetida water. Cover vessel.
Similar thoi can be prepared with one sweet potato in place of 2 potatoes.