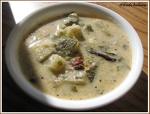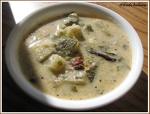 Make your taste buds go crazy with tender coconut and cashew nut sukke. Here's a delight for you.
Tender coconut and cashew nut sukke
Ingredients
– Empty coconut shell 1
– Tender coconut flesh 3 cups (400 grams)
– Cashew nuts 30
– Oil 4 tablespoons
– Chopped spring onions with leaves 3 cups
– Tomato, chopped 1 large
– Ginger-garlic paste 1 teaspoon
– Turmeric powder 1/2 teaspoon
– Chilly powder 1 teaspoon
– Garam masala powder 1 tablespoon
– Tomato ketchup 2 tablespoons
– Coriander leaves 2 tablespoons
– Salt to taste
Method:
1. Cut the tender coconut flesh into two-inch strips and set aside. Soak the cashew nuts in water.
2. Heat the oil in a pan and sauté the spring onions till they change colour. Add the tomato and cook till soft. Add the tender coconut and cashew nuts and sauté for two minutes.
3. Add the ginger-garlic paste, turmeric, chilli, and garam masala powders and one cup of water, and cook till the water evaporates. Add the salt and tomato ketchup and mix well.
4. Garnish with coriander leaves and serve hot. You can also serve this mix as an accompaniment to paranthas and hot jeera rice.