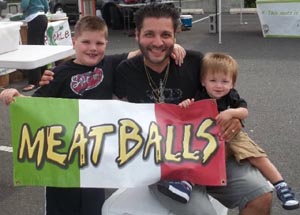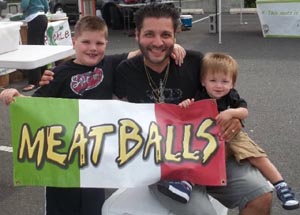 Johnny "Meatballs" DeCarlo is what one might call a meatball impresario…this enterprising and multi-talented young tycoon knows his way around a film studio as well as the meatball business. He starred in the reality series, MY BIG FRIGGIN' WEDDING on the Vh1 network. And Johnny's autobiographical cookbook and storybook, "MY BIG FRIGGIN' BOOK" was released on May 11th 2011 and is available on Amazon (Balletsa Publishing).
He was born and raised in New Jersey, is Italian-American, a husband and a father of two young boys: Matthew & Christian.
In addition to his busy meatball cart business Johnny has also produced and starred in many food and entertainment videos which can be seen on his youtube channel and he stars in a weekly cooking show called CUGINE CORNER. A blog he started featuring his many great recipes. As you may have guessed there is a lot more to "Johnny Meatballs" then meets the taste buds.
This busy Italian American family man is the owner of JOHNNY'S MEATBALLS IN SUNDAY GRAVY, a wholesale meatball company based at STAR RAVIOLI in Moonachie, NJ. This is more or less his stomping grounds, or, in this case, his meatballs on wheels grounds. There's a reason his meatballs are so popular. His delicious meatballs are made not only of pork & beef but also veal) these are the only commercially produced meatballs on the market made of all three meats and can only be purchased at CORRADO'S in Clifton, Wayne and Fairfield NJ, as well as from the world's most unique food cart, the THE MEATBALL MOBILE.
During the Spring and Summer, Johnny ,his rolls, the gravy (sauce) and the meatballs will eventually show up to just about every local festa , street fair and farmer's market held during the spring and summer season. The meatball cart and all that comes with it, food-wise, is also available for private and public events, small and large!
Often referred to as "The Meatball King of New Jersey" Johnny has won cook-offs for his original recipes at the CHEF CENTRAL and has been an invited speaker at the CALANDRA INSTITUTE , a very prestigious invitation. Johnny's autobiographical cookbook and storybook, "MY BIG FRIGGIN' BOOK" was released on May 11th 2011 and is available on Amazon (Balletsa Publishing).
"So far, out of every event we've been doing, it seems that these farmers markets are consistent, reliable ,venues for us," says Johnny. Like many of us he can recall the way it was back in the day, a time when our parents and grandparents had their own home gardens. Now almost every neighborhood has these open markets instead…providing people with Jersey-grown tomatoes and basil plants–basically giving them their own backyard garden experience without the time-consuming work of getting your hands in the dirt.
Here on the west coast we have something called a 'Farmer's Market", but something tells me those New Jersey gardeners have a special knack for growing the sweetest fruit and tastiest veggies. Its something past on from generation to generation.
Johnny's says his purpose for being there allow people to get the "Sunday dinner experience" on a weekday…in this go-go fast world, providing working moms and dads the opportunity to take home a hot dinner of his meatballs is a real satisfying thing. His philosophy is: "If you can't cook every night, at least eat a "homestyle meal. And if people are visiting me instead of the Golden Arches, I have accomplished my goal."
These outstanding meatballs are made in a commercial kitchen at a ravioli factory once a week. The owners are long-time family friends. Johnny supervises and helps with the production which is usually 500 lb. runs. He will take some out with him for the week and then usually freeze a portion. A co-packer helps produce his product based on Johnny's personal recipe and supervision. All the meatballs are fully cooked before the meatball wagon arrives at its destination so they have only to re-heat them on the meatball cart on a propane run warming station. They have also sold ravioli off of the cart and even hot dogs. The cart was built on a trailer so it is simply towed along off their pickup truck and then when they reach their location the cart is unhitched and then just pushed to wherever it is to be set up.
Johnny and his meatballs generally go to events in New Jersey but have ventured to Pennsylvania. By next year they hope to built a whole line of carts (a "meat fleet" as johnny calls them) and also franchise them across the country.
The meatball mobile travels all across The Garden State and beyond. But they try their best to set up shop in a regular locations to serve all their regular weekly customers. Johnny hopes to open a storefront cafe someday soon, but until then his loyal followers can find him in Heights every Tuesday and Englewood every Friday!
Recently, the meatball mobile rolled into the Hackensack Classic Car Show on the campus of FDU College, not as a unique contestant in the show, but to sell those delicious meatballs on a roll. "Who knows", says Johnny, (a very positive thinker) his meatball cart just might be among one of those entered in the mobile food carts and one day win himself a trophy!!
Till then, just being told by a everyone who tastes his famous meatballs and says they are the best they have ever tasted is an honor enough.
Where will JOHNNY MEATBALLS be rollin' to next? Check back constantly on his official facebook fan page.. JOHNNY MEATBALLS ON A ROLL, THE WORLDS FIRST MOBILE MEATBALL CART and Google him at "Johnny meatballs on a roll, or just google "Johnny meatballs". And in the meantime check out his regular stops at Hasbrouck Heights and Englewood!