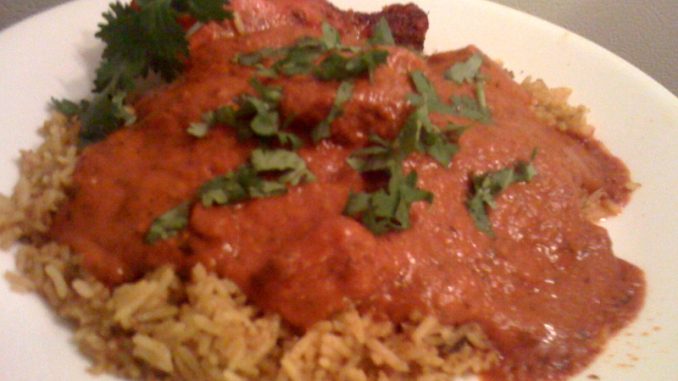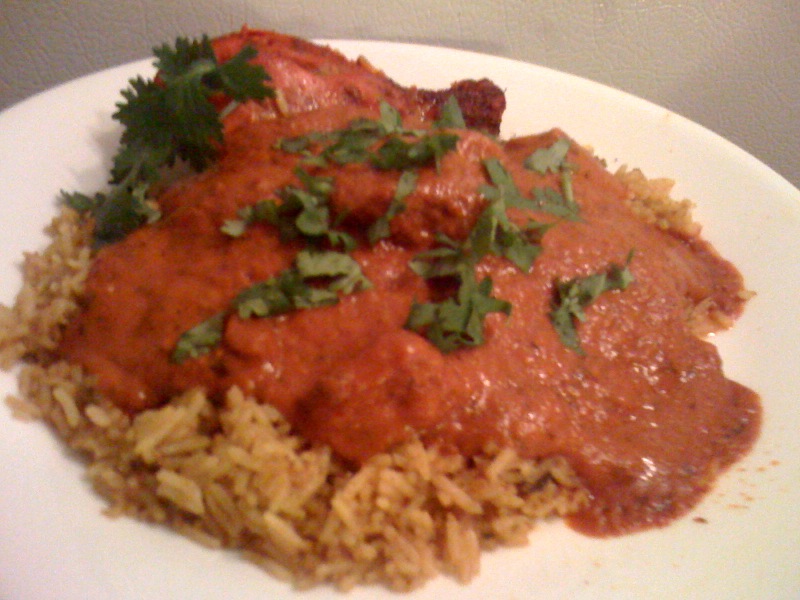 Butter Chicken is a very POPULAR Dish but always it has been assumed to be a very sophisticated recipe. I have tried this very simple technique. It's worked out great, even my friends love it.

Ingredients

1 can (791 ml) Crushed Tomatoes
1 pint (500 ml) Lt. whipping cream
1 lb Tandoori Chicken Breast (Recipe Available)
1/4 cup Long-thin sliced ginger
1/2 cup Fenugreek Leaves(Dried)
3 tbl Sp ground coriander
1/2 tbl Sp red pepper
Salt to taste.
1/2 cup Green Coriander (chopped) To Garnish

Preparation
1. In a deep heavy bottomed pot empty the can of crushed tomatoes. Rinse the extra tomato with half a can of water. Add coriander, ginger and red pepper. Cover and let it simmer for 20 minutes on medium heat. stir half way through so that it does not stick to the bottom.
2. Add the cream and again rinse the cartonwith half the water, add salt to taste and add the crushed fenugreek leaves (with your palms.) Add the chicken cut in cubes. Let it cook for another 10-12 minutes.
Garnish with green coriander, ready to serve.

Cook's Notes
To add heat to the dish, you can add a couple of cut green chillies. It's best served with Naan or rice. If it becomes too spicy always have a serving of Raita