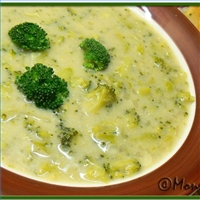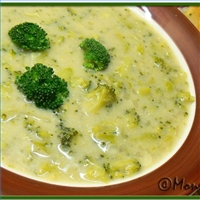 Why is it that what tastes good is usually bad for you? I'm always sighing as I bite down on something and get that first rush in my taste buds of some glorious culinary masterpiece knowing that I am probably taking in way over the recommended daily caloric intake if not further clogging up my arteries and putting myself one step closer to a massive heart attack and/or stroke. Why does sinning feel so darn good?
I ran across a recipe for cream of broccoli soup where the author was attempting to reduce the sin while maintaining the savour. In studying the instructions, I realised that part of what we do has been inherited from the French who demonstrate a fondness for all things rich. Nothing wrong with that except for our now acquired knowledge about how fat builds up in our arteries until our poor heart can no longer pump our blood! But it's that richness which tastes so darn good! Ha! Ya can't win? Or can we?
The foundation of many soups, gravies and stews is something called roux. This thickening agent is basically a cooked mixture of flour and fat where the fat may be butter, vegetable oil or lard. Hmmm, lard? This looks like a good place to start to try and find an alternative which may not be so hard on our circulatory system but we end up with a trade-off. It's fat which equals flavour so if we give up the fat, we are naturally giving up flavour. Can we compensate or do we just do without? Sometimes just replacing butter with margarine may be replacing an ingredient with a healthier choice.
Ingredients
My apologies. My conversion to metric is very imprecise.
1 pound (1/2 kg) fresh chopped broccoli
8 oz (0.2 kg) mushrooms
4 oz (0.1 kg) butter
1/2 cup flour
1 quart (0.9 litres) chicken stock
1 cup 2% milk
1 cup sour cream
1 teaspoon salt
1/4 teaspoon pepper
1/4 teaspoon tarragon
Step #1
Steam the broccoli in 1 cup water until tender, about 6 to 7 minutes. Put to the side without draining.
Step #2
Melt the butter then slowly add flour to make a roux. It will take 2 to 4 minutes to cook the roux. I've added a couple of YouTube videos below which demonstrates this step.
Step #3
Use a whisk to slowly add chicken stock to the mixture. Bring everything to a boil for a few minutes in order to thicken chowder.
Step #4
Now lower heat and add the rest of the ingredients. This is where you will add in the undrained broccoli. If you want, you can bring your soup to a slow simmer to thicken it up.
This makes about 8 servings but that will depend on how much you like it and how big of a serving you take!
Making it healthier
You can play with the recipe to try and make the dish healthier and here healthier means less fat and possibly less salt. The original recipe called for a roux consisting of 8 oz of butter and 1 cup flour so that part of it has already been cut down. Don't forget that margarine could substitute for the butter. While 2% milk is a good choice, you could try skim milk to further reduce the overall fat in the dish. Try fat free sour cream.
In the end, any experimentation means you will lose some of the richness and some of the flavour. Do be careful about trying to compensate by adding salt. A lot of prepared foods rely on this trick; that is, they don't have a lot of flavour to start with so the manufacturer throws in a ton of salt to fool us into thinking it tastes good. We're really just getting a whole lot of salt instead of flavour and all that salt isn't good for us. In my blog
Hot Dogs: Worth their weight in Salt
I talk about the amount of salt we are currently eating and the new guideline of 1,500 mg of salt per day.
How to make a roux
Here are a few references which will provide all of us with some important tips on making this most fundamental of culinary building blocks.
Chef Tips: Jason Hill: How to make a roux
http://www.youtube.com/watch?v=qx6tZ8ZU0qc
Hubpages: How to Make a Roux By Beryl Stokes
http://www.youtube.com/watch?v=_VRQTZpNVfw
Click
HERE
to read more from William Belle.
References
Wikipedia: roux
Roux (pronounced /ˈruː/) is a cooked mixture of wheat flour and fat, traditionally clarified butter. It is the thickening agent of three of the mother sauces of classical French cooking: sauce béchamel, sauce velouté and sauce espagnole. Butter, vegetable oils, or lard are commonly used fats. It is used as a thickener for gravy, other sauces, soups and stews. It is typically made from equal parts of flour and fat by weight. When used in Italian food, roux is traditionally equal parts of butter and flour. By contrast, Hungarian cuisine uses lard (in its rendered form) or – more recently – vegetable oil instead of butter for the preparation of roux (which is called rántás in Hungarian).
Alternatives
As an alternative to roux, which is high in fat and very energy-dense, some Creole chefs have experimented with toasting flour without oil in a hot pan as an addition to gumbo. Cornstarch mixed with water (slurry), arrowroot, and other agents can be used in place of roux as well. These items do not contribute to the flavor of a dish, and are used solely for thickening liquids. More recently, many chefs have turned to a group of naturally occurring chemicals known as hydrocolloids. In addition to being flavorless and possessing the ability to act as a thickening agent, the resulting texture is often superior, and only a small amount is required for the desired effect.
Wikipedia: Clarified Butter
I'm throwing this reference in just as a reminder of exactly what clarified butter is and how it's made. The term is bandied about in cooking all the time but do we all know what it really is?