This article was last updated on April 16, 2022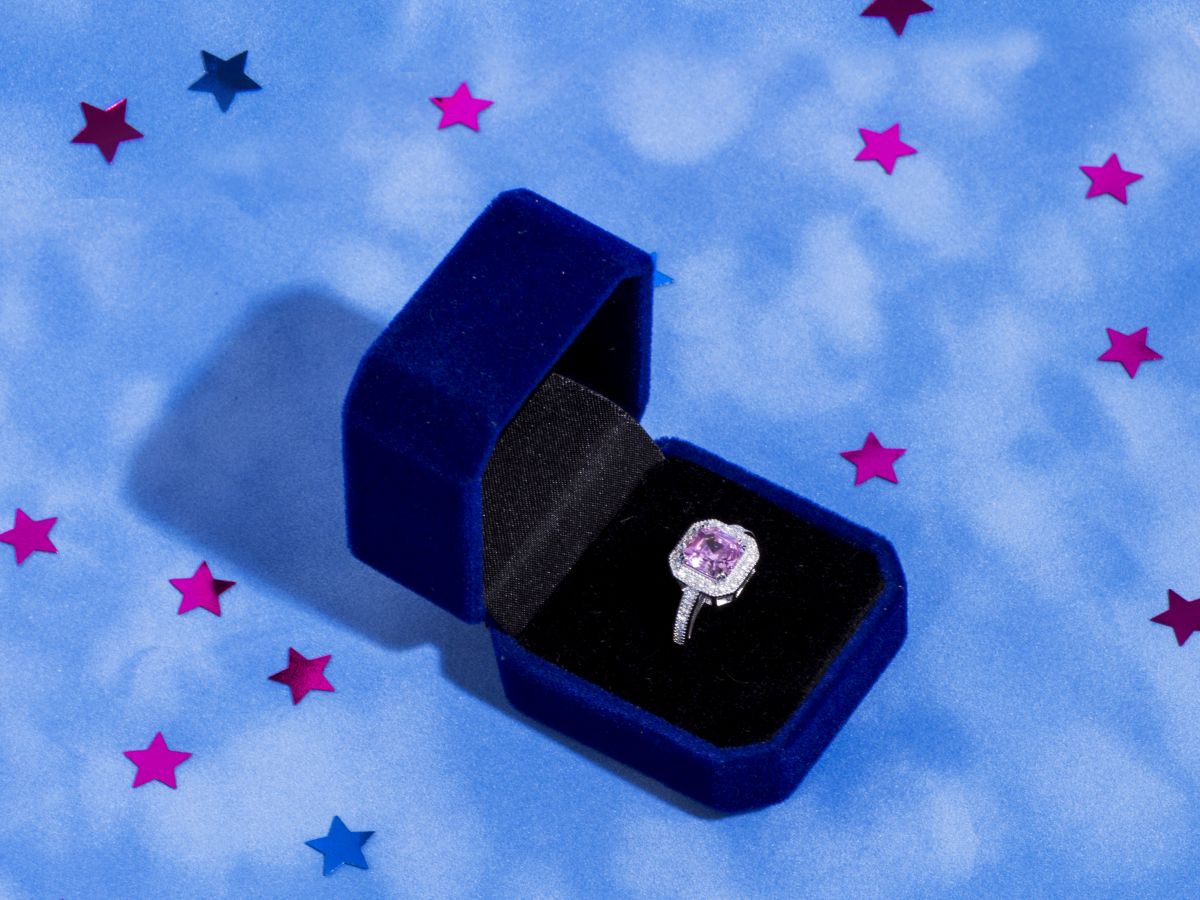 You probably clicked on this headline because you're "looking." Maybe you're in a relationship that's headed down the aisle and you're on the hunt for an engagement ring; or perhaps you're on a personal journey and you want to reward yourself for reaching a milestone. No matter your motive or where you are in the process of investing in your first big-purchase real-deal ring, you may be a little overwhelmed; because, as jewelry designer and antiques expert Erica Weiner points out, there are a lot of options.
"We all have to have these little conversations with ourselves," says Weiner. "Do I want the design-it-yourself custom kind of a thing? Do I want a vintage ring, and have it come with all those crazy vibes and history? Do I want to get something sparkling and new?" These are essentially the three avenues for today's fine-jewelry shoppers, and within these categories there are thousands upon thousands of options.
Armed with the goal of demystifying this process, we talked to several jewelry-industry experts who helped us understand what to look for, how to find designers that you like, and the importance of entering into a long-term relationship with your jeweler. Our guidelines for ring shopping are meant to arm you with good questions, the right expectations, and the tools to find the ring that's right for you. And of course, we've included some shopping inspiration, at a variety of budgets, so that you can start your search — or, if you see something here you really love, end it.
[AdSense-C]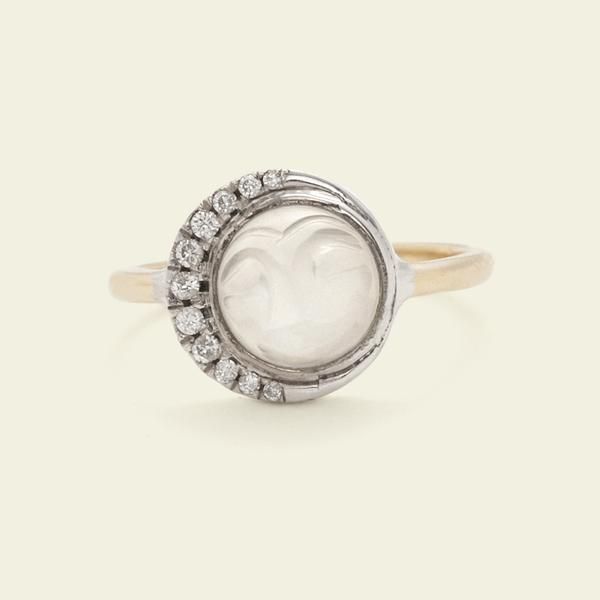 You Can Have Whatever You Like
Toss out the preconception that you have to stay within a certain style when you're marking a special occasion in your life. This ring could be with you forever and should feel like you, not the circumstance. "You have to buy what you love," says Jenna Wise, co-founder of The Stone Set, an encyclopedic online destination for jewelry fans. "Don't buy based on trend…invest in what speaks to you."
1909 by Erica Weiner Man in the Moon Ring, $1600, available at Erica Weiner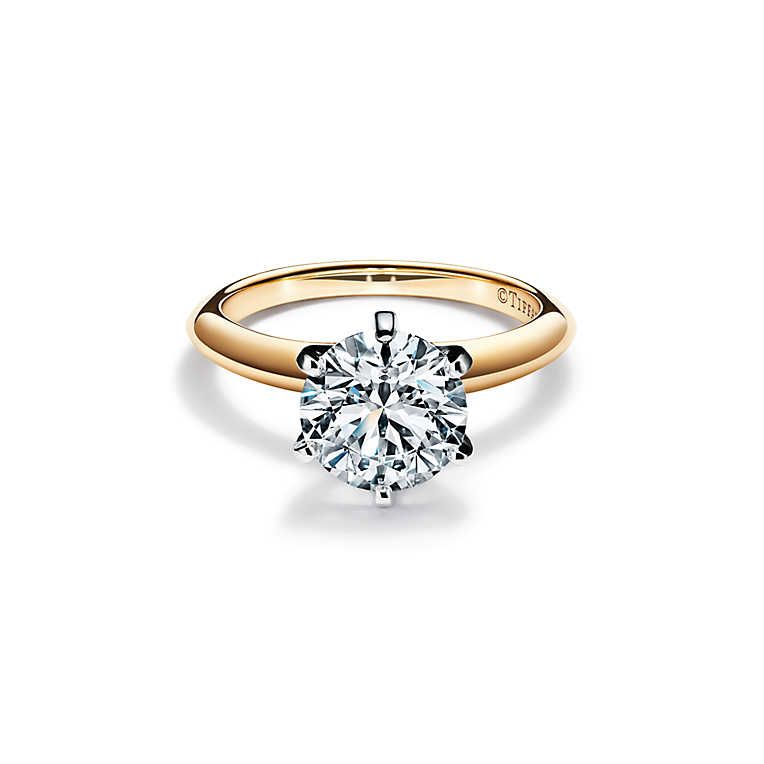 Follow Your Intuition
Perhaps you are an avid traditionalist and swoon at the sight of a sparkling, round-cut stone perched in the six prongs of a classic "Tiffany" setting — something that the brand's chief gemologist Melvyn Kirtley described as "the most beautiful thing you can imagine." However your taste skews, follow your gut when making the choice — kind of like you did when you decided to get hitched or accepted that new job. "That's what happens when you're looking at a diamond or an engagement ring. You see 'the one' [and] you literally just fall in love," says Kirtley.
Tiffany & Co. The Tiffany Setting Engagement Ring, $2030, available at Tiffany & Co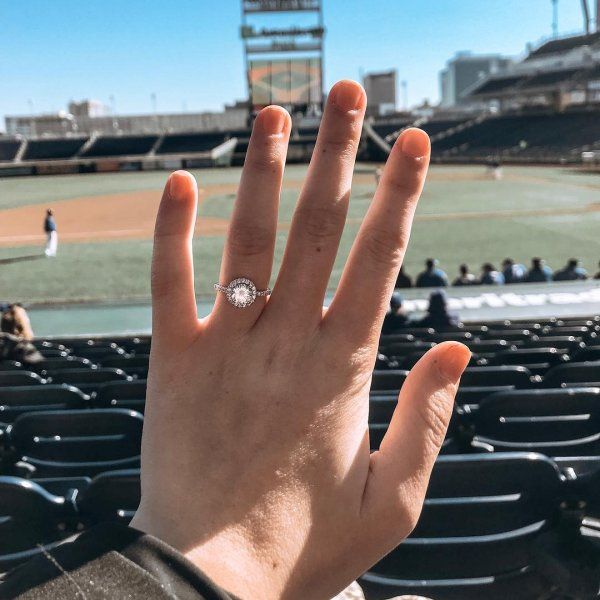 Keep Your Eyes Peeled
Now that you're an adult (kind of), we're telling you that it's okay to talk to strangers — if you like their stack, of course. "People love talking about their jewelry," says Stone Set co-founder Emerald Carroll, so you shouldn't be shy about striking up a conversation and asking for details if you see a ring IRL that's simply TDF.
Helzberg Diamonds Helzberg Diamond Masterpiece Engagement Ring, $3999, available at Helzberg Diamonds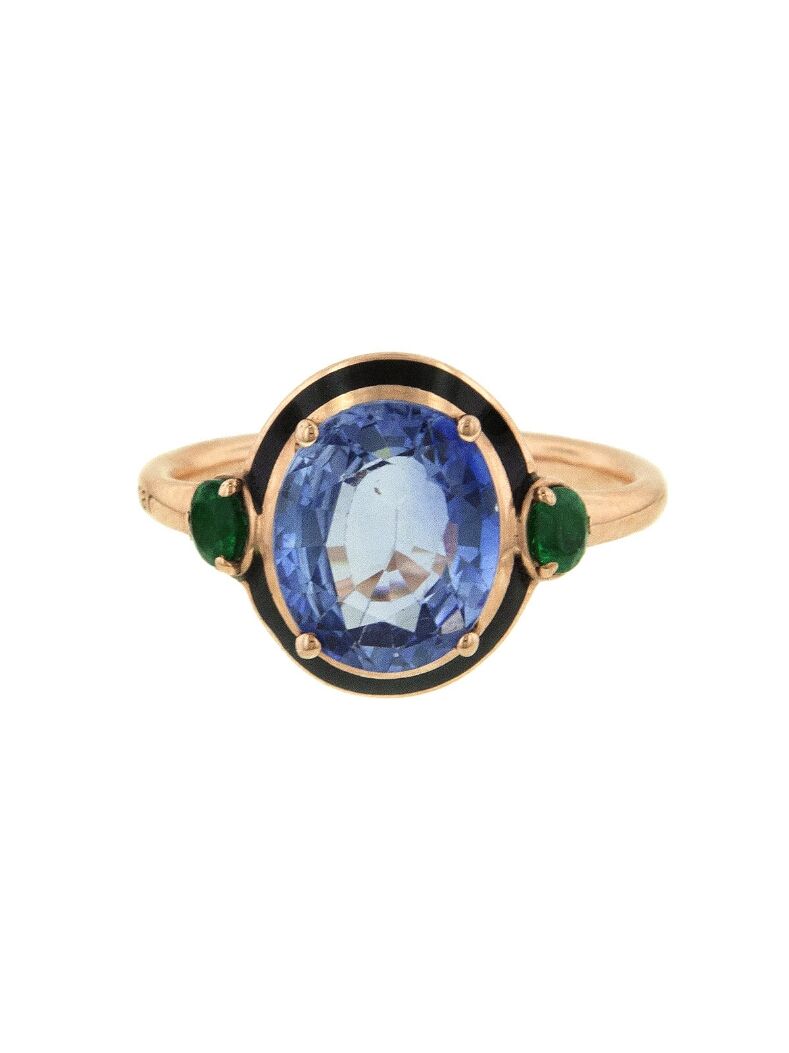 Browse and Bookmark
Carroll cited retailers like online mecca Ylang23, Paris's White Bird, and Brooklyn-based indie jewel box Quiet Storms for inspiration and discovery. (And, lest we forget, there's always Instagram.)
Selim Mouzannar Blue Sapphire and Emerald Ring, $8212, available at Ylang23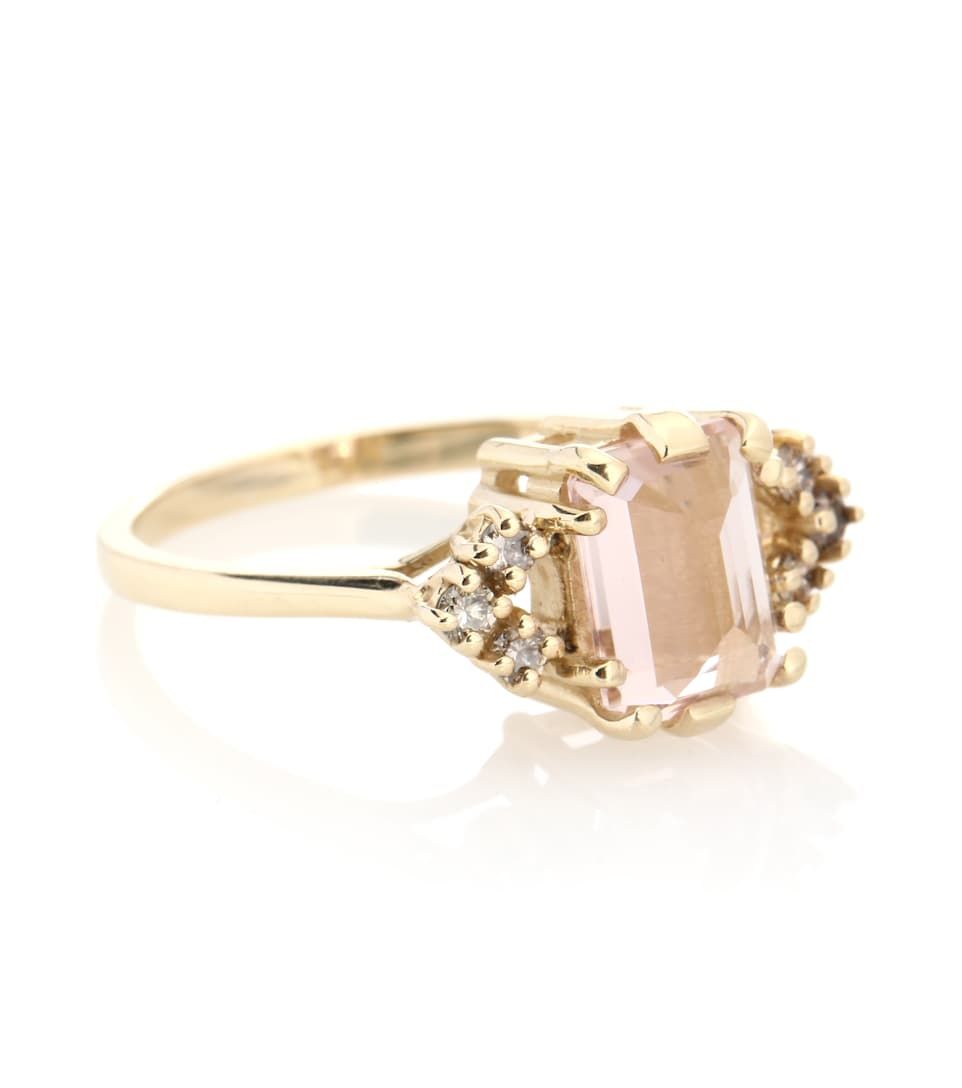 Pry Before You Buy
Wise and Carroll emphasized the importance of finding a jeweler that you trust. Ask yourself, says Wise: "Do they align with your values and what you love and stand for?" Excellent customer service is also paramount — Refinery29 Client Director Kaitlin Drexler ended up with an Anna Sheffield ring partially because of her "really positive experience" at the designer's store. You should feel completely at ease asking lots of questions whether it's in person, on the phone, or over email from a verified online seller.
Anna Sheffield Bea Arrow Ring, $1950, available at My Theresa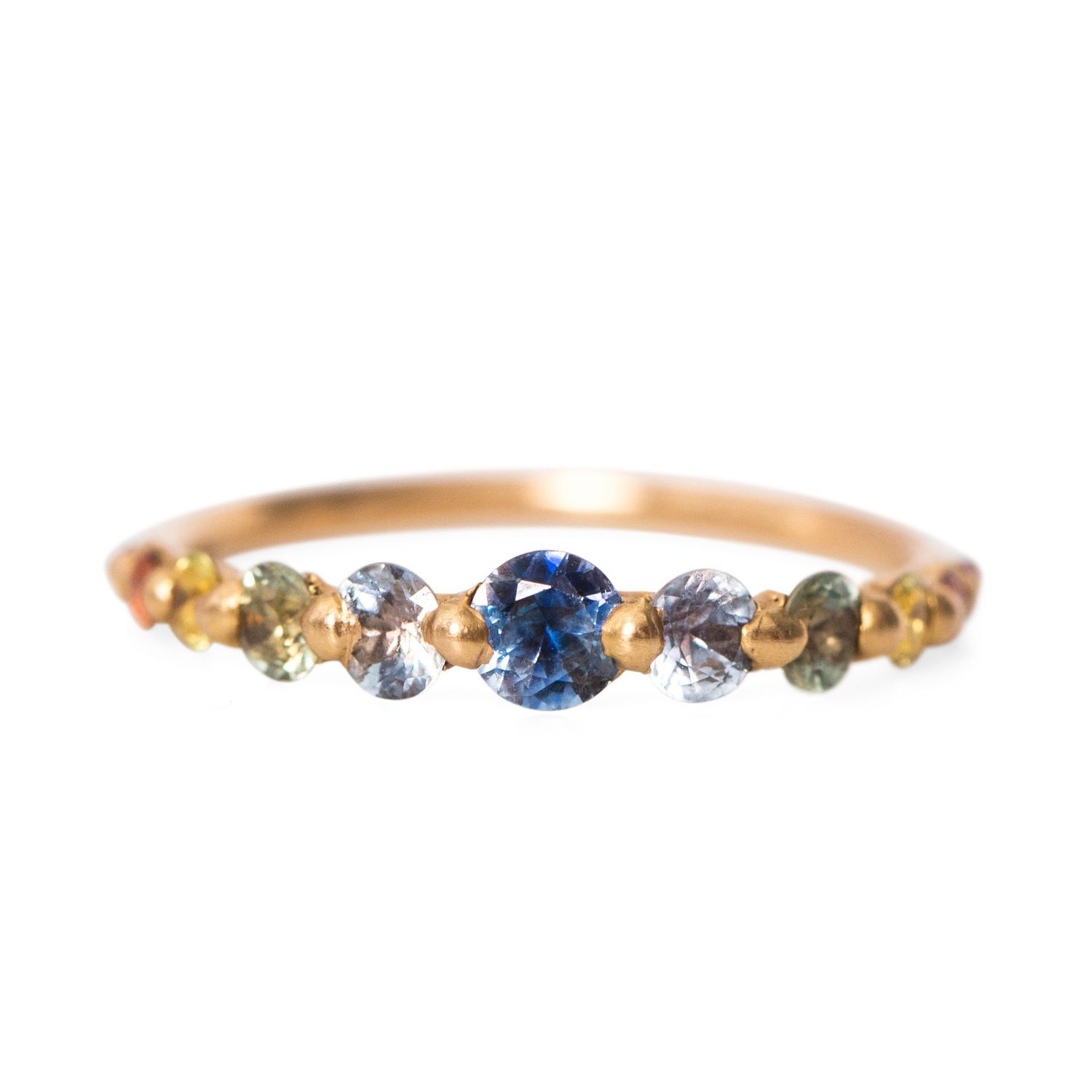 Forge A Bond
Another reason to establish a long term relationship with the person who's selling, making, or repairing your ring: it's a living, breathing object and will need maintenance over a lifetime, so you'll likely find yourself returning to the shop for checkups, fixes, and perhaps, as time goes on, new purchases. The merchant-customer bond "can be a very enriching relationship over the course of the rest of your life," says Wise, so always ask about warranty and repair policies for your new purchase to start this partnership on the right foot.
Polly Wales Iris Ring, $2420, available at Catbird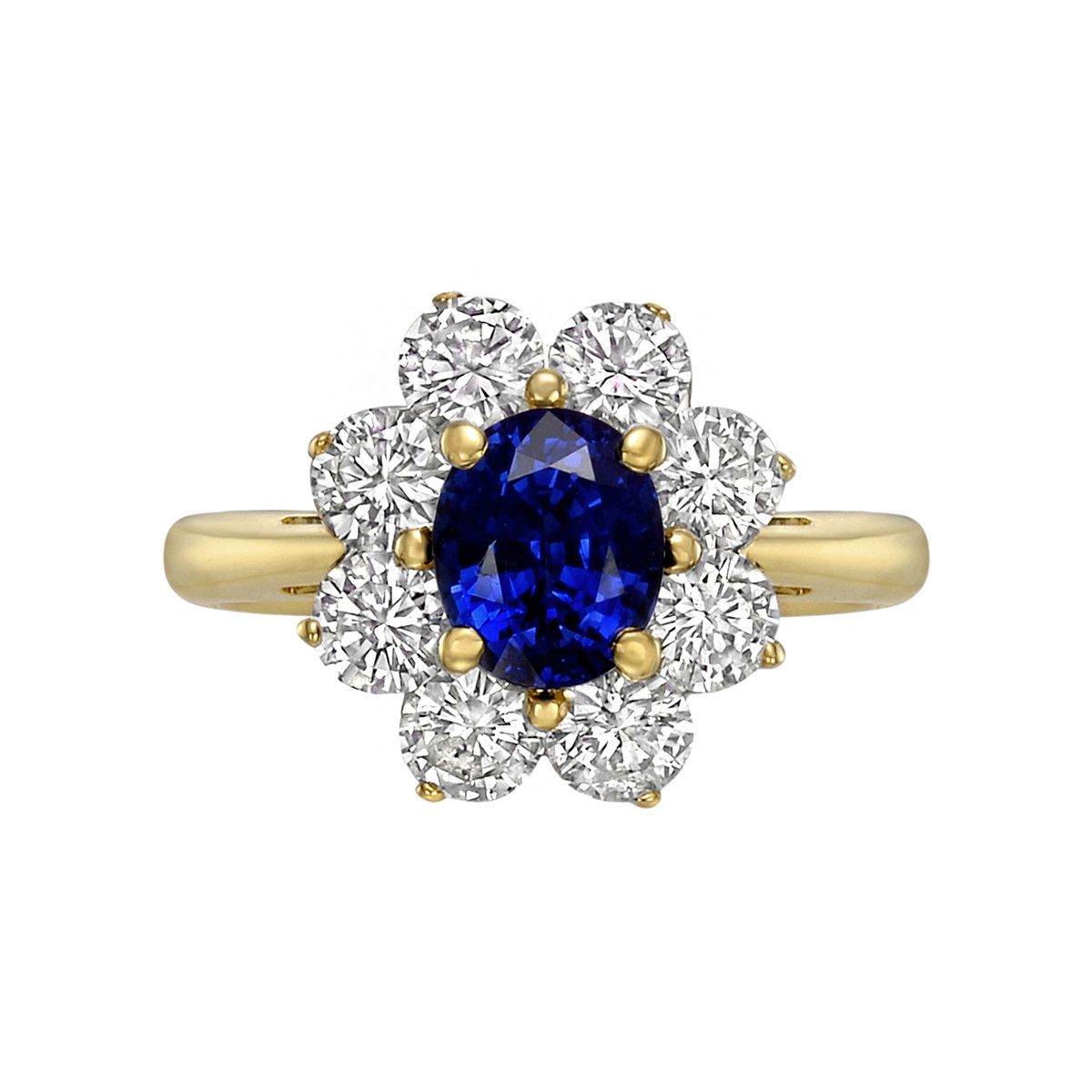 Set Your Budget
When asked how much a shopper should spend on their ring, Weiner's answer is simple: "It depends on how much money you have." You can buy fine jewelry for a few hundred dollars or a few hundred thousand dollars, but the most important thing is to decide how much you want to spend and communicate it — to yourself, to your partner, and to your jeweler. And, because you'll inevitably go a little bit over budget, Drexler gave us a practical tip: "You should always start on the low end."
Betteridge 1.37ct Sapphire & Diamond Cluster Ring, $3100, available at Betteridge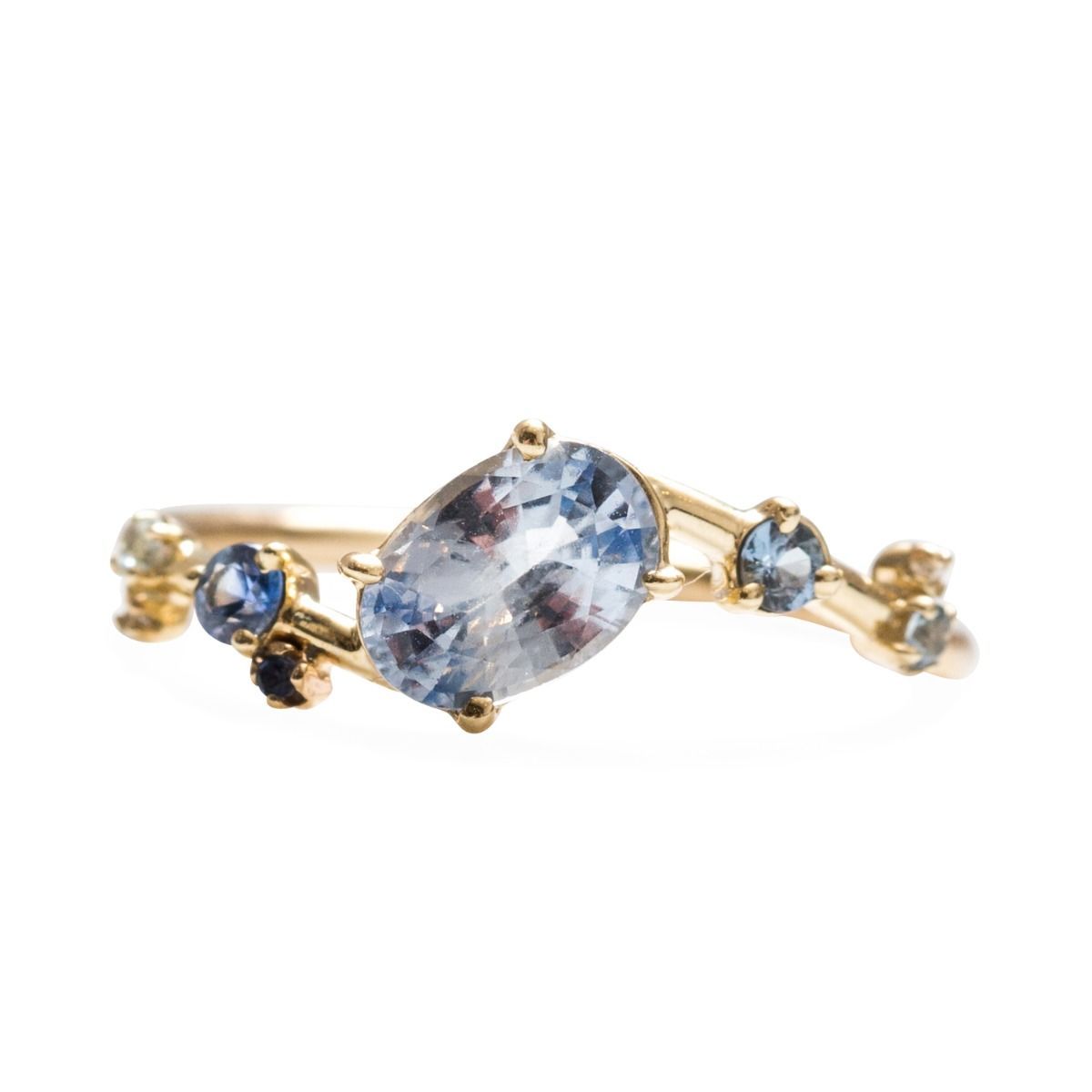 Prepare to Care
Diamonds can be forever — if you treat them nicely. When it comes to a wear-all-the-time ring, some gemstones are certainly better than others — Kirtley advises that diamonds, rubies, and sapphires are on the harder end of the spectrum, while pearls and opals fall on the softer, more easily damaged end. Ultimately, he says, "it's all about how you take care of your jewelry," so you should follow your jeweler's instructions on taking precautions with more fragile stones or antique styles. And don't freak out if your ring does incur some damage — if you follow our previous advice, someone you trust will be handling the repairs.
WWAKE Sapphire Crossover Ring, $3493, available at Catbird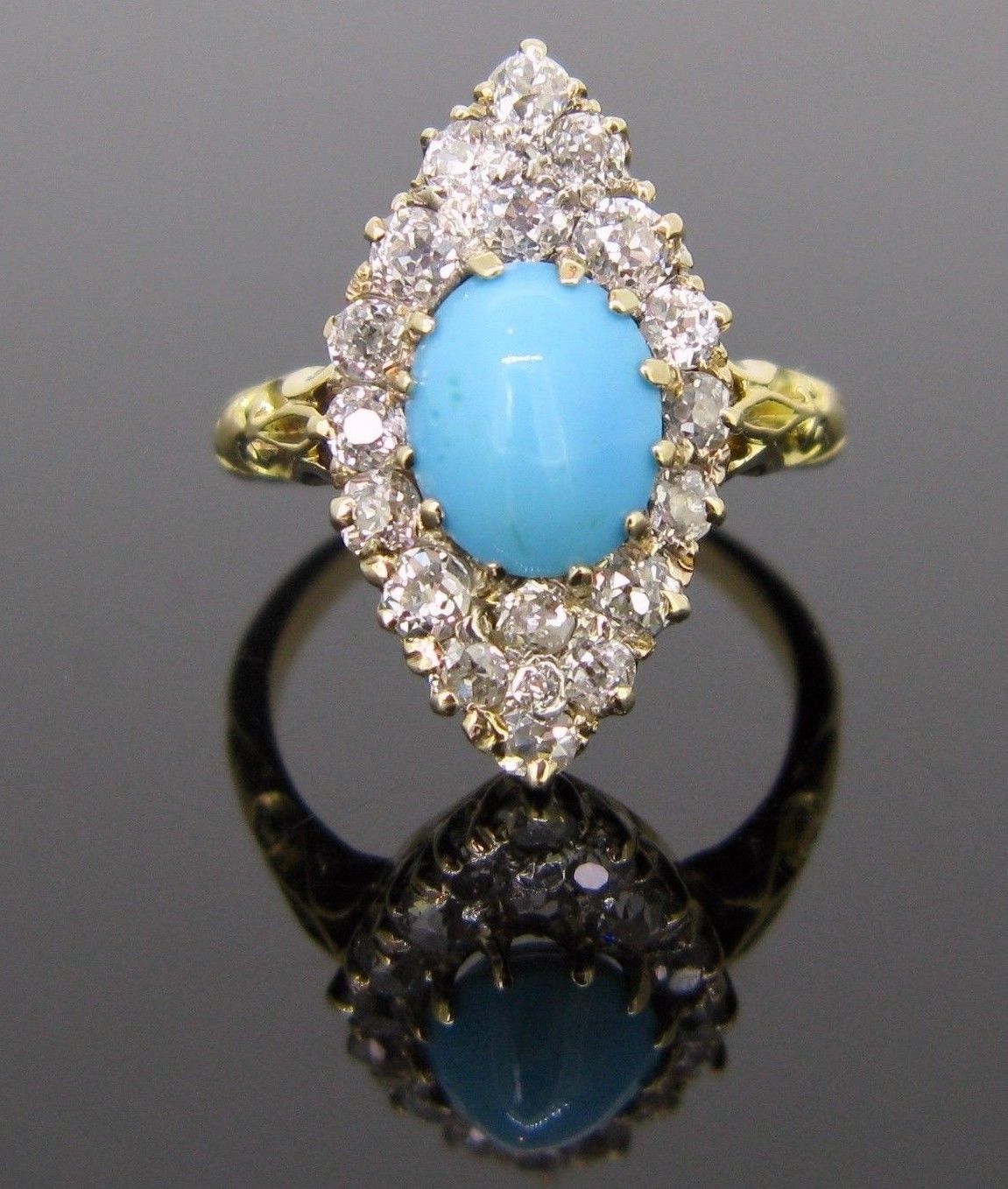 Just Do The Damn Thing
"Don't be afraid to take the plunge," says Carroll. Sure, buying fine jewelry is a serious decision, but it's not an irreversible one. You're investing in materials that have fixed value, and if your tastes change over the years, your ring can be swapped out or re-worked. "It can paralyze you," says Carroll of the decision, but if you "do your research and don't go with trends," she advises, you won't regret your purchase. (And if you're shopping for an antique, don't dilly-dally — those one-of-a-kind pieces can get snatched up fast.)
eBay Victorian Turquoise Marquise Diamond Ring, $3950, available at eBay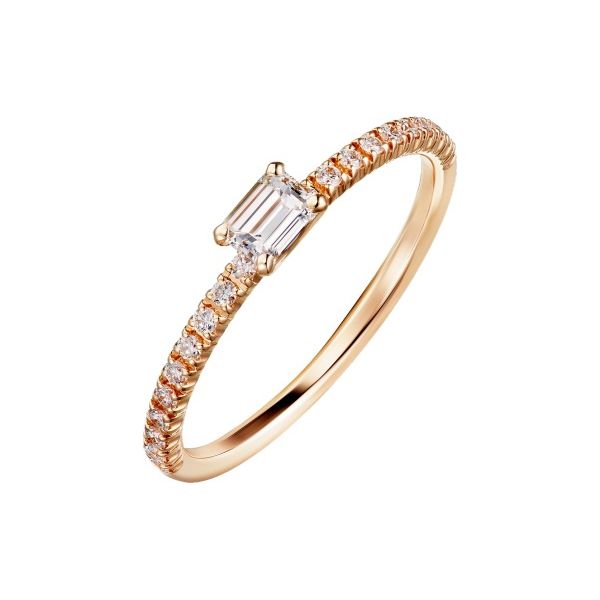 So, in the spirit of this advice, let's dive right in — click through to see some of our favorite pieces in the world right now; from the new to the old to the completely one-of-a-kind. And hopefully we've armed you with the knowledge to choose something that you'll cherish for a long time, because as Kirtley says, the right ring will "trigger an incredible sense and feeling of love" every time you look down at your hand.
Cartier Etincelle de Cartier Ring, $2990, available at Cartier

Brand Spankin' New: AURate
For some, the best way to mark a milestone is with a fresh start. An off-the-rack ring is still thoroughly special — it will be your heirloom, and no one else's. Today's options are also more ethical: retailers like AURate are rigorous about tracing their diamonds' provenance and working only with responsible suppliers. Fine jewelry has also gone through a recent explosion in creativity, so your choices are practically endless.
Aurate Wraparound Ring with White Diamonds, $1300, available at Aurate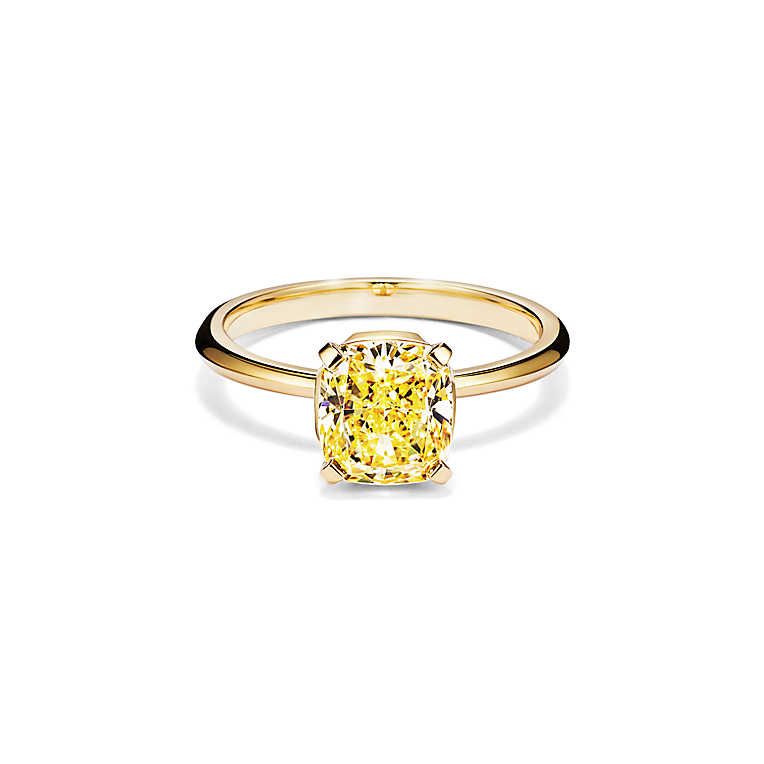 Brand Spankin' New: Tiffany & Co.
The heritage retailer recently revised its mold-breaking six-prong design with the True engagement setting, which positions the gemstone on four prongs closer to the finger. "There are hidden elements to that design that make it very simple but very contemporary," explains Kirtley.
Tiffany & Co. Tiffany True Engagement Ring, $6800, available at Tiffany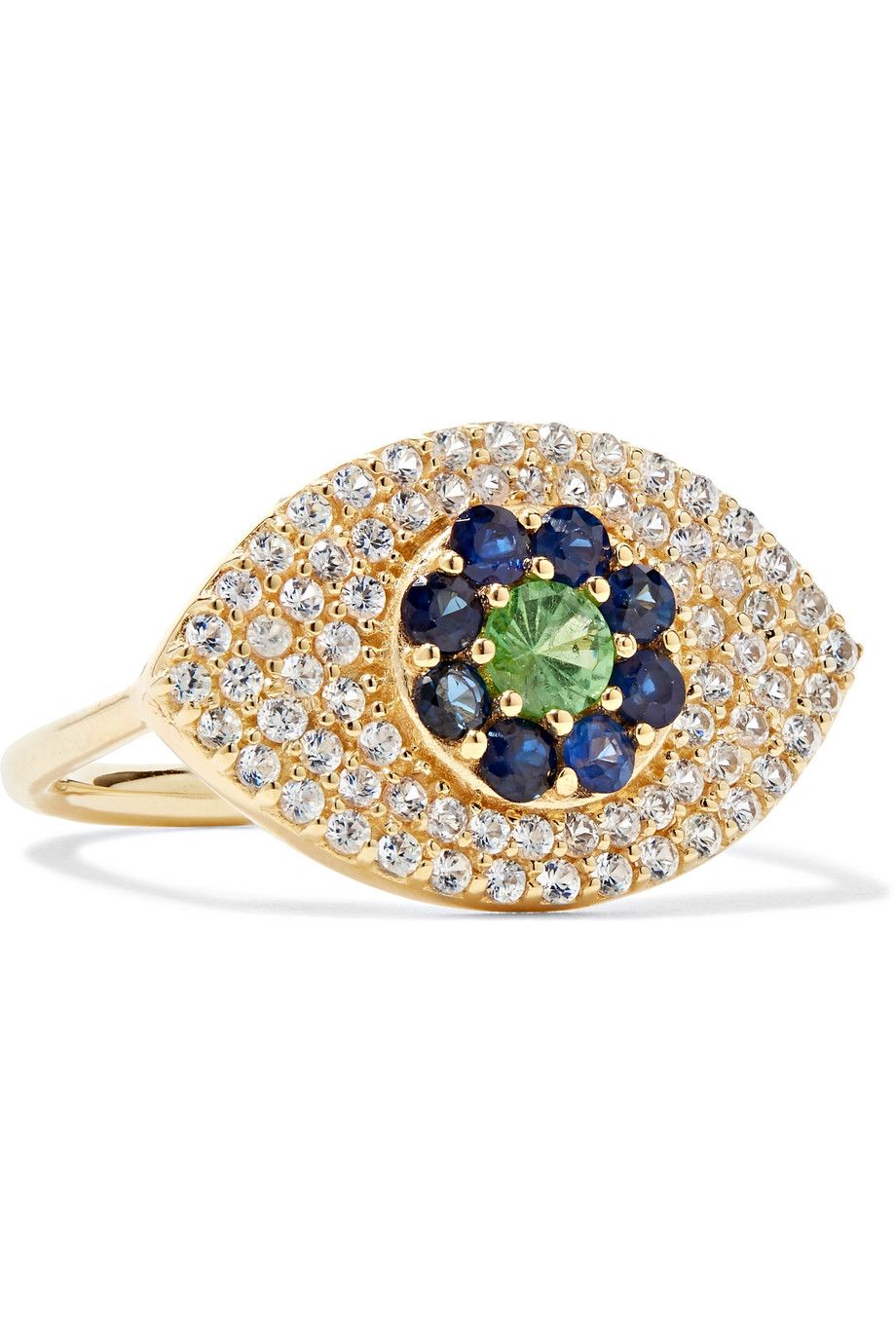 Brand Spankin' New: Net-a-Porter
We love browsing designer boutiques for fine jewelry with a modern and artistic bent — like this oversize gem-studded mystical eye ring from Greece-based jewelry designer Ileana Makri. Whatever your choice, Wise advises: "Buy it to wear it every day, and to love it."
Ileana Makri Blossom Drops 18-karat Gold Ring, $2040, available at Net-A-Porter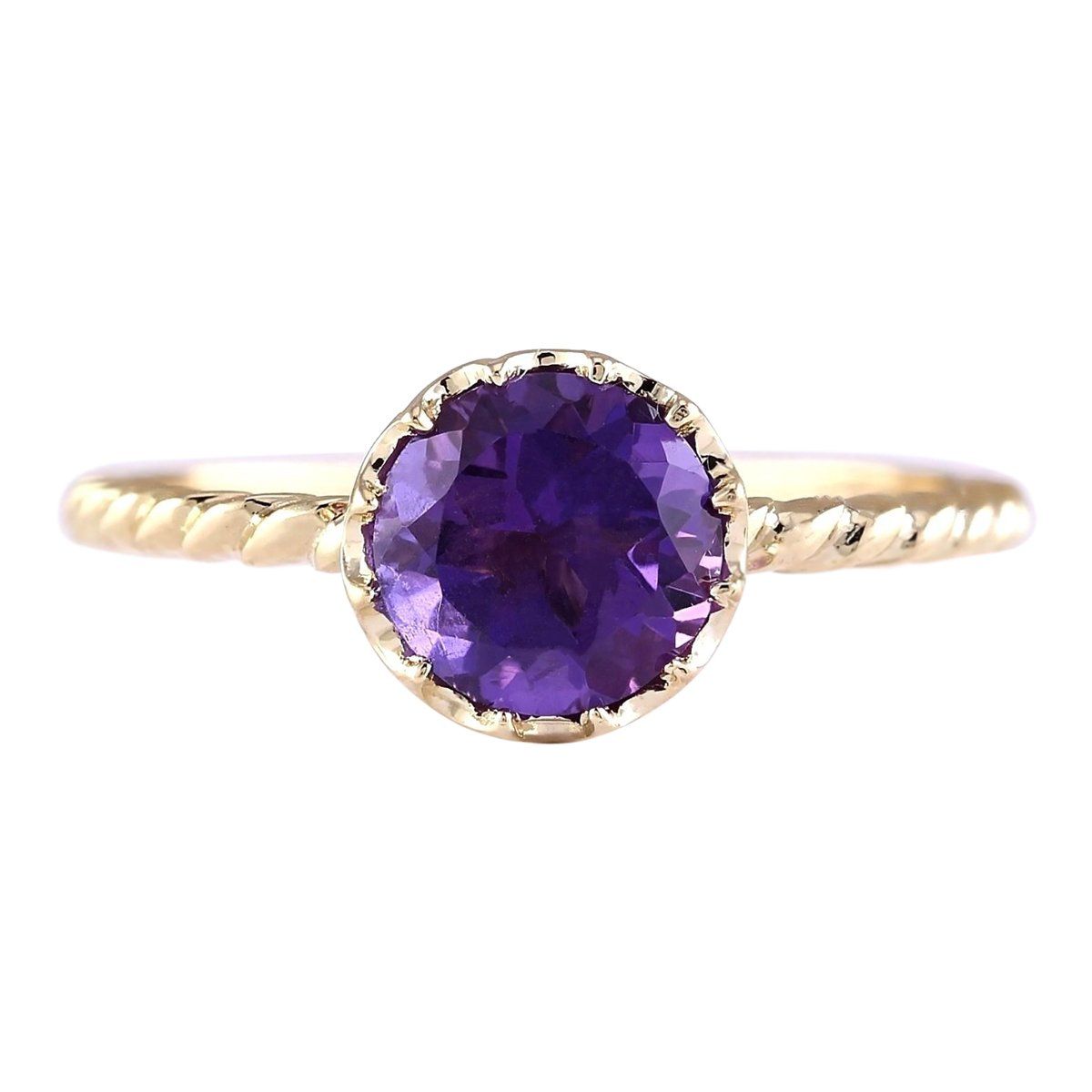 Brand Spankin' New: Amazon
Believe it, friends: a reader recently shared with us that her partner found her beloved engagement ring on Amazon. As you'd expect, the behemoth retailer carries rings of every shape, style, and size. It's a bit of digging but there are some true diamonds in the rough hidden on the site.
Fashion Strada 14K Yellow Gold Amethyst Ring, $349, available at Amazon

Brand Spankin' New: Helzberg Diamonds
The Kansas City-based retailer has been supplying fine jewelry to customers all over the US for 100+ years, and their offerings run the gamut from traditional to au courant — like this oversized, diamond-flecked opal ring. You can also see exactly how the ring is going to look on your hand, thanks to an adjustable size and skin-tone model embedded on their website.
Helzberg Diamonds Opal, Emerald and Diamond Ring in 10K Yellow Gold, $1199, available at Helzberg Diamonds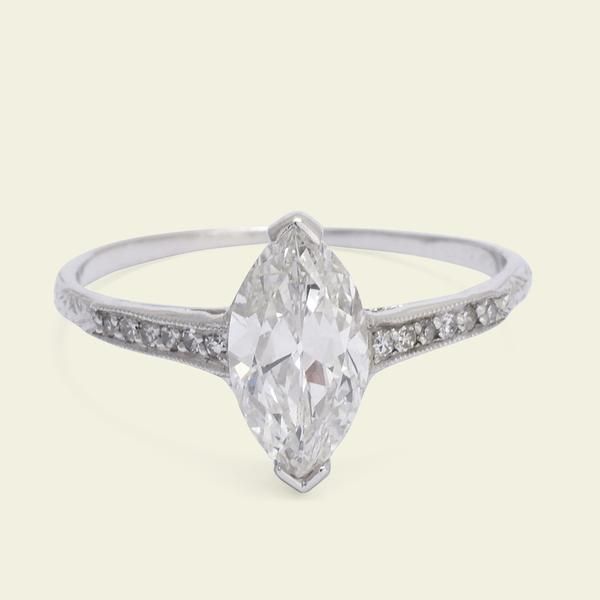 Antique: Erica Weiner
"Something about these antique engagement rings and old diamonds in particular — just by looking at them you can feel the vortex of their history," says Weiner. Anyone who has ever fallen for an estate jewel knows this feeling well, and for some of us, a little piece of the past is the only thing that will do for the future. It's a testament to the longevity of fine jewelry that there are so many options on the antique marketplace, and you can find options at any price point.
Erica Weiner 1.03ct Marquise Brilliant Diamond Engagement Ring, $11000, available at Erica Weiner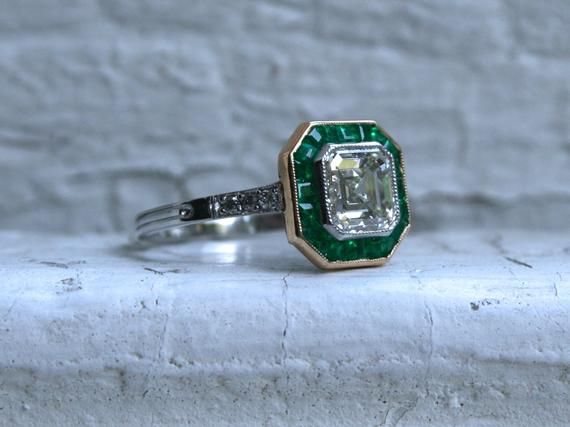 Antique: Etsy
There are quite literally tons of gems to be found through the online indie marketplace, so we love using Etsy's "favorite" feature to quickly save pieces that catch our eyes. For those shoppers casting a really wide net, you can sort these favorites into lists — a great feature if you're still deciding which direction to go in, style-wise.
Gold Adore Asscher Cut Diamond and Emerald Engagement Ring, $9495, available at Etsy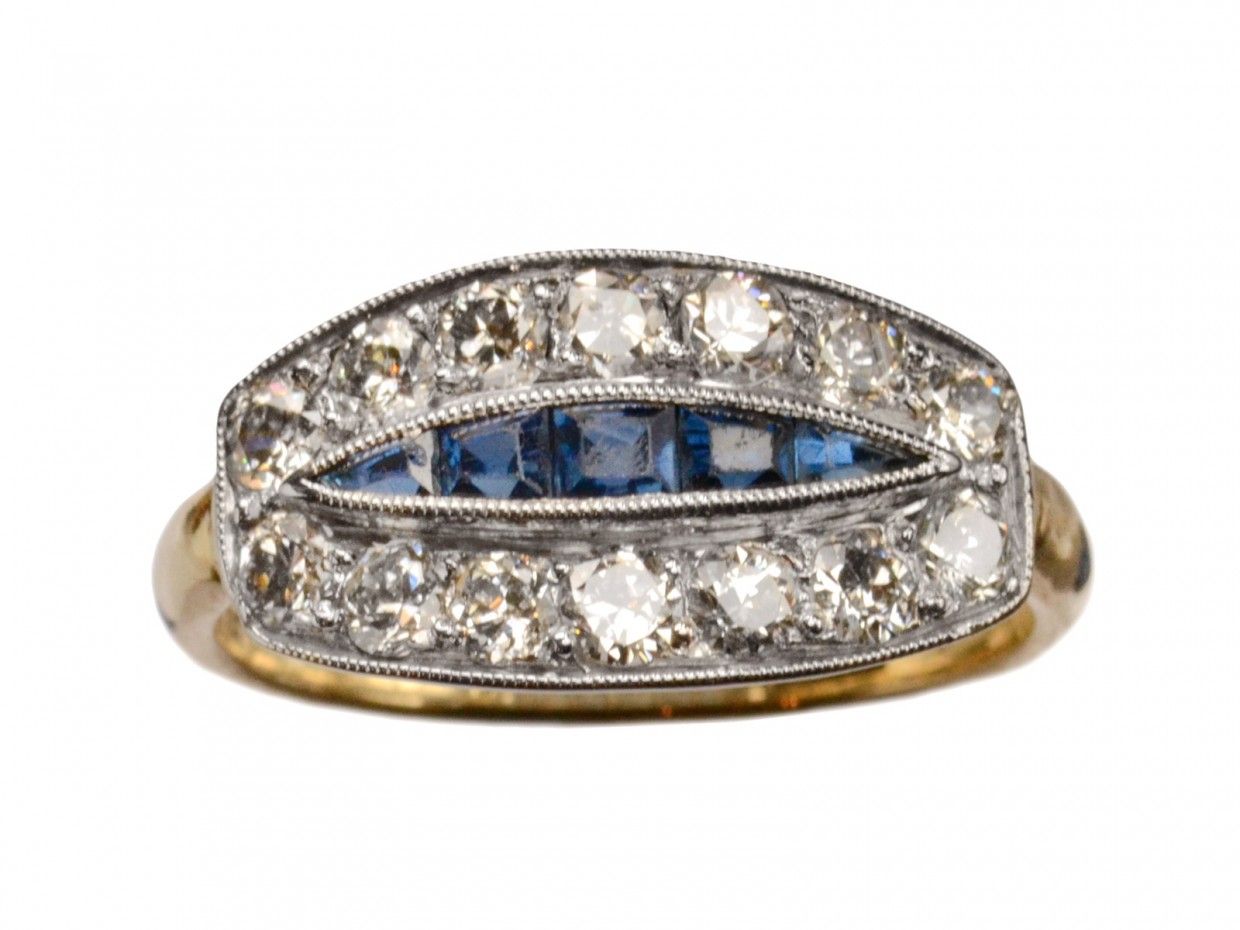 Antique: Erie Basin
The Brooklyn-based jewel box has been quietly and expertly curating an assortment of estate finds since opening in Red Hook in 2006. They run a frequently-updated website for out of state customers, which showcases both antique pieces and an in-house collection, EB.
Erie Basin 1920s Sapphire & Diamond Eye Ring, $3250, available at Erie Basin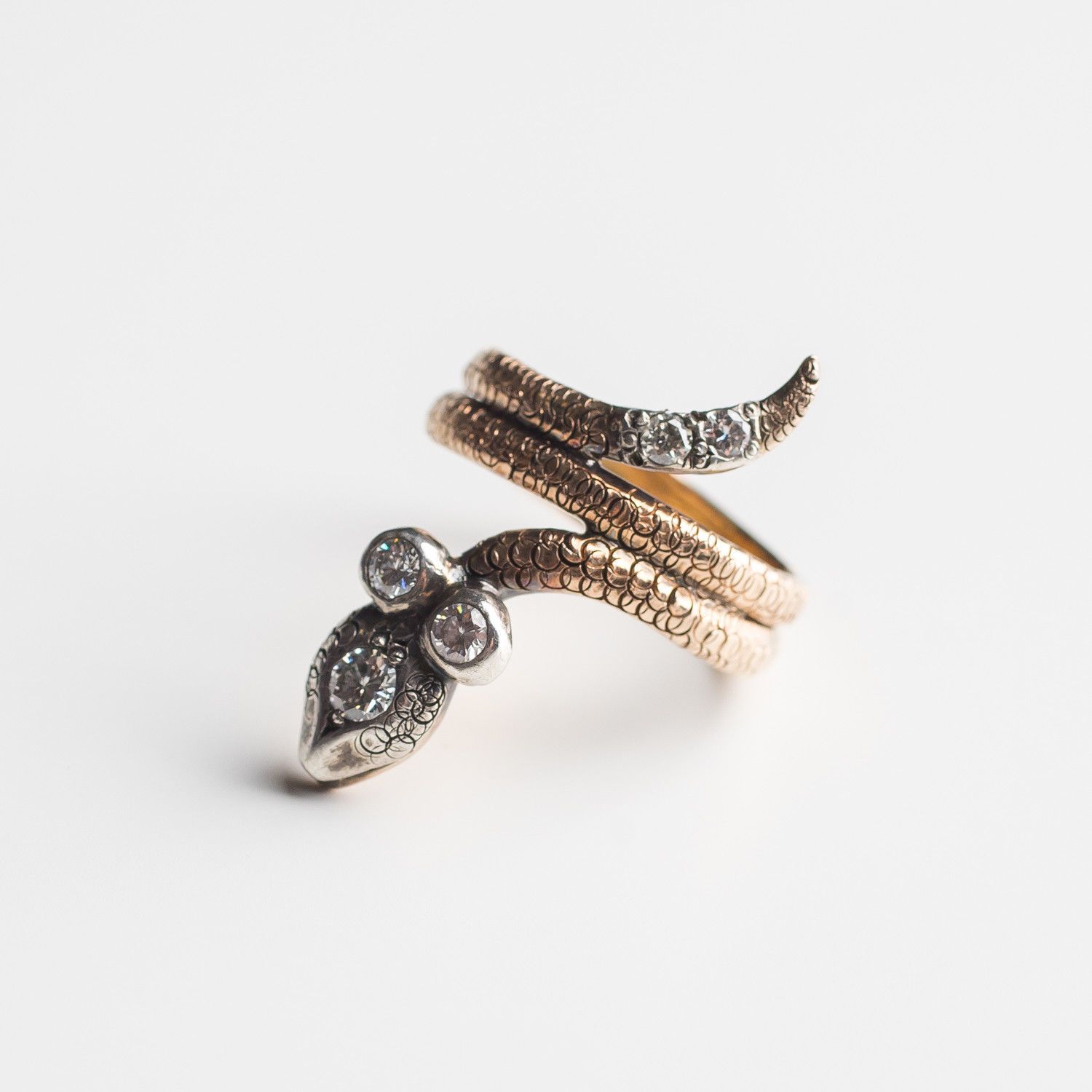 Antique: eBay
eBay is vast, but the online marketplace has a handy ranking system for sellers based on their sales volume and customer feedback. Look for the "Top Rated" designation to find vendors providing the best service — like the one peddling this silver-and-gold diamond-embedded snake ring.
Oregone State Jewelry Edwardian Snake Ring with Diamonds, $2000, available at eBay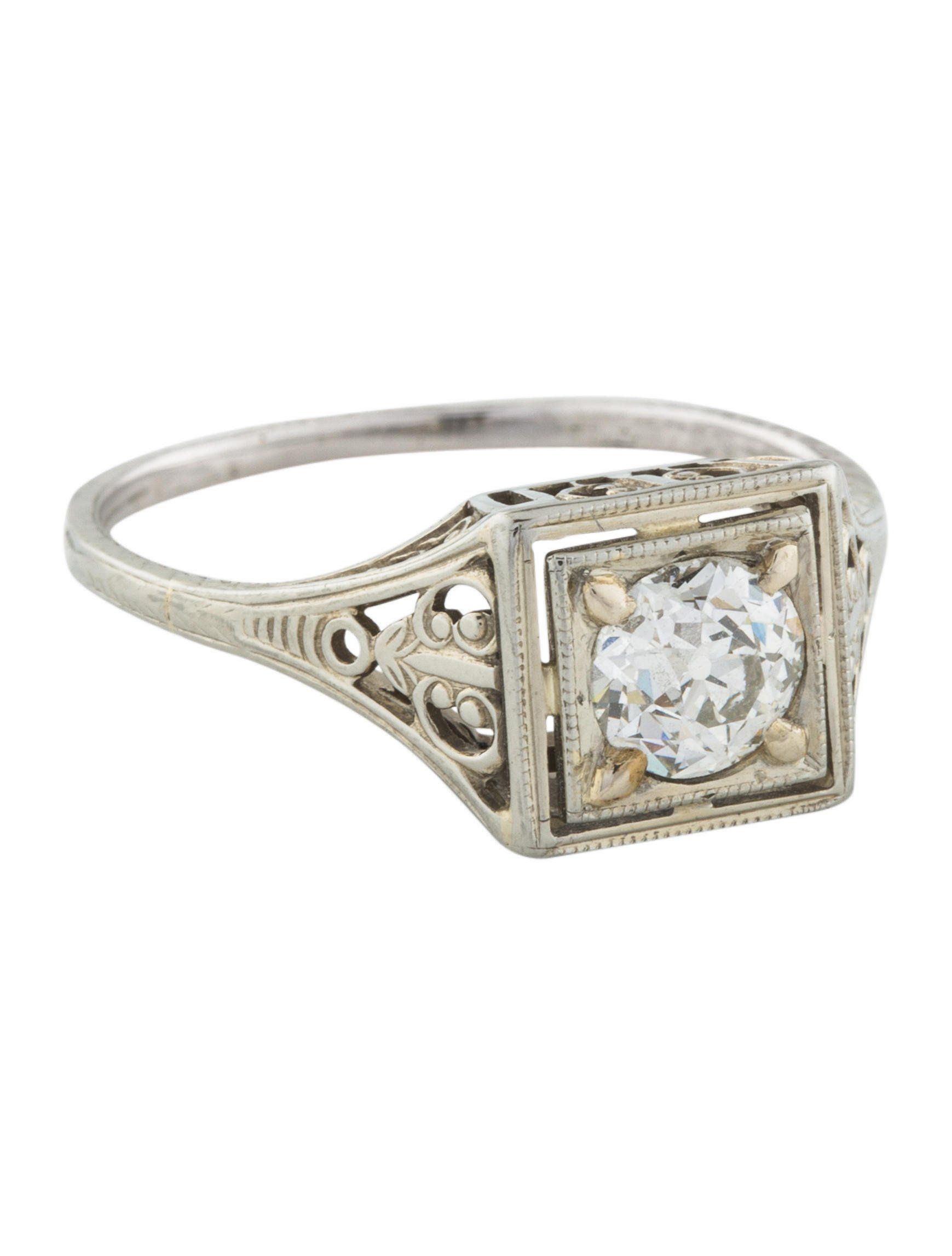 Antique: The RealReal
In the world of antiques, there are deals to be had — if you know where to look. Resale sites like TheRealReal are great resources for special — and reasonably priced — fine jewelry.
The RealReal Art Deco 18K Diamond Engagement Ring, $795, available at The RealReal

Custom: Jemma Wynne
"We really believe in breathing new life into heirloom stones," says Wise. "Working with stones you already have in your jewelry box is also a really responsible way to approach consumption in fine jewelry." Bespoke jewelers like Jemma Wynne can work some serious magic; melting down platinum, gold or silver to form it into a new band, and taking a stone — or several — and embedding it in a brand-new, designed-for-you setting. (Note that we've included ready-made options from our favorite jewelers for shopping purposes here, but rest-assured that sky's the limit with any of these artisans if you contact them directly.)
Jemma Wynne 18-karat rose gold diamond ring, $3885, available at Net-A-Porter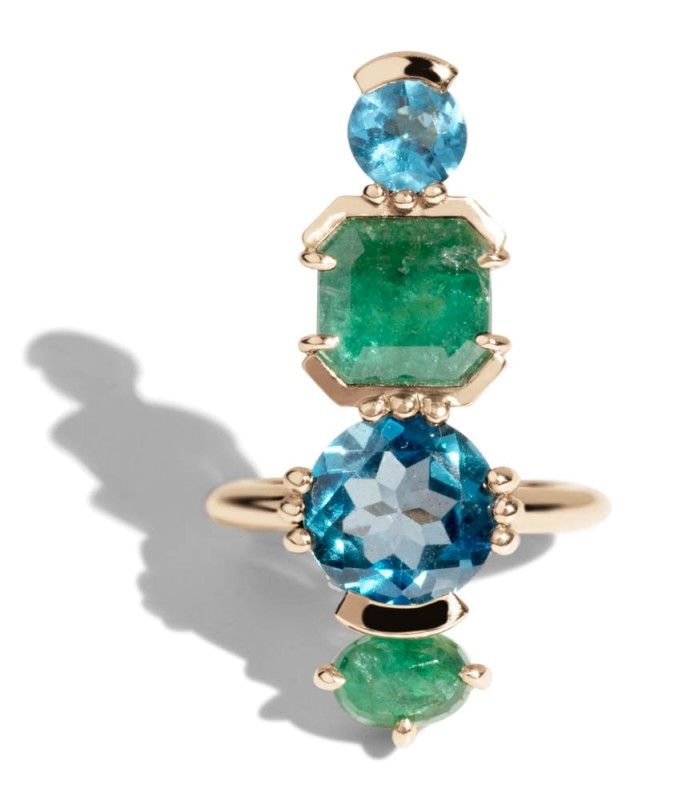 Custom: Bario Neal
Philadelphia-based Bario Neal, pioneers of responsible sourcing, can apply their top-notch ethical design and manufacturing practices to customers' heirloom stones.
Bario Neal Lash Vertical Cluster Ring, $3650, available at Bario Neal

Custom: Spur
New York-based start-up Spur offers to "renovate" customers' jewelry boxes with a menu of stylish a-la-carte customizations, in addition to offering individual, hands-on engagement and wedding-ring design.
Spur Open Victoria Ring, $750, available at Spur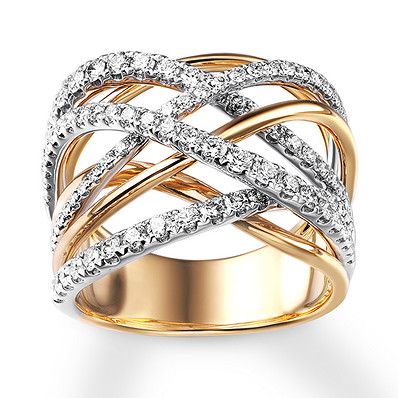 Custom: Jared
Affordable mall stalwart Jared also offers start-to-finish bespoke services, along with a high-tech adjustable tool that will help you envision the ring on your hand.
Jared Diamond Ring with 14K Two-Tone Gold, $2999.99, available at Jared
Click HERE to read more.

You can publish this article on your website as long as you provide a link back to this page.
You can publish this article on your website as long as you provide a link back to this page.