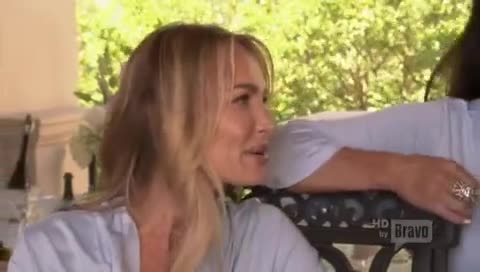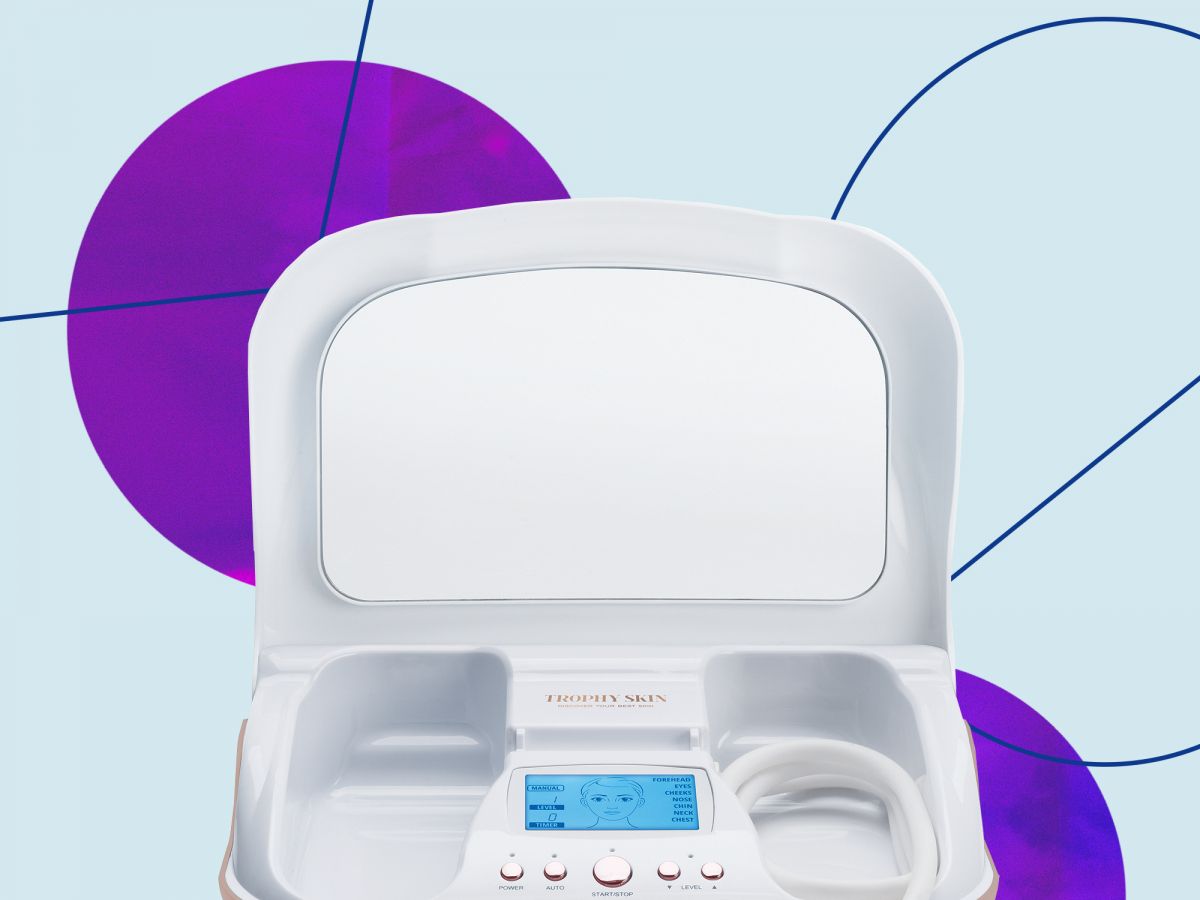 In a 2011 episode of Real Housewives of Beverly Hills, Adrienne Maloof hosted a spa day for her costars that I haven't stopped thinking about ever since. Maloof, then married to celebrity plastic surgeon Paul Nassif, invited the girls to her sprawling bathroom to indulge in spray tans, laser work, HydraFacials, LED light therapy, and more, with services provided by three masseuses and two aestheticians (along with champagne furnished by a staff of three extraordinarily attractive waiters). The HydraFacial machine alone was said to cost $40,000 — and I can't even begin to imagine how much the cabana boys cost.
Obviously, the whole setup was a fantasy for the average person (I mean, she had frozen yogurt available with 15 toppings!) and, as I watched the episode so many years ago, I tried to imagine what it must be like to live with a day spa down the hall. Flash forward nearly a decade, and in one way or another, we can all live like Maloof. We can harness LED light therapy from the comfort of our own couches thanks to masks and wands used for home use, self-administer microcurrent treatment, and even get personalized derm advice straight from an app. So it stands to reason that we should be able to enjoy the exfoliating powers of microdermabrasion sinkside, too.
The allure of microdermabrasion is that it uses various inert crystals, salt, or ice to gently and mechanically exfoliate the skin surface, removing dead superficial layers and allowing fresh underlying layers to shine through for a newfound glow. "These machines also use vacuum suction to minimize the crystals and exfoliated dead skin debris on the treated skin surface," explains dermatologist S. Manjula Jegasothy, M.D. "This vacuum may also remove superficial clogged pore debris like blackheads, although not as well as salicylic acid peels or physical extraction."
Devices geared to deliver similar exfoliation at home may help induce that elusive glow, but Dr. Jegasothy says that, due to a less intense vacuum and crystal load, there's no comparing at-home treatments and the professional kind. Gabriel Chiu, M.D., a plastic and reconstructive surgeon based in Beverly Hills, also advises we dial down our expectations — and takes it one step further, eschewing microdermabrasion altogether in favor of gentler exfoliating options. "You're better off using a Clarisonic on a regular basis than having at-home or spa-grade treatments, since it is similarly effective and cheaper," he says.
For the most part, Dr. Chiu is right about the cost, though newer devices are bringing microdermabrasion-style exfoliating home for even cheaper than an oscillating cleansing brush — but before you add to cart, heed Dr. Jegasothy's advice. "Microdermabrasion should not be used on any type of inflamed skin," she says. "Before beginning any skin treatment procedure at home, consulting a board-certified dermatologist is always best." Ahead, I tried three of the top-selling DIY microdermabrasion tools at a range of price points…
Promote your product line on a page similar to this. Contact matt at oyetimes.com for more details.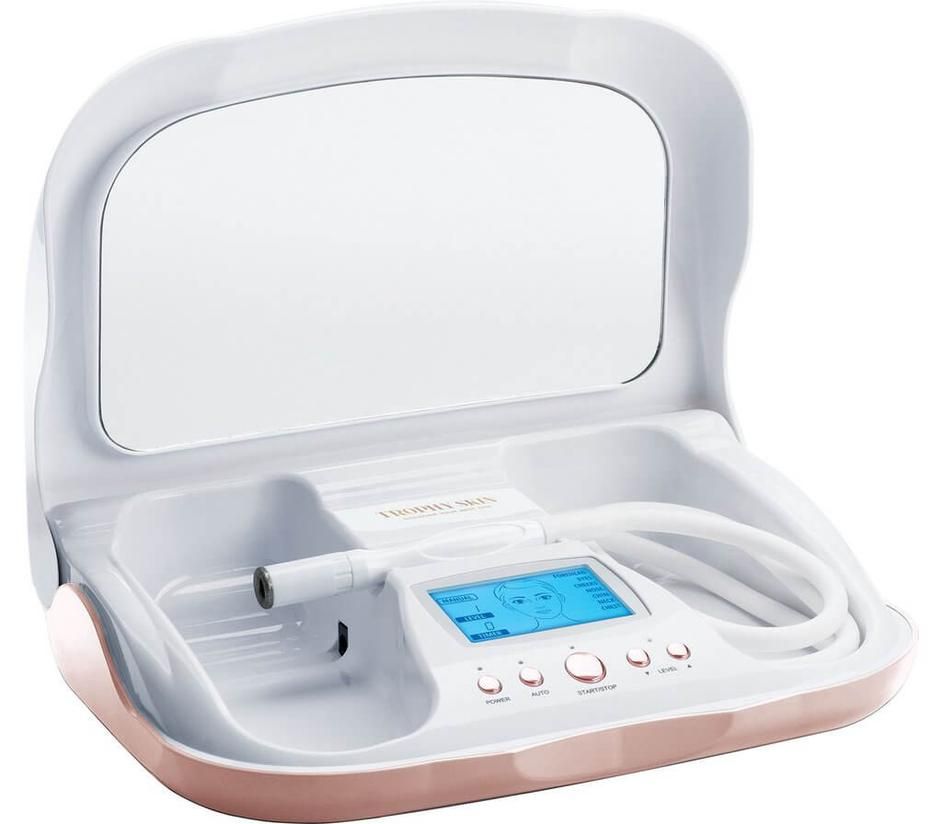 With a diamond-tipped wand attached to a hose with vacuum suction, this at-home kit most closely resembles the setup of an in-office treatment. It's not as strong as the pro models, but after running the device's automated mode — which guides you through timed sections for sanding skin on the forehead, cheeks, nose, chin, neck, and chest — I found the vacuum suction and abrasion of the tip to be plenty strong for my combination skin. There's a "sensitive" mode, but it requires you special order a secondary diamond tip for less abrasion.
Running the process on standard mode took a little getting used to; controlling the vacuum-powered tip can be tricky, and it left my face a little pink and my chin and neck with straight-up red tracks (a normal residual, according to the brand). With a little time and soothing serum, the effect vanished, leaving behind ultra-smooth skin.
Trophy Skin MicrodermMD Home Microdermabrasion System, $299, available at Trophy Skin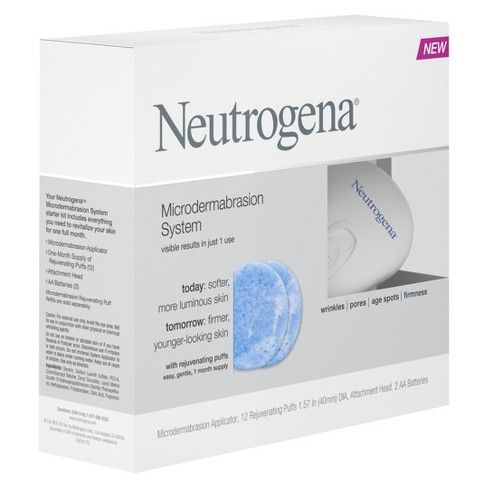 At-home micro-exfoliation becomes virtually foolproof with this affordable kit. After loading the battery-operated device with a single-use, crystal-embedded cleansing pad, it's ready to be run across quadrants of the face in one-to-two minute increments, much like a facial cleansing brush.
Though the included directions weren't exactly comprehensive, the design allows for much more liberal usage than more expensive options I tried — and I pushed the limits. A three-minute runtime on the left side of my face may have been more than advised, but the disc puff didn't feel scratchy or rough (thanks in part to a bit of foam cleanser that's emitted with use) and the pressure of the vibrating wand felt quite nice, like a massage chair for the face. In the end, my skin came out feeling super soft, with zero irritation.
Neutrogena Microdermabrasion System, $23.99, available at Ulta Beauty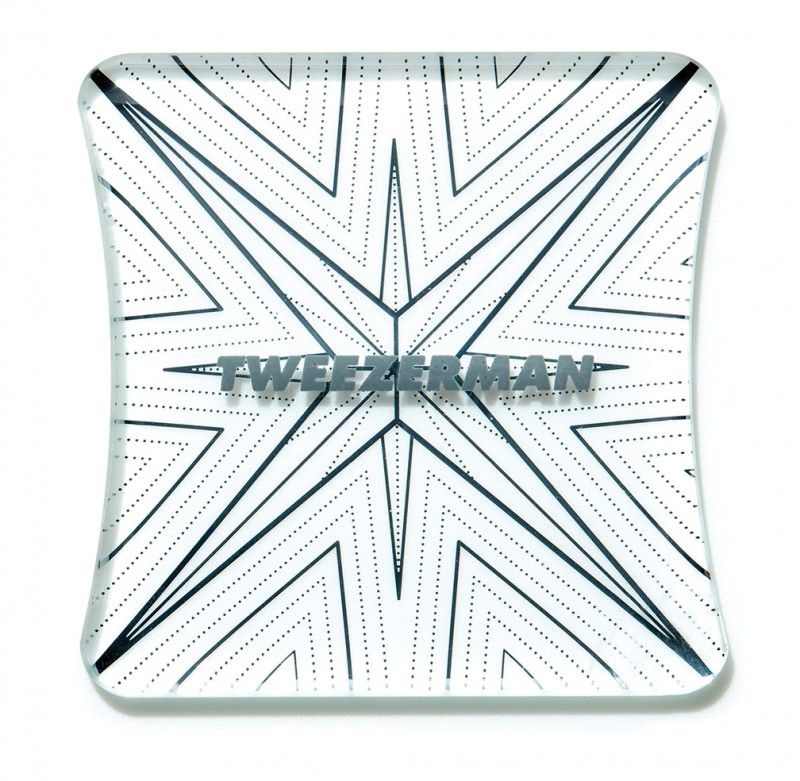 This pocket-sized glass slab has a gritty surface on one side that picks up dead skin cells when dragged across skin held taut — and because the glass is clear, you can actually see the gunk it carries away (which is oddly satisfying). The most low-tech tool of the bunch also may be the best bet for sensitive skin types: Running the textured surface across my skin felt like it was leaving less of an imprint than a fingernail would, which begs the question of whether this thing even works. But when I saw the cells that collected on its surface, I really felt like it was clearing the way for my serums and other skin care to better penetrate.
Tweezerman Clear Skin Microderm Tool, $20, available at Tweezerman
Click HERE to read more from Refinery29


Loading ...