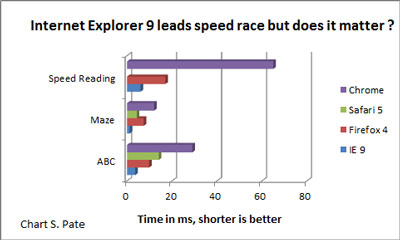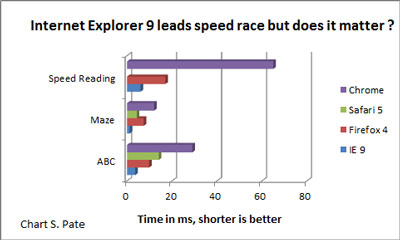 Actual use of Internet Explorer 9 can be a painful experience while Firefox 4 is smooth
Microsoft Internet Explorer has beaten off its competitors in a series of
speed tests
but it can be annoyingly slow and clumsy in use.
As the updated chart shows, Internet Explorer 9 is the fastest browser, beating Firefox 4, Safari 5 and the latest Chrome beta. (Thanks to Craig for the Chrome tests since I don't have the browser).
Tests are not the real world of living on the internet for hours at a time.
Internet Explorer 9 also has some real world improvements such as Pinned Sites which allows you to create Windows 7 Task Bar icons for your favourite sites. I used that for several weeks and loved it.
What I didn't like was that IE 9 would not remember login details including passwords, no matter how many times I asked it to. That quirk was spotty – some sites would be remembered and some wouldn't.
The time saved on-screen speeds was lost when I had to look up passwords since I used different and complex passwords for each site. Nervous Nelly eh?
Last week I downloaded the RTM Release to Manufacturing code assuming it would be the same or slightly better. For unknown reasons, it was worse.
Page loading times became longer and longer. By Monday this week it was taking more than a minute to load Facebook or NJN Network. I could load pages simultaneously on IE 9 and Firefox and start working in the Firefox sessions long before IE 9.
Checking out Microsoft Support, I came across lots of people with the same problem. Microsoft has
five fixes
, none of which worked. I disabled add-ins and reset this and that.
In the end, I deleted IE 9 from my computer. Life is short and Firefox 4 shipped this week.
Firefox 4 works out of the box. Didn't have to beg Mozilla to get it working either.

Tests were conducted on an Intel i7 980x, Windows 7 64 bit, 8 GB RAM with an NVidia GTX 560 video card. The network connection averages 29 Mbps. The Chrome tests were done on a separate computer which turned in comparable results shown below.

Chrome beta

Preschool = FPS 42, Average draw duration 29 ms Maze 20X20 = 12 seconds Speedread = FPS 60, draws 387, average draw duration 65 ms, last draw duration 60 ms, window size 1524, 815


Using IE9

Preschool = FPS 60, Average draw duration 1 ms Maze 20X20 = 1.4 seconds Speedread = FPS 60, draws 381, average draw duration 6 ms, last draw duration 5 ms, window size 1524, 776