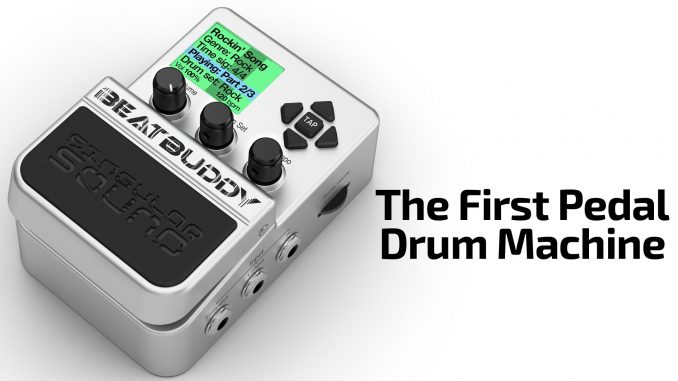 This article was last updated on April 16, 2022
Canada:

Oye! Times readers Get FREE $30 to spend on Amazon, Walmart…
USA:

Oye! Times readers Get FREE $30 to spend on Amazon, Walmart…
By Stephen Pate – I like the BeatBuddy drum pedal except for two things – it's too slow to load new drum kits and it needs an external # 1 switch.
I just solved the first problem by swapping out the SDHC card that comes with the Beat Buddy for a new fast SanDisk Ultra 8GB Class 10 SDHC Memory Card. Drum kit loading time went from 25 -50 seconds down to 2-3 seconds.

Speeding up the BeatBuddy
The BeatBuddy drum pedal is an easy-to-use drummer replacement for practice, and potentially recording. Some musicians use it for live performance. Sounds desperate since I've tried that before.
I'm writing a review of the BeatBuddy and it's taking me forever so I wanted to pass on this eureka moment now before I forget.
8 GB is not a big SD card but that's all the BeatBuddy needs. My BeatBuddy only came with a 4 GB SDHC card.
Switching drum kits could take between 25 seconds and 50 seconds for the Rock kit. Adding insult to injury, you have to bend over to change the kit, wait for what seems an eternity then pick the song, time signature and tempo. If that is not the right kit, bend over again and try another combination.
On the BeatBuddy user forum it was casually suggested a faster card might speed up kit load times. The 8 GB card cost less than $10 so I ordered one.
With the 40 MB/s card, switching kits now takes 1-3 seconds, which to me is almost instantaneous.
Installing the new SD Card
To get the SanDisk Ultra 8GB SDHC Card ready I downloaded the SD Card Backup, extracted it on my MacBook Air and copied the files to the SDHC card. I popped the old card out and put the new one in the BeatBuddy.
I could tell right away the drum pedal was faster. Kits loaded instantly. There was an added benefit: the BeatBuddy kits sounds clearer and better defined with the new SDHC card.
Moving on to second issue
The faster SDHC card put me on first base with the BeatBuddy – World Series metaphor. I'm trying the various kits, time signatures, songs to see if they fit my music. Finding the right combination of kit/genre/song/time signature takes time: no one every designed a drum pedal or machine with logical song names. After using the pedal for a few weeks it's easy to narrow the choices and find the best suspects but it is still a time-consuming process.
Which brings me to complaint number two: BeatBuddy needs to separate the screen functions from the foot-switch. Bending over to set the pedal is a real pain. The functions start, change section/fill and stop switch are on the bottom half of the pedal using the foot. Dialing up different kits, genres, songs, and tempos are on the top half using the fingers. None of my friends have their fingers and foot close together. It's a function of being human not a chimp.
In the short-term, put the pedal within arms reach while you settle on the right combination. Then move it to the floor for practice.
I asked BeatBuddy if they were planning on a better arrangement and they suggested a MIDI control switch. Not a good idea – too complex.
On the BeatBuddy user forum, there is a hack posted that looks like a winner. It will void the warranty so approach with caution. The pedal I have is a review unit so when that's done, I probably will try the hack.
In the meantime, the BeatBuddy is faster and I'm working through my song repertoire to see how effective it is at creating an in-studio drummer. Of course, this is totally weird since now I have to keep perfect time.
One of the ideas I have is to record with the BeatBuddy then swap out the their sounds for Superior Drummer 3 I have or the Addictive Drums that came with Cakewalk Sonar, the DAW I use. BeatBuddy can create a MIDI track to record. That's another story all together.
BeatBuddy and SanDisk Ultra 8GB Class 10 SDHC Memory Card are available from Amazon and other retailers. The BeatBuddy was supplied for this review by Singular Sound.
Click HERE to read more
You can publish this article on your website as long as you provide a link back to this page.