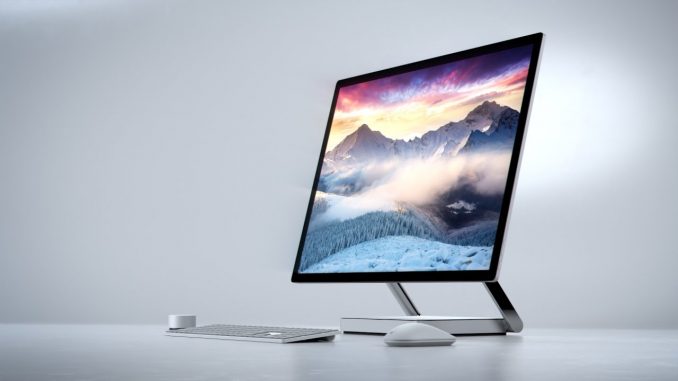 Surface Studio with Pen and Dial
By Stephen Pate – Who could imagine that Microsoft would upstage an Apple reveal but that's what happened last week. 9 million people want to see the Microsoft Microsoft Surface Studio with Surface Dial

versus 5 million for the MacBook Pro.
On Wednesday Microsoft showed off its new Surface Studio with Surface Dial and Window 10 Creators Update. Although the crowd of press junkies in the room was small, the internet buzz over the game changing Surface Studio was bigly as Donald Trump would say.
More than 9 million people have watched the intro video for the Surface Studio.
The next day on Thursday, Apple revealed the long-awaited update to their popular MacBook Pro line of laptops. With a speed bump, thinner form, and the questionable innovation of a touch strip where the function bar was, Apple garnered big press interest but a big MEH from Apple fans.
The Apple MacBook Pro introductory video got a respectable 5 million hits on YouTube but way behind the Surface Studio's 9 million.
The ironic part of this story is the Surface Studio is a pricey $3,000 to $4,200 computer available only in limited quantities when it ships in mid-December. Update – the December units are sold out. Microsoft is advising early 2017 for new orders.
The MacBook Pro, with a quality reputation but outdated design, is a pricey laptop between $1,500 and $4,300.
How did a Microsoft new product launch get more attention than a similar launch from Apple? The answer is simple – they out innovated Apple playing Apple's card of premium products at premium prices.
The Surface Studio is the new computer on the block, the one that people want to own even if they don't need it or can't afford it.
Not only does the Surface Studio change how we work by putting both hands on a gorgeous computer work surface, it delivers elegance, power and creates an aspirational product category.
Microsoft Surface Studio with Surface Dial

is available in pre-order while quantities last from the Microsoft Store online

and in-store. The MacBook Pro is available from Apple.com.
Click HERE to read more.