Until December 31 2012 Fender dealers are taking $100 off new guitars like this American Standard Stratocaster Guitar – Jade Pearl Metallic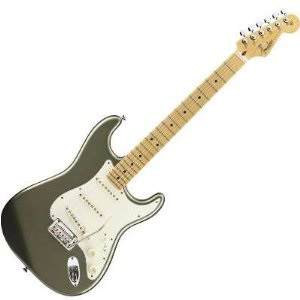 American Standard Stratocaster Guitar – Maple Fingerboard – Jade Pearl Metallic
The cost of owning a real American Strat just got a little lower with Fender's up to $100 Instant Holiday Savings special.
The prices are very competitive already with Amazon.com representing more than 50 of the top music retailers like Musicians Friend, Music 123, American Music Supply, Sam Ash and Chicago Music.
The extra $100 is a sweet tempting offer.
The featured guitar, one of 995 different Fender models at Amazon.com, has a special Jade Pearl Metallic finish with maple neck.
The Fender blurb "The new American Standard Stratocaster guitars are beauties to behold in sound, look and feel – Features include
hand-rolled fingerboard edges,
Custom Shop Fat 50′s pickups,
staggered tuners,
improved bridge with bent steel saddles and copper-infused high-mass block for increased resonance and sustain,
tinted neck, high-gloss maple or rosewood fretboard,
satin neck back for smooth playability, thin-finish undercoat that lets the body breathe and improves resonance,
Fender exclusive SKB molded case."
User reviews of the 2012 American Strat have been very positive.
"All I can say is that I was surprised. At first I wasn't sure how this guitar could sound so good. After looking at the specs, it's obvious Fender's choice to place custom shop pickups was the right one. These pickups sound far more, to put it bluntly, "big". They sound big, but don't have the lack of clarity I find most "big" sounding pickups to have," said one guitarist on Ultimate Guitar for a rating of 8.8.
At Musicians Friend the American Strat gets 4.8 out of 5 with reviews like this one – "I LOOVEEE this guitar. I can't believe I waited so long to move to American. Anyone considering American vs. Mexican, get the AMERICAN! It's a huge difference in both tone and playability. This guitar rocks."
Strat, Telecaster – whatever your guitar. The $100 off coupon is good until December 31, 2012

.