This article was last updated on April 16, 2022
Canada:

Oye! Times readers Get FREE $30 to spend on Amazon, Walmart…
USA:

Oye! Times readers Get FREE $30 to spend on Amazon, Walmart…Google announced the end of Exchange sync and Microsoft courts Google customers with free Office 365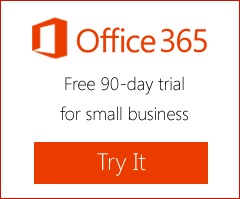 Google announced the end of Exchange sync and Microsoft is courting Google customers with 90-day free for Office 365, the cloud based mail and shared calendars app.
Normally Microsoft offers a 30 trial for Office 365 their Cloud service. The offer has been extended to 90 days.
The timing of the offer is important since Google announced they are ending the free support of Exchange sync, a necessary conduit between Google mail/calendar and MS Office.
It's never a good strategic play to cut off one of your partners and Google may have stabbed itself in the foot trying to get even with Microsoft.
When I read the announcement from Google I was dumbfounded. Why make it harder for users to use both products.
No one is going to dump MS Office for Google Mail and Calendar. Office apps Outlook, Word and Excel own the market.
I've used MS Office for more than two decades as a purchased product. This year I moved to Office 365 on the Cloud so that I could use my mail and calendar from anywhere – a tablet, my cellphone and computers in multiple locations.
Office 365 is a subscription service, about $70 per person. I got the 5 seat version which makes sense since I have 3 computers and 2 mobile devices.
It's so convenient to check my mail, calendar and contacts anywhere without any technical hassles. I tried Google mail and like it but it does not integrate in one package with calendar and you can't share calendars, at least I could not figure out how to make that work.
Microsoft also offers Lync and Notes as group collaboration products on the Cloud. My wife uses Lync in her work to share documents and whiteboard.
Here's the pitch from Microsoft.
A Great Time for Small Businesses to Try Office 365
Small businesses represent over 90 percent of Office 365 customers today. From retailers like Naturally Me to engineering firms like C&I Engineering to professional services companies like Rookie Recruits, Office 365 is helping thousands of small businesses maintain a competitive edge.
Grow with Confidence
Office 365 gives small businesses the confidence they need to grow, compete, and focus on what they do best—serving their customers. Our cloud-based productivity service provides businesses with an uncompromised solution to create, collaborate, and connect including business class email, online meetings, and anywhere access to documents—all without the IT hassle.
"Whatever problem the business faces, Office 365 gives me a complete set of tools for solving it," says Jared Walther, Business Development Manager and Engineer, C&I Engineering.
"Whatever problem the business faces, Office 365 gives me a complete set of tools for solving it," says Jared Walther, Business Development Manager and Engineer, C&I Engineering.
The Offer Just Got Even Sweeter
If you're a small business, there's no better time to try Office 365 than now. Starting today, Microsoft is offering a 90-day free trial offer for organizations with up to 10 users. Companies can sign up for this new free offer through the end of February.
Small businesses that purchase and activate a copy of Microsoft Office Home & Business 2010 or Microsoft Office Professional 2010 will receive a 90-day free trial of Office 365 Small Business Premium for up to five users. Office 365 Small Business Premium combines the power of Office 365 small business services with Office software for your users' PCs or Macs. Check out Office.com/offer for more details.
If you need assistance with your migration to the cloud, be sure checkout the Microsoft Partner Network to find experienced and proven partners.
The Choice is Clear Your business is too important to compromise with services that are subject to unpredictable changes. Office 365 gives you the confidence you need to succeed and comes from a company that is committed to your long-term success.
Recruiting firm Rookie Recruits tried Google Apps, but quickly switched to Office 365 after concluding that Google Apps didn't offer the feature-rich experience to which employees were accustomed. "We want to use cutting-edge technology to meet the needs of the market, introduce new offerings in our industry, and deliver amazing levels of service to our customers," says the company's director Andy Springer. "When we switched from Google Apps to Office 365, we freed our people to work together in synergy, and it has produced good results in every area of our business."
Likewise, beauty products maker Naturally Me initially tried Google Docs but eventually switched to Office 365 after discovering that Google Docs didn't work reliably and often skewed the formatting. "I downloaded a…trial version of Office 365 and fell in love," says Chaundra Smith, Founder of Naturally Me. "I had no hesitations moving Naturally Me to the cloud because Office 365 is from Microsoft, so it felt safe and secure."
No wonder so many small businesses choose Office 365. From the need for security and privacy to the desire for enterprise-quality features to the need for support, small businesses trust Microsoft with its proven experience.
You can publish this article on your website as long as you provide a link back to this page.