Fujitsu president Masami Yamamoto blames 1 million unit drop in sales on Windows 8 but the problem is building the wrong boxes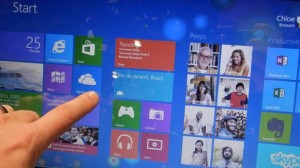 The reality is that Fujitsu is not making computers that people want.
The tech media are falling all over themselves reporting the misleading statement by Fujitsu president Masami Yamamoto.
He said that Windows 8 has depressed sales of his company's computers.
Does Fujitsu make a Windows 8 tablet, smartphone, laptop or desktop with touchscreen?
Not that we could find.
Acer, however, has jumped into production of Windows 8 computers making some of the best and earliest available tablets and touch screen monitors. Their President Jim Wong predicts Windows 8 will revitalize the PC business.
"Touch machines are actually selling above expectations," said Bob O'Donnell, a program VP at IDC.
Demand for Windows 8 computers with touch screens is so hot that there are stock outs. I've predicted this all year. After people can play with a touchscreen, they will not want to go back to not having the feature.
Once the iPad shipped and people could experience touching the screen, sales of non-touch tablets nose-dived. The same sales effect is happening with computers.
"Some vendors are actually facing shortages because touch panels are in limited supply. Vendors are saying they can't get as many touch-based machines as they would like to meet the demand that they're seeing."

"We've talked to a number of PC makers that are having trouble obtaining touch panels and some of the vendors I've talked to said they can't keep them on the shelf," said Rhoda Alexander, an analyst at IHS iSuppli. (CNET)
Fujitsu making excuses

Fujitsu President Masami Yamamoto
The retail channel is empty of Windows 8 computers from Fujitsu. Checking Best Buy, Amazon.com and Tiger Direct I could not find a single Windows 8 computer for sale.
In retail, if you don't have product customers will buy something else from your competitors.
Bloomberg reported this story without question. "Fujitsu Ltd. (6702), Japan's biggest provider of computer services, said the company will miss its annual shipment target for personal computers amid slow demand for Microsoft Corp. (MSFT)'s Windows 8 operating system."
"Initial appetite for the software, introduced in October, is "weak," Fujitsu President Masami Yamamoto, 58, told reporters in Tokyo yesterday. Slumping demand in Europe amid the sovereign-debt crisis will also erode sales, he said. PC deliveries for the year ending March 31 may be more than 6 million units, compared with an October estimate of 7 million, he said."
Press like to repeat stories without research
The Fujitsu/Bloomberg story has been repeated around the world without questioning its validity.
The media are lazy and spend most of their time reprinting press releases or repeating each others stories.
I found almost the same bad reporting and logic in TechRadar, CNET, AllThingsD, the San Francisco Chronicle, The Verge, BusinessInsider, Neowin and dozens of other media outlets.
Gallup found distrust of the public for journalists is at an all time high. In September 2012, they reported 60% of Americans place little or no trust in the media. That would put the media about the same trust level as politicians and slightly ahead of user car sales.