This article was last updated on May 25, 2022
Windows 8 touchpad from Logitech needs refinement

Logitech T650 Wireless Rechargeable Touchpad with USB communication dongle
2.5 / 5 stars
Logitech has a wireless touchpad, the T650, which should be just the ticket for Windows 8 users.
Windows 8 is a touch environment. While it can work with a traditional mouse and keyboard, it works better with multi-touch input from your screen or touchpad.
However, the T650 falls short of being the perfect touchpad solution. Perhaps with some software updates from Logitech it may work better.
In the spring I reviewed the earlier model Logitech Wireless Touchpad with Multi-Touch Navigation (910-002345) and rated it 4.5 out of 5 stars.
It would have gotten 5 stars except that model does not support all the touch gestures of Windows 8. Despite that, I use the Logitech Wireless Touchpad full-time on one computer without ever touching a mouse.
Logitech T650 Unboxing and setup

The Logitech T650 is simplicity itself to install. Remove the touchpad, USB charging cable and wireless USB dongle. Charge the touchpad first before trying to use it, which takes a few minutes. The charge should last a month.
I dislike the charge cable. It's another bit of USB desktop clutter, another USB cable device to save and eventually lose. Two AAA batteries would be a better solution.
Once the touchpad is charged, plug the USB dongle into the computer and a connection screen pops up. The Unifying software tells you to turn on the touchpad and let the dongle find it.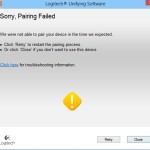 Logitech T650 Unifying software fail
While the touchpad worked, the Unifying software never accepted the T650 as connected.
Checking the Logitech support site, they had a few suggestions so I tried them. They did not work nor did the Unifying software work on a second computer.

I left an email requesting tech support but did not get a reply. I just accepted that and moved on.
Using the T650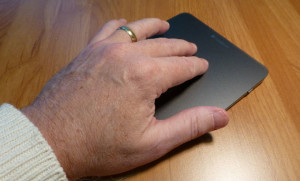 The Logitech T650 Wireless Rechargeable Touchpad is about the right size as a desktop companion, 5.9 x 5.7 x 1.3 inches and weighs 8.8 ounces.
The surface feels nice under your hand with smooth glass-like tactile sensation.
While it is supposed to support Windows 8 gestures I would give that a fail. Essentially it is fair at the mouse left click anywhere on the touchpad surface and left corner. The right-click takes extra effort, almost a hard push. Sometimes the left-click is the same way.
On the Windows Start screen, hover and touch work. It will bring up the Charms bar on the right but refuses to swipe from the left of the screen. Pinch to zoom works. Swipe up, down, left and right work intermittently.
Similar problems were posted on the Logitech Support site without solutions.

"The pad seems to throw away any actions that started on the outer edge of the device. It's makes the pad feel less responsive as you have to repeat those actions. Another scenario is where you're moving the mouse pointer to an edge, your pointer stop but you can't just simply move back as you'll be performing a new action from the edge which is discarded."
"Now, it is inconsistent especially with the right-click functionality and sometimes the left-click. What happens generally, especially with the right-click is that it flashes the menu for a fraction of a second and then disappears. Sometimes, if done enough I can get it to stay on screen but this is not consistent. This same behavior has also begun to happen with the left-click especially on drop-down windows when clicking on a spin arrow. Accordingly, I have to attach a mouse to take care of some of these performance issues."
Overall user reviews on Amazon.com are 4 out of 5. Some users are happy with the T650; others express frustration.

If you can internalize the things it will do and the things the T650 won't do, then perhaps you will like it. It drove me crazy. Every time I forced myself to use it, I quit. I tried to write and edit this story using it but fell back to using the touchscreen and my 3M Ergonomic Mouse.
I wrote Logitech Tech support and their media contact but didn't get a reply by posting. If they get back to me I will update this story. I assume they will work the bugs out in time. Logitech is a big company who usually deliver the goods.
The original Logitech Wireless Touchpad works like a charm and is still my recommendation.
You can publish this article on your website as long as you provide a link back to this page.