Only Surface and Windows Phone users will applaud the minor update to Windows 8 xbox Music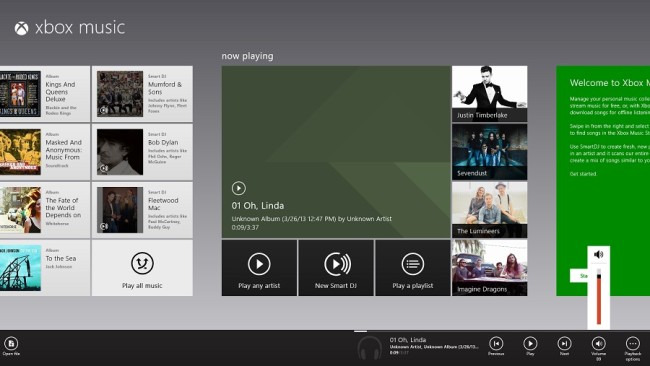 Xbox Music update has volume control but still cannot read meta tags for your music
Another night, another tiny step towards making Windows 8 an adult operating system with the update to xbox Music. Crayons anyone?
I don't want to seem negative but it is hard to commend Microsoft's programmers for the addition of a volume control, cloud sync and rudimentary library controls in a music player.
I suppose the best part is I don't have to write a long story explaining all the changes and you don't have to read it. The downside is only people with a Surface or Windows Phone will use xbox Music.
On a computer, Windows Media Player is light years better and xbox Music can't hold a candle to iTunes, although Apple have been steadily making that great music player hard to use lately.
If the whole Windows 8 music thing frustrates you, try Music Bee a free music player that has dandy meta tag editing features.
I get the feeling Microsoft is living in the 1980s when they developed Windows over a 5 year time span. Microsoft had no real competition and we had to wait for Windows to get real. They miss the point that there are so many options available to users today. As long as Windows 8 and the apps remain child-like toys, people will stay with Windows 7 or gravitate to Apple and Google.
You can almost hear the brain trust at Microsoft telling themselves they have time with 800 million loyal installed customers dying to upgrade their PCs. Soon there will be more smartphones and tablets than desktops and they are not running a version of Windows. It's sad.
Here are the improvements
xbox Music now has a volume control (red line lower right) which is handy and avoids the clumsy resort to the Charms bar. It's hard to believe Microsoft shipped xbox Music without volume control.
Still missing is playback device control. When my wife tells me to put it on the earphones, apparently I take too long stumbling around looking for the old Desktop Sound control to switch playback devices. Jokes aside, an incoming phone call can have you in a panic looking for the volume knob.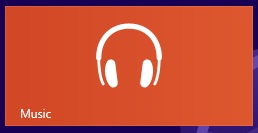 Library scanning is automatic although it does not work reliably. As you can see, "The Folk Sinner" by Lee Harvey Osmond is shown as "unknown artist, unknown album" despite visible meta tags in Media Player and Desktop Explorer.
This is a new CD so I can only assume the problem is Music is relying on its own matching data base, not the files on the computer. Tom Wilson of Lee Harvey Osmond is not going to like that.
If your hard drive is full of ripped music then xbox Music is not for you. It has trouble with music that you add yourself.
xbox Music will try to match your music to its database and share it on the cloud. I am not sure if this is a paid feature or not.
They say xbox Music has been optimized for speed, which again should help people on mobile devices.
Other that those few tweaks, I know nothing as Manuel would say on Fawlty Towers. There is nothing official from Microsoft on this update.
Things I would like to see in xbox Music are the ability to rip CD's, organize the Library, change playback devices (headphones to speakers, etc.), add meta tags, delete songs, add songs to the Library, and get rid of the xbox store focus. Think about the features in your favorite music player and add them to the list.
Giving kudos to Microsoft for this update is like praising your 7-year-old for their art. You love it because they are your children but it's not going to get them in the Museum of Modern Art.