Xbox Music in Windows 8.1 gets a major upgrade that improves access to your music and exploration of new music
Windows 8.1 and Xbox Music are not the final versions but products in transition from a 30-year-old vision of mouse/keyboard computers to Touch computing. It's not perfect but very usable and far ahead of any competition.
Xbox in Windows 8.0 was, well, bad but it worked. Microsoft started users in the music store and you had to fight your way out to hear the music.
All that is turned around in Windows 8.1 Xbox Music with a cleaner interface, better graphics and navigation. In Xbox Music the focus is on your music Collection, Radio which plays suggestions from you and your listening habits and Explore for new music. The new Xbox Music makes the grade as the first place to go for music in Windows 8.1.
Xbox Music Collection
Collection is where you land in Xbox Music, organized logically by Albums, Artists and Songs. The Collection items are easy to find with album and artist thumbnails. If the thumbnails are missing you should check the file meta tags. More on that later.
If don't see all your music listed, go to the Desktop Explorer and make sure the file directories for music are included.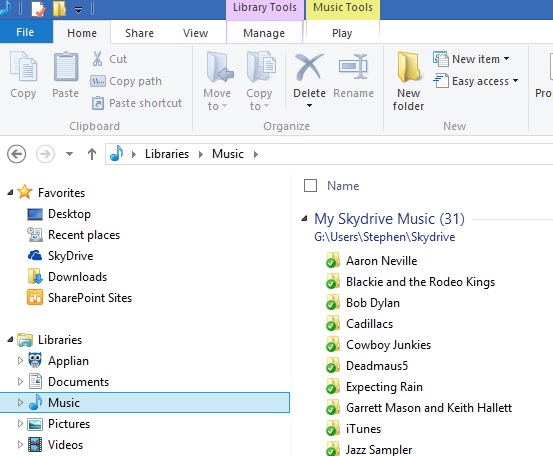 Xbox Music in Windows 8.1 Collection depends on what you include in the Explorer Library for Music
Go to Explorer, Libraries, Manage and add the Directories that have your music files. You can also import iTunes Playlists and your iTunes Library, except music Apple protects with DRM. Give Xbox Music time to update its Collection.
Xbox Music will not see NAS storage or Windows Home Server storage. Windows 8.1 uses a new music service that was not included in Windows Home Server and there is no patch yet that I could find.
If some of your music does not show up in Xbox music it may be due to DRM, file format or meta tag issues. Xbox Music is designed to collect and play music across desktop, laptop, tablet and phone platforms. It plays compressed music like MP3s and Apple m4a files. It does not play uncompressed files like WAV or Flac files.
If you want to share music across mobile platforms you need to convert it to MP3s. Xbox Music plays up to 256kbps music. I haven't experimented with bit rates. I'd suggest experimenting before trying non-standard conversion protocols.
Xbox Music also makes your music available in the cloud with a few tricks. You can share music across all devices freely if you have an Xbox Music Pass. Xbox Music does music match in the cloud which is free with a few annoying ads. Free streaming across all your devices with match costs $9.99 a month. To have your music play on all devices without Music Pass you need to copy it to each one. How boring. Check the grid on Xbox Music Pass for what is free and what costs.
Perfect or not?
Xbox Music is a very good music player but it is not all things for all users. Paying wav files on your computer still takes Windows Media Player on the Desktop. I also recommend MusicBee freeware that not only plays all music file formats but also allows you to edit your meta tags. When you see songs that are not organized in Xbox Music the problem will likely be the songs were ripped with the wrong meta tags. MusicBee can help you clean up your libraries.
Xbox Radio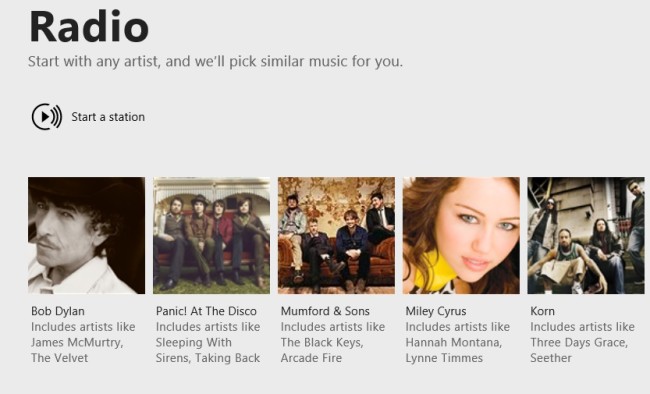 Windows 8.1 Xbox Radio will play songs based on your collection and listening habits
Xbox Radio creates virtual radio stations based on what you've listened to. It will create as many radio stations as you like along with Custom Radio stations based on one artist.
Unless you have a Pass, Radio comes with ads.
Xbox Explore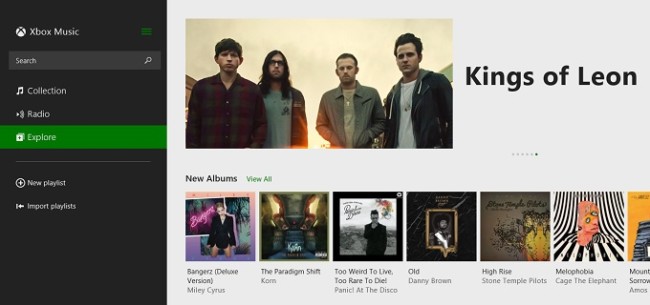 Xbox Explore plays the latest releases and if you like them you can buy the music.
Perhaps one of the most interesting features is Xbox Explore. After the usual commercial, you can listen to the latest music. I didn't find any limitations on Explore. It plays the complete CD if you want, not just excerpts.
The fun in Explore is to hit the More arrow to see all the New Albums and Top Albums. And within those headings, Explore the All Genres like Classical, Country, Electronic/Dance, Rock, and then Sub-Genres. This feature is heads above iTunes which only plays 1:30 of the songs.
Microsoft says you can listen for 80 years and not repeat a song. It's pretty amazing how much music they have from Maria Calla singing "Un Bel Di Vedremo" from Madame Butterfly to the "Walcott's Medicine Show" by The Band.
Behind everything you play, there is the music store where you can buy songs or albums. Click on the plus sign beside the album or song and it will take you to the store. Songs are $1.29 and CDs vary, usually about $10.
The files are 256kbps, essentially the same as iTunes and sound identical to the same music from iTunes. I bought Bob Dylan's Another Self Portrait (1969-1971): The Bootleg Series Vol. 10

from iTunes and Nokia Music and they are identical played on headphones or studio quality monitors.
The consumer is getting some leverage with so many sources of digital music. I shopped the Dylan deluxe set from iTunes, Xbox Music, and Nokia Music and got it for $9.99 from Nokia. Once the music downloads it is available in the cloud and on all your Windows 8 devices, including Windows Phone.
Xbox music can easily transfer iTunes music which most people coming from an iPhone worry about. Try it.
Windows 8.1 free upgrade

Windows 8.1 is a free update for Windows 8 users, available on the Windows Store starting October 18, 2013. Users of Windows 7 and earlier versions can buy Microsoft Windows 8.1 – Full Version for $120, available on pre-order from Amazon.com.
Here's a tip. If you don't already have Windows 8.0, you can save some money by finding a discounted copy of Windows 8.0 upgrade and get the update free. Amazon.com still has Microsoft Windows 8 Pro – Upgrade

for $85.