You can publish this article on your website as long as you provide a link back to this page.
This article was last updated on April 16, 2022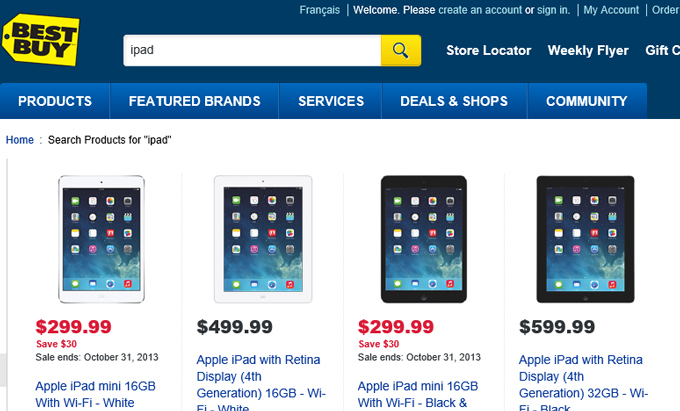 Apple iPad 2 with Retina Display is $499 at Best Buy and Future Shop but Apple is selling them for $399
Both Best Buy and Future Shop are charging $100 more than the price Apple posted on October 22, 2013
With the launch and November 1, 2013 availability of the new iPad Air, Apple dropped the price of iPad 4 to $399 for the 16GB base model. Update – see the end of the story but these are OLD iPad 2 models with A6 chip and Retina display to be replaced in a few weeks with better model at $399.
Best Buy Canada and the sister store Future Shop are trying to take another $100 out of your wallet at $499.
I was in the Charlottetown, PEI store yesterday and asked a sales associate, who had just done an admirable job of pitching the iPad to an obvious first time buyer.
When I asked him if the iPad had dropped to $399, he said no.
Checking the Future Shop and Best Buy websites, he was right. Both retailers are maintaining the pre-Air launch price of $499, a $100 upcharge.
Over at the Apple Store, they dropped the price $100 after the iPad Air was announced on October 22, 2013.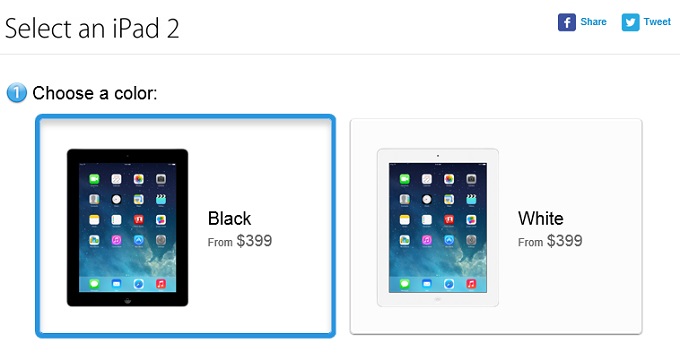 Apple iPad 2 at Apple Store $100 less than Best Buy
I will try Future Shop again this afternoon with the Apple online price.
Both promise to meet genuine prices from online or storefront dealers and give you 10% of the difference.
We will see.
It's a little shabby of both stores to play the game of guess our best price today when Apple clearly announced the price reduction.
It could also be that Apple didn't give the retailers a price reduction yet.
In any event, order from Apple if you can't wait until November 1st for the iPad 4. Apple ships free and they promise 24 delivery.
Update
The model being sold by Best Buy and Future Shop is the old iPad 2 with Retina Display, model MD513 with LLA or CA for country.
These models are being cleared and Apple is not selling them anymore. Best Buy are incenting the sale with $100 of Geek service and cloud storage.
The new iPad 2 with Retina Display will sell for $399 and have the A7 chip (not the A6 in the clearance units). It's obvious they are not selling the iPad Air and the iPad with Retina for the same price.
Here's the announcement from a launch blog
"The screen is a 2,048×1,536 resolution display, the same resolution as the Air. Are you ready for more specs? Here goes: there's an A7 chip inside, making the CPU up to four times faster and graphics up to eight times faster. It's got 10 hours of battery life, MIMO and a 5MP camera. It comes in silver, white, gray and black and will be priced at $399, later in November. "