You can publish this article on your website as long as you provide a link back to this page.
This article was last updated on April 16, 2022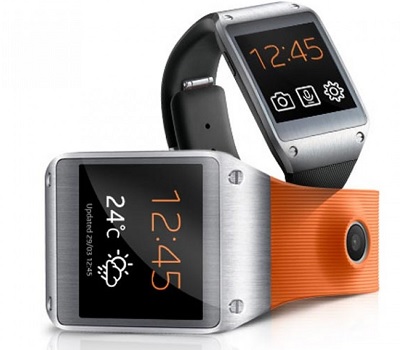 Apple is left in the lurch with the Galaxy Gear now shipping for $300
Early adopters have the latest smart watch gadget on their arms and Samsung is leading the pack again with the Galaxy Gear, shipping in 6 colors
Samsung has shipped double the Apple number of phones, most of them 5&Prime. It is launching a gorgeous curved phone, and the latest show-your-status-device – the Galaxy Gear.
It used to be Apple that launched all the cool products. This year Apple gave the world a big yawn with fingerprint security and wow! 64-bit processing that goes nowhere.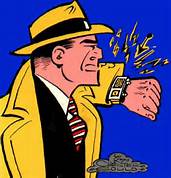 Dick Tracy Watch from the Sunday comics inspired the Galaxy Gear
When I was a kid, Dick Tracy watches were all the rage, as the comic strip detective got his instructions on his watch.
Maxwell Smart Watch updated the concept, including a show phone.
Well now you can have one of your own that talks to the already amazing Galaxy smartphone or Galaxy Note 3.

Tech Radar's video review dumps on the Galaxy Gear – what do they know. The reviewer thinks it is inconvenient to raise the Gear phone to your ear. Inconvenient? It's a status move that shows everyone you are the most connected person around.
"At the Samsung Developer Conference here, many of the 1,300 independent developers were wearing smartwatch devices on their wrists, though not all were the $300 Galaxy Gear version Samsung launched recently to pair with Galaxy devices like the Note 3. Two developers at the event were wearing the Sony Smartwatch, which recently began shipping in its second generation for $200. But both said they would prefer the Gear device instead because it has a microphone and speaker for making voice calls. (The Sony device does not do that.)" ComputerWorld