This article was last updated on April 16, 2022
Canada:

Oye! Times readers Get FREE $30 to spend on Amazon, Walmart…
USA:

Oye! Times readers Get FREE $30 to spend on Amazon, Walmart…Microsoft's PR opportunity with the holiday season 12 Days of Deals may be turning into a disaster as customers get locked out of deals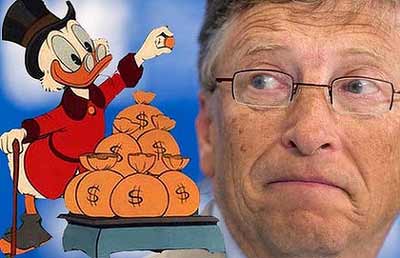 Microsoft squander chance to be generous with stingy policies (Illustration The Age)
If Scrooge McDuck is the meanest rich person in cartoon world, Microsoft is vying for 2nd place.
Two days ago Microsoft announced a pre-holiday sale called "12 Days of Deals" and the first deal got a lot of attention, a Dell Venue 8 Pro Tablet for $99, or $200 off retail.
Microsoft is turning a decent public relations and sales opportunity into a disaster.
Shop 12 Days of Deals at Microsoft! New limited quantity door buster deal each day at 7 AM PST. Available while supplies last.

Instead of offering products people want at a great prices, Microsoft is only stocking limited quantities of the specially priced items that sell out in seconds.
Bookmark the link to the Microsoft 12 Days of Deals. Shop 12 Days of Deals at Microsoft! New limited quantity door buster deal each day at 7 AM PST. Available while supplies last.
The clever person in Microsoft's sales and marketing department think the 12 Days of Deals is a PR positive event but Microsoft is so insulated from reality they don't realize how many people are irritated.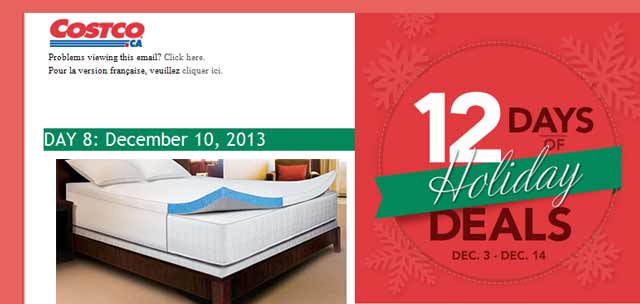 Costco's 12 Days of Holiday Deals for everyone
Costco are running a 12 days of Holiday deals but they have adequate inventory to last throughout the special with most items.
Apple is just giving stuff away during Apple's 12 Days of Free Gifts.
Microsoft is acting like your mean uncle with only candy for a few children in the room.
Microsoft's bad public image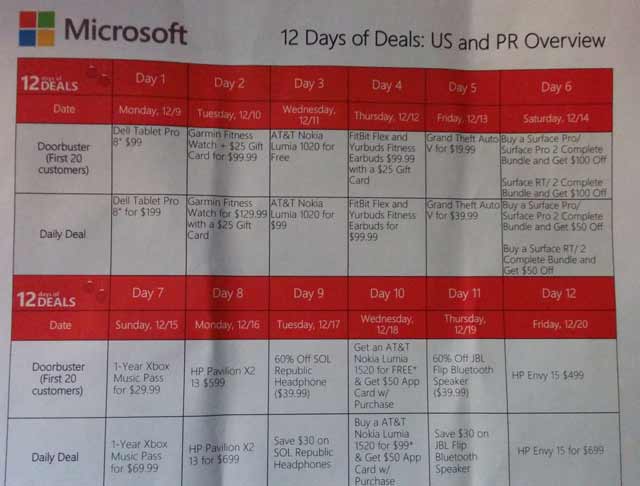 Microsoft leak of 12 Days of Deals
Microsoft are unable to resist perpetuating the meanie reputation Bill Gates and Steve Ballmer gave Microsoft in the US Federal lawsuit for dirty tricks. Customers are people to be conned. The consensus is frustration over Microsoft pulling the rug out on the lowest prices.
"Minutes after the 7:30 a.m. PT debut of the sale, Microsoft's website noted "Sold out." reported ComputerWorld.
Instead of making happy customers and winning them over with good will during the Holiday Season, Microsoft's 12 Days of Deals is making people angry.
Online sales were a disaster of dropped orders, invisible $99 tablets and out-of-stock messages.
"Do your homework. There were no $99 tablets on-line. Site crashed and in the middle of an order, the priced changed from 99 to 199 to 299. It was an incredible scam that cost Microsoft good will and customers." wrote Jinx the cat.
"Stampede lottery promotions like this do more the tarnish the image of the retailer than anything else…If you're going to have a sale, have a sale. Don't run some million-to-one odds scheme that pretty much says "we want the publicity while limiting the total discount we're on the hook for to the absolute minimum". wrote npco543.
"As for how it was run, not that I expected I'd be able to pick one up for the $99 price, but I gave it a try. At 9:57, the page for the Venue 8 didn't have a purchase button, and in the space of a single refresh, it came back at $199 – and all before the supposed 10:00 opening."
"I couldn't access the site via my laptop or desktop. I was able to access it using Chrome browser on my iPad, LOL, but it had already sold out." wrote Baybreeze.
"The 1st day in Microsoft's 12 Days of Deals, resulted in long lines at physical Microsoft stores, an outage for the online site, and a $99 Dell Venue 8 Pro that sold out online in less than 2 minutes. And, if that were not enough, shortly after the Dell tablet was bumped up to $199 that sold out too in less than an hour." WindowsITPro
At the Microsoft Retail Stores the sale was equally frustrating.
"At some stores, people got tickets numbered 1-20 and told to return 3 hours later when the store opened or their opportunity would be released to someone else. A sale is great but getting customers to show up at the store at 7am and not being able to complete the sale is ridiculous," wrote Mack The Knife.
You can publish this article on your website as long as you provide a link back to this page.