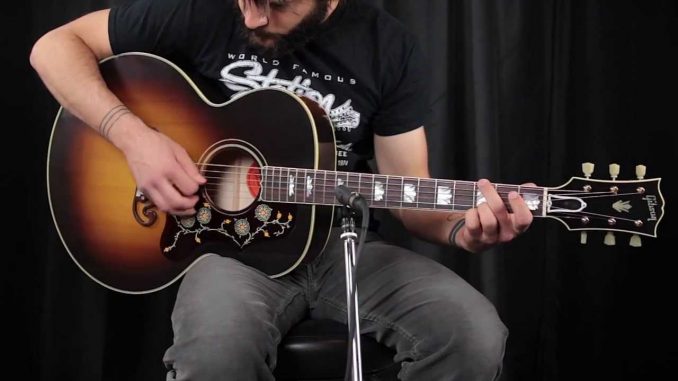 This article was last updated on May 26, 2022
Canada:

Oye! Times readers Get FREE $30 to spend on Amazon, Walmart…
USA:

Oye! Times readers Get FREE $30 to spend on Amazon, Walmart…

Gibson showed off an official Bob Dylan SJ-200 at NAMM and it will cost you plenty
By Stephen Pate – Bob Dylan has played hundreds of guitars, some borrowed, some loaned and some he owned. You will be able to buy one of them when Gibson Guitar ships the one they demonstrated at NAMM 2014, the Bob Dylan SJ-200.
The Fender Stratocaster Dylan played in 1965 was recently auctioned for almost $1 million. " A guitar once owned by music legend Bob Dylan sold for $965,000 Friday at Christie's, setting a new world auction record for any guitar." CNN. You can get a new Fender American Vintage '65 Stratocaster (link) for about $2,000 or a Fender 60′S Stratocaster Black (link) for $1,000 more or less. Obviously, Bob Dylan's guitar has a ridiculous value to collectors.
Gibson's new Bob Dylan SJ-200

Gibson SJ-200 Bob Dylan artist model (Photo Music Radar)
For the less than rich, you will be able to buy a Bob Dylan endorsed artist model of a guitar he played over 3 decades, the Gibson SJ-200.
Gibson had this beautiful guitar in a "a quiet corner reserved for a resolutely 'do not touch' guitar." It was the first of 420 artist models to go on sale some time in 2014.
"The beautifully ornate (S)J-200 is the result of a collaboration between Gibson and Dylan, that will result in 120 examples, all signed by Dylan himself. In addition there will be 300 non-signed, less ornate versions at a lower price with an engraved (not inlayed) pick guard.

Prices and availability are unconfirmed at present, but this is certain to be a much sought-after guitar. This one is owned by the Bob Dylan …hence the 'do not touch' status. Want one? You'd better go and talk nicely to your local Gibson dealer: demand will be high, whatever the price." Music Radar.
The Bob Dylan SJ-200 Artist Model will cost at least $6,000 and maybe more than $10,000 street price. They will get snapped up in no time. Since it has not been official released, there is some confusion about the exact model name: will it be an SJ-200 or a J-200? If it has the bling and double pick guard it's a SJ-200.
If you like the sound and look of the SJ-200, you can buy the non-artist Gibson Modern Classic SJ 200 Guitar Vintage Sunburst (link) retails for about $3,900 in Canada and $3,800 in the United States (link). The special Gibson 75TH Anniversary Rosewood J200 75 Vintage Sunburst(link) retails for about $6.500.
There are people who study what guitar Dylan played at any given moment as though it holds the secret to his talent for songwriting and performance. I don't think so. Dylan is almost ambivalent about guitars, having played some great guitars and some stinkers.
Bob Dylan and the Gibson J-200
Dylan has played various Gibson SJ and J-200′s throughout his career. SJ-200′s are big guitars with a big robust sound. The ring like a bell with all the volume, mids and low-end people expect in a Gibson flat top guitar. You can hear them on plenty of recordings from country and folk artists. I put a video review of the standard J-200 at the end of the story.
In Murray Lehner's documentary The Other Side of the Mirror: Bob Dylan Live at Newport Folk Festival 1963-1965, Bob Dylan seems to switch guitars between sets. He plays guitars that range from primitive, to Joan Baez's 00-size Martin, to the Stat and a Gibson SJ-200.

Bob Dylan with a J-200 on the cover of Nashville Skyline
Dylan played a Gibson SJ-200 on the Nashville Skyline recording session.
He is pictured with it on the album cover. Rumors have that guitar was a loaner from George Harrison. (Featured image from Bob Dylan's Gear)
Dylan played the same guitar at the Isle of Wight concert with The Band. The one that MusicRadar saw at NAMM 2014 was a dressed up SJ-200 with double pick guards and as much bling as the guitar would take.
That's not a phony artist model. Dylan played the double pickguard SJ guitar on the stage at the Newport Folk Festival 1965. Thanks again to Dylan Gear we have a composite of the new Bob Dylan SJ-200 and Dylan on stage at Newport in 1965.
You can see the performance, along with every guitar Dylan played in Newport in The Other Side of the Mirror: Bob Dylan Live at Newport Folk Festival 1963-1965. I was watching the movie last week and went – hey that's the new Dylan guitar!

Bob Dylan Newport 1965 "On the afternoon of July 24 Dylan went on stage for the writers workshop with a sunburst Gibson J-200 with double pickguard…the day before the ghost of electricity appeared…" (Photo Bob Dylan's Gear)
Follow me on Twitter at @sdpate or on Facebook at NJN Network and OyeTimes.
By Stephen Pate, NJN Network
You can publish this article on your website as long as you provide a link back to this page.