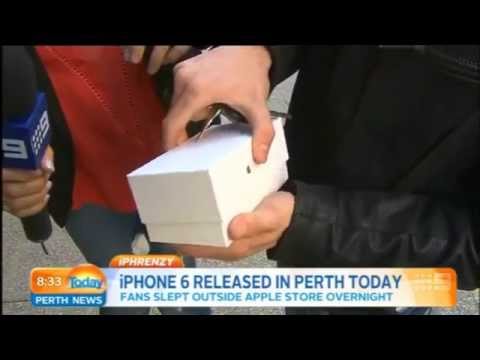 My local Future Shop still had the new iPhone 6 at 5 PM on launch day
By Stephen Pate – There were two iPhone 6 64GB phones for sale at 5 PM at the Charlottetown, PEI Future Shop on September 19th, 2014.
In the UK people got into scuffles in line-ups and at the main Apple store in Manhattan they had lined up for the new larger iPhones for a week.

Some poor bloke in Australia let a reporter get near one of the first phones sold in the world and he dropped it. Watch her hands interfering with the unboxing. That will teach him to not trust reporters.
Not on PEI, a sleepy rural province of 140,000 off the east coast of Canada. Along with 3 carrier outlets (Bell, Telus, and Rogers), we have a Target, Future Shop, Staples and Wal-Mart who are authorized Apple dealers.
It's staggering to think of Apple shipping new iPhone 6 boxes to all the dealers they have in all the cities and towns around the world that have Apple dealers.
At 5 PM I wandered into the Future Shop store and casually asked if they had any new phones left. "Two gold 65GB 6's," said the helpful sales associate.
"Did you have an 6 Plus's?" I asked.
"We only had 2 and they were gone right away," he replied stating that this Future Shop got more product than any in the region.
I don't know if that's true because we are only a few hours away a city 10 times our size but they always have first day product at this store. Target runs out in an hour and Wal-Mart has spotty inventory. Staples is mostly a back-order store on first day.
Since the first iPhone, I've always been able to get first day product at this Future Shop by arriving an hour after opening. They have great inventory and the line-up is gone.
I didn't get one but I was surprised at how easy it was to hold the 5.5&Prime iPhone 6 Plus. Nice phone with a great screen.
Follow me on Twitter at @sdpate or on Facebook at NJN Network, OyeTimes and IMA News Buzz.
By Stephen Pate, NJN Network