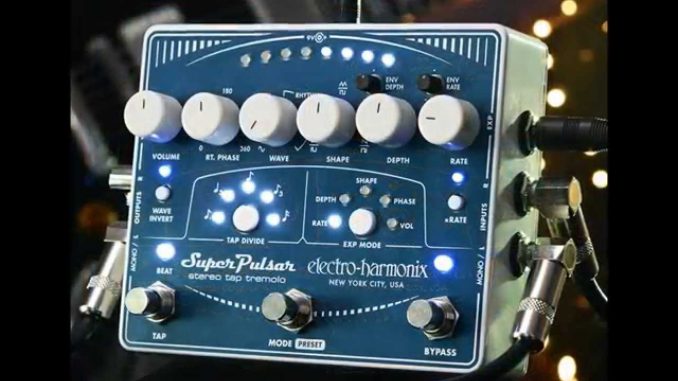 Tremolo was never this sexy – hot new pedal from NAMM 2015 gives you virtually unlimited palette
By Stephen Pate – The new Electro-Harmonix Super Pulsar Stereo Tap Tremolo falls into the guitar pedal category of "why didn't they think of this before."
Since a guitar player electrified the first guitar players have been experimenting making the guitar sound like nothing imagined by C.F. Martin. The electric guitar allows each musician to set up his own musical palette and signature sound .
The Electro-Harmonix Super Pulsar Stereo Tap Tremolo Pedal

was just released at NAMM 2015 and is showing up in stores. Actually it shows up and walks out the door. The pedal is so hot dealers can't keep it in stock.
When I watched the video I knew my tremolo needed an upgrade so I ordered it. The pedal only costs $260 in Canada and $237 in the States.
Word to the wise in Canada – guitar, amp and musical gear is about to take a 20-30% price hike due to the falling Canadian dollar. Fender guitars are being re-priced today February 6th. Gibson will follow soon.
Available from guitar stores and Amazon.com

in the United States and LA Music in Canada. Rock on.
The two other pedals shown in the video are the Electro-Harmonix Pitch Fork Guitar Pitch Effect Pedal

(in Canada ) and Electro-Harmonix C9 Organ Machine

(in Canada).
Here's the blurby stuff.
A truly super tremolo with powerful controls and signal routing. Sculpt the tremolo's shape with adjustable sine, triangle and pulse waveforms while tap tempo and tap divide ensure synchronicity. Create your own rhythmic patterns and store them. Save and recall up to eight customized preset programs. Conjure moving tremolos on-the-fly with EXP control over Rate, Depth, Shape, Phase or Volume. Deluxe I/O lets you choose stereo in/out, mono in/stereo out, stereo in/mono out or mono in/mono out operation. Analog circuitry yields warm, lush tone that will envelop you in shape shifting waves.
Features
– Analog Tremolo with Stereo in/out, mono in/stereo out, stereo in/mono out and mono in/mono out.
– Adjustable modulation waveforms include sine wave, triangle and pulse waves, plus 9 rhythmic patterns that may be changed by the user and saved.
– Modulation rate set by RATE knob, TAP TEMPO FSW, external Tap FSW or external clock.
– The waveform phase for the right channel may be adjusted from 0 degrees to 360 degrees in relation to the left channel.
– Modulation Rate and Depth can interact with your playing by adding envelope follower modulation to each parameter.
– Expression pedal or CV control over Rate, Depth, Shape, Phase or Volume.
– Volume Boost of up to 12dB when DEPTH control is set to minimum position.
– Save and recall up to 8 presets.
– MODE FSW allows user to scroll through TAP DIVIDE modes, EXP MODES or 8 Presets.
– True Bypass using mechanical relays.
– 9VDC AC Adaptor Included.
Follow me because you can.
Twitter – @sdpate
Facebook at NJN Network
Add the NJN icon to your desktop
Subscribe and get new stories by email
By Stephen Pate, NJN Network