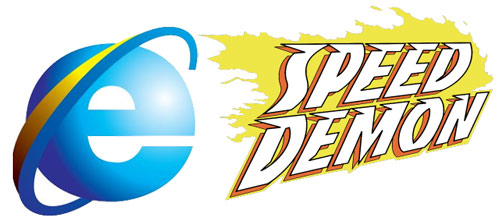 Internet Explorer 9 is the new web speed demon with GPU acceleration pushing 5 times faster than Firefox 4 and Safari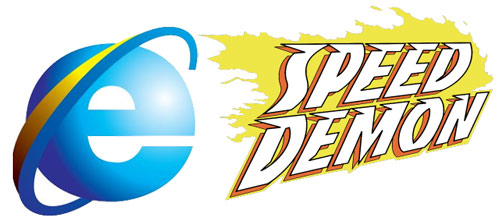 IE 9 the new speed demon (Speed Demon logo @ J.G. Roshell)
The best way to upgrade your internet experience this year is the free upgrade to Internet Explorer 9.

Microsoft's IE 9 felt faster so I put it to the test.
IE 9 clocks five times faster than the Firefox 4 beta in a series of HTML 5 tests. IE 9 is four times faster than Safari 5.
Since we spend most of our computer time on the internet, that can translate into a major performance upgrade of the computer and it costs nothing, one of the better bargains in computing.

The speed improvement is coming from IE 9′s ability to harness the processing power on your computer's graphics card (GPU). Until now, GPU power was used mainly by games and some graphic design programs like Adobe CS5.
We didn't test Chrome since it broke our computer last time we tested it. Firefox 3.6 doesn't support HTML5 so we shot for the latest beta.
So far I haven't found anything broken in IE 9 except an annoying forgetfulness about remembering logins and passwords. I tweaked the setting to force it to save all changes which seems to be better.
The results were stunning and re-inforced the impression that IE 9 gives your computer a big boost in performance.
IE 9 beat Firefox and Safari hands down.
Safari failed to complete the Speed Reading test.
Admittedly, the test computer is about as fast as it could be with an Intel i7 980x. I then tested the same routines on a variety of Vista and Windows 7 computers.
The CSS3 and HTML5 standards are still not written in stone. Therefore any test could be influenced by the way the test is set up. These are Microsoft tests; however, other independent tests seem to confirm that IE 9 is a speed demon.

Pre-School Test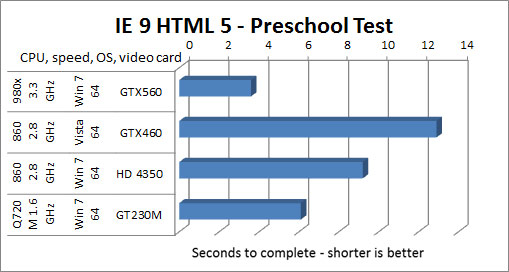 Pre-School uses an HTML routine to animate and sing the alphabet.
The test computer with the most powerful graphics card, a $400 Nvidia GTX560, completed the Pre-School test in the quicker time. IE 9 is using the GPU to process the HTML5 code.
The second best timing was the Q720M laptop which has an Nvidia GT230M GPU. That was great news since that laptop seemed slow up to now, despite having a mobile i7 CPU.
The worst time was a relatively speedy i7 860 with a fast $150 Nvidia GTX460 graphics card running Vista 64 bit. IE 9 is optimized for Windows 7 so it looks like time to upgrade from Vista. (See the end of the article for the computer details.)
IE 9 appears to be an embedded process with Windows 7. Installing it requires a reboot and the "updating Windows" message appears.

Maze Test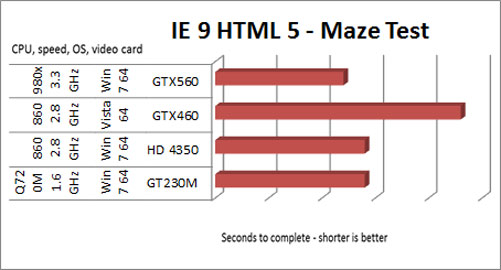 The Maze Test uses HTML 5 to solve a 20 x 20 maze quiz.
All the computers put in comparable times, except the Vista computer which took twice as long.
None of the IE 9 computers turned in worse results than the 6.5 seconds on Firefox 4 and 4.3 seconds on Safari 5.

Speed Reading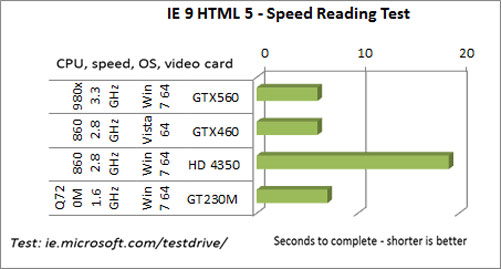 The last test has a screen of flip tiles that test the browsers ability to process a speed reading example at 60 FPS.
All of the computers completed the test in 6 seconds, except the one with the ATI Radeon HD4350 graphics card.
That demonstrates the speed advantage of newer graphics cards.
The Radeon is a fanless graphics card used it in a recording DAW. The new graphics cards produce a lot of heat and use fans which adds to the ambient noise level in a recording studio.
The other computers use newer Nvidia GPUs.

Test Computers
The four test computers are all using Intel i7 CPUs of various power.

i7 980X – ASUS X58 mobo desktop, 3.3 GHz with 12 GB RAM, Windows 7 Ultimate 64 bit SP1, and Nvidia GTX 560 GPU
i7 860 – Dell desktop 2.8 GHz with 8 GB RAM, Vista Home Premium 64 bit SP2, and GTX 460 GPU
i7 860 – ASUS P55 mobo desktop, 2.8 GHz with 8 GB RAM, Windows 7 Professional 64 bit SP1, ATI Radeon HD 4350 GPU
i7 Q720M – HP laptop, 1.6 GHz with 8 GB RAM, Windows 7 Home Premium 64 bit SP1, Nvidia GT230M
Unlike Adobe which only supports Nvidia CUDA as a GPU, Microsoft seems to be GPU agnostic. I didn't have a current ATI card to test that theory.
By Stephen Pate, NJN Network