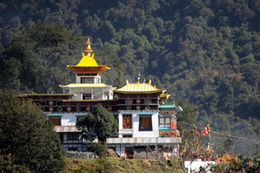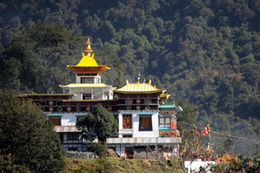 In breathtaking Arunachal Pradesh, the Sino-Indian war is living history. Memorials dot the winding, mountainous route from Tezpur in Assam to the monastery town of Tawang.
Some are bleak white stone tablets bearing just the names and ranks of the men who fell to Chinese bullets at that spot. Others, like Jaswantgarh — built in the memory of soldier Jaswant Singh — have a number of rooms, with mini-museums featuring everything from spent cartridges to grenade launchers.
Jaswant single-handedly held off a horde of Chinese soldiers for 72 hours in the 1962 war, claiming 300 lives. He then shot himself to evade capture. And Sela, his lover, overcome with grief, jumped off the mountain to her death.
At the memorial, a lamp burns day and night before a bronze bust that was, ironically, sent across the border by a Chinese general impressed by his troops' account of the lone soldier who would not leave his post.
A few metres up the mountain, at an altitude of over 4,000 metres, is the hushed and snowy Sela pass, the second-highest motorable road in the world. It's hard to imagine smoke, gunfire and bloodshed in a place as idyllic as Arunachal Pradesh.
The soaring mountains are draped in beauty, with giant palms jostling for space at the lower altitudes, giving way to dainty trees touched with the pinks, browns and yellows of autumn further up, and, around the snowy mountaintops, silent, are snow-dusted conifers.
Every once in a while, though, a convoy of army supply trucks will trundle past, tarpaulins mysteriously drawn over their contents. Or a batch of fresh-faced recruits will drive past in a military bus, sitting ramrod straight as ordered but with their eyes glinting with the excitement of their first posting.
The military presence is a constant on the Tezpur-Tawang route.
At the army camp in Tenga valley, soldiers stroll about in groups. Flowering plants surround wooden structures that are neat, even homely. But the unfamiliar letters painted over every door remind you not to linger.
The soldiers, though, are surprisingly friendly.
"I was in Kargil," says a jawan manning the refreshments stall outside Jaswantgarh. "It was -40 degrees centigrade there," he grins, taking in my muffler, gloves, woollen cap, coat and boots. "It was so cold up there, it took nearly an hour just to boil an egg." Ask about China, Bhutan, Pakistan or pretty much any bordering country, though, and all you'll get is a nod and a smile.
Back on the road, you pass little wooden homes built on plinths pushed into the hillside. Rosy-cheeked locals break stones by the side of the road — the roads are smooth enough, but maintenance is an endless process here.
"Most of the workers are women," Shahid, my driver and guide, confirms. It's a matriarchal society, and even pregnant women or those with infants strapped to their backs must work to support their families.
The men can often be seen carrying lunch to the work sites. The luckier women work out of home, running tiny eateries set up alongside their houses, where truckers and tourists can stop for a steaming cup of tea or delicious set-menu meals of spicy sautéed vegetables (mainly potato and peas, little else grows here), yellow daal (lentils) with rice and curried chicken in a peppery, spicy gravy.
Our first stop in Arunachal is Dirang. Until recently, there was only one hotel here — the Pemaling. Now, as the government eases restrictions and tourists begin to discover Arunachal, the grand total has risen to three.
But the Pemaling still has the best view. Perched atop a hill overlooking Dirang valley, the hotel has a spectacular view of the little town way below, huddled on the side of a sparkling river.
There's plenty to see in Dirang: Apple orchards, kiwi plantations and breathtaking views from the tops of mountains, where little houses cling to the hillside and chillies are dried in colourful strips of red and black on the rooftops.
Dirang is also perfect for night walks, if you keep an ear out for trucks racing around the hairpin bends and can step nimbly into the bushes to avoid them. It might sound perilous, but the sight of silver moonlight on terraced fields is totally worth it.
It's a 143-km drive to Tawang from Dirang but it will take you at least six hours. Picturesque glimpses of the 400-year-old monastery, the second largest in the world, are visible from miles away.