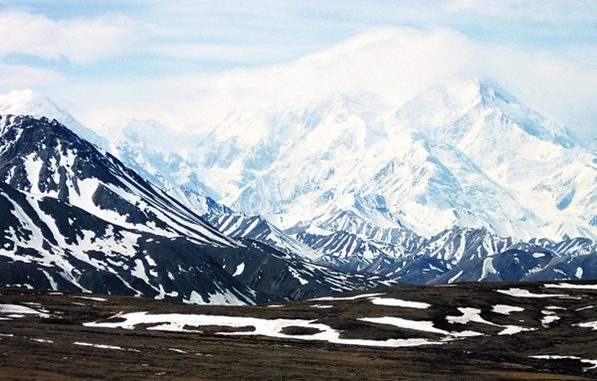 It was a windy, snow-whipped morning in early winter, and as I stood on a spit of land jutting into Kachemak Bay in the Alaskan town of Homer, I was surrounded by natural wonders. Or so I was told.
The Harding Icefield, rugged mountaintops ensconced in interconnected glaciers, was just off to the north east. Ten miles away were rivers where in spring phalanxes of brown bears stand paw deep in the water, practically posing for photos as they snap up spawning salmon midleap. But in Alaska, a vast state covering 663,267 square miles, much of the terrain is completely cut off from roads. A tourist can get only so far or rather, so near.
Fortunately, there's another option: Take to the air.
While in Alaska to interview people living in remote areas for an article, I learned how vital air travel is in reaching spots inaccessible by road. I also found it to be the best way to see the state's many stunning sights. Pilots in the state are now offering an array of aerial jaunts.
Known as flightseeing, these tours via small, sturdy aircraft capable of landing in uneven terrain help open up Alaska to the average traveller. From the air, the rare view of a glacier's back becomes democratic, no longer reserved for extreme sports enthusiasts who can clamber up its icy sides. Once on the ground, reclusive animals come into focus, and hard to reach fishing streams are just steps away.
"You've only got five highways," said Norm Lagasse, director of the Alaska Aviation Heritage Museum.
With the exception of dogsleds, terrain is accessible mostly by aircraft.
Bird's-eye view
Accordingly, Alaska has about one registered pilot for every 58 residents, and 14 times as many airplanes per capita as the rest of the United States. Lagasse said pioneer pilots took their first flights over the countryside in 1913.
Cruise ships also claim to provide unique access to Alaska, but the view from the deck reveals few of the details no bird's eye view of the creatures that wander along the peaks, like woolly white Dall sheep and rams almost as big as donkeys.
And though by ship you can float close to a mountain's foot, you can't see the jewels hidden in its crags: Valley lakes tinged a glowing green from "rock flour", the ground-up minerals that pour from the meltwater of a glacier and hang suspended in the lake.
The best viewing, I was told, was in spring, when you can pinpoint bears below you and land to snap their picture. Zack Tappan, chief pilot at Homer Air, flies over and around the smokestacks of as many as four active volcanoes on trips to bear breeding grounds. After landing on the shore across Kachemak Bay from Homer, Tappan leads visitors to within 100 yards of placid brown bears. "I wouldn't say they have a relationship with us, but they've seen us enough to under stand what we're about," he said.
Turbulent times
But even in winter you can personally view those sequestered green lakes as I did, flightseeing via Alaska's answer to the tour bus: a Piper Navajo double-engine plane buzzing through Lake Clark Pass.
Setting out from Anchorage toward the town of Port Alsworth, you see Alaska distilled, said Glen Alsworth Jr., who runs Lake Clark Air and along with his father is something of a local aeronautical legend. "You see the oil derricks and the industrial part of Alaska," he said, "and you get into the transitioning part of the wilderness, where it's all still being glacier carved."
What hadn't occurred to me was that all this beauty has a price: the vagaries of nature. The plane's light frame puts it at the mercy of atmospheric lumps and bumps, though they don't seem to faze the bush pilots in the slightest. Just as Alaska's native people have multiple words for snow, pilots have multiple descriptions for turbulence. I may have experienced them all. I even recognised a few of the terms.
`Yawing', when the plane shimmies as a gust buffets first one wing, then the other? Check. Hitting rough air, when the plane hiccups across clear sky that has suddenly become as potholed as a dirt road? Check.
"When it's beautiful, it's really beautiful, but when the weather's not nice, it's treacherous," said Lagasse.
A guest in nature's home
And yet, as the plane stumbled around the sky, I took heart in my pilot's calm, businesslike manner. On this day we flew above the peaks, but Lake Clark Air is skilled in slipping small, hardy Stinson planes between the mountains' flanks to land midriver on gravel bars.
With stout wheels, the small bush planes can land on just about any flatish surface patches of snow between spruce trees, or stretches of sand. Landings on beaches beside lakes are standard for catch and release fishing tours in the spring, when Arctic char and rainbow trout are the attractions. For trips in which scrub brush and rocks prevent touchdown, Alsworth uses float planes with banana-shaped buoys to land in the teal water.
Though whipping winds prevented a daring landing this time, my views from aloft were enough. The Chigmit Mountains were a stupendous sight; the pass that ran through them was an icy version of a Grand Canyon. I caught my breath for once not because of turbulence. As Tappan of Homer Air put it, with flightseeing, "you're out there in the wilderness in a really remote setting; you're a guest in someone else's house."