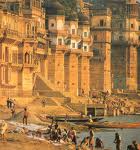 This article was last updated on April 16, 2022
Canada:

Oye! Times readers Get FREE $30 to spend on Amazon, Walmart…
USA:

Oye! Times readers Get FREE $30 to spend on Amazon, Walmart…

Our time in Delhi draws to a close as we sit in the bustling Delhi airport awaiting our flight to Varanasi. Delhi has left an indelible impression on us both. The city is a contrast of sheer opulence juxtaposed against abject poverty. Interestingly it is not a depressing place to be at all. We have certainly seen living conditions that seem inhumane, but in a strange way it doesn't seem as sad as we might have expected. The people go about their day with a sense of contentment despite having no earthly possessions. India is a very spiritual place, so perhaps that abiding sense of faith and hope of things to come transcends their earthly circumstance. The population in about 80% Hindu, but other faiths like Islam, Bahia, Sikhism and Buddhism seem on the surface at least to coexist in relative harmony.
Our final day in Delhi was dedicated mostly to exploring and gaining exposure to spiritual aspects of Delhi. We started the day Akshardham Hindu Temple. It was the most beautiful of all the temples have seen to date. The red sandstone structure accented by gleaming white marble was truly a sight to behold. After being pushed and shoved out of the way by multiple worshipers, we were eventually ushered through yet another makeshift "metal detector" (as far as we could tell, it was little more than a few pieces of plywood glued together and it never seemed to beep or do anything). Once we removed our shoes, we ascended the temple stairs amid throngs of worshipers who were engaged in all manner of Hindu rituals including touching the stairs and bowing down at each step, touching the feet of the deity icons and statues, and painting orange markings on their foreheads as some kind of blessing. We both received one of these marks, although any photographic evidence has surely been destroyed. The Hindu religion has more than 3 million deities but is mostly focused around Vishnu, Brahma and Shiva and they were represented throughout the temple in the form of statues and icons inset into the marble walls in various semi-precious stone. There was no photography allowed in the temple, but we did get a nice photo of the temple itself.
At the next temple, a Sikh building, we were underwhelmed by the whole experience (SO not converting!). The temple itself was hideously garish on the inside, with cheaply adorned glittery ceilings and people randomly sitting on the floor in small groups while someone was wailing in the middle to some sort of music. As we left, we were offered a taste of holy food which they give freely to all visitors to the temple as part of their duty to provide service to mankind. Simon gobbled it down and didn't seem to mind that it was distributed directly from the hands of the person manning the booth. James declined. On departing the temple, we got our first taste of the poverty that had thus far been on the sidelines. A disfigured woman approached us and begged for money. Her face was half eaten away by what was probably leprosy, and we both had a tough time walking past her without doing anything.
We made our way to a different part of Delhi to see the Lotus Temple of the Baha'i faith. It is an enormous structure covered in marble in the shape of a Lotus flower with nine leaves. It was an incredibly hot day in Delhi yesterday, even by their standards, and even the breeze was hot (more like a hair dryer blowing in your face than breeze). We trekked a few hundred meters to the temple. While ornate on the outside, it is very simple inside (apparently this is habitual in Baha'i temples). There was a prayer of some kind going on when we got to the building, so we would have had to wait 15 minutes to go inside – given the oppressive heat we decided to forego that and head back to the car for some relief.
We had read in the Frommer's guide about a place with excellent and safe street food and we decided to throw caution to the wind and risk our gastro-intestinal streak of good luck for some authentic Indian street food. It did not disappoint, we each ordered a Kabob inside a roti type bread and after greedily devouring them in mere seconds we each ordered another to take with us. We had now nurtured our souls and our bodies, and we decided to call it a day with the sightseeing and try out the beautiful outdoor pool at our hotel. The walkway around the pool burned our feet as we quickly scurried to the water, but it made the water all the more refreshing as we immersed our pale (Simon more so than James) white bodies into the water. It was the first time since we arrived in Delhi that we felt neither cool nor hot, but rather perfectly refreshed. Despite the 44 degree ambient temperature, we felt almost chilled when exiting the pool, although that feeling did not last long.
The next phase of our adventure is now imminent and we look forward to see what Varanasi (the holy city) has to offer a couple of Canucks who are completely out of their element. Our guide told us that the streets of Varanasi are very narrow and that driving will be much more harrowing than Delhi (Yes, it's true – read below!) – this should be interesting. We also read in the Frommer's guide that the Rickshaws in Varanasi are notorious for not having breaks and stop by ramming into the Rickshaw in front of them – yikes!
—-
We have now arrived in Varanasi, and although it has some similarities to Delhi it looks and feels markedly different. One thing that remains consistent is the heat, it is 41 degrees in Varanasi currently. We were greeted at the airport in Varanasi by our tour representative – one has to keep their wits about them here as someone is always offering to assist and you need to be aware of their motives. While walking to the vehicle with our guide, Simon was assisted by someone with his luggage and then anointed by another man near the car with some kind of red and saffron powder on his forehead – both of course expected money (ever the weak gazelle). Ah well, a few rupees here and there is nothing to us, but obviously meaningful to them. We were whisked from the airport by our driver and guide in some sort of Toyota SUV. The traffic here is relatively non-existent compared to Delhi and the bulk of vehicles are motorcycles. That said, our trip from the airport was kind of akin to a video game dodging and weaving through the narrow streets of Varanasi. The oncoming cars, motorcycles and bikes narrowly escape being crushed by our vehicle and us by the the buses hurling toward us – it's like a game of chicken where nobody chickens out, yet nobody seems to ever get hit. Meanwhile, Simon looked on at the people lining the streets in front of their shanty homes-cum-businesses, laying in the shade with an ox or donkey nearby swatting flies with its tail.
We arrived to the gates of our hotel, Nadesar Palace, and pulled up to what was once a stately Palace that is now run by the Taj Group as a luxury hotel. We were greeted by at least 5 hotel staff: the first dotted our foreheads with some kind earth-coloured paste, we were then adorned with a necklace of colourful beads and finally were showered with flower petals as we made our way to the door, all while somebody was blowing a conch shell horn to herald our arrival. Once inside the door we were presented with cold cloths on a silver platter and offered a glass of delicious fresh squeezed apple juice made from the apples grown here on the grounds. It's so arid and hot here, we're surprised anything other than a cactus can survive. We were then greeted by the hotel manager who offered us his card, complete with his mobile number and instructed to call any time of the day or night if he could do anything to make our stay more enjoyable. They really take hospitality to all new heights in these lovely Indian hotels. We were then taken up to our room, where there was a little bit of confusion as to whether they were showing us to one room or two. I guess they don't get a lot of homos in Varanassi, so the room with one bed must of thrown them off. They were very apologetic for the mixup and we are indeed staying in one room. The room is stunning, complete with authentic charm married with new world conveniences (flat screen, glassed in rainshower, etc.). The original bathtub from the palace remains in the bathroom and is really stunning – a deep steel tub with silver gilded claw feet.
We have a bit of time to rest before meeting our guide for some afternoon adventure. We will be doing some sightseeing and then a boat ride down the Ganges to see the evening rituals on the Ghats (steps) that take place every day at dawn and dusk. We will be seeing dawn's version of events tomorrow morning and will need to be up and ready by 05:00. I guess we will retire early tonight.
You can publish this article on your website as long as you provide a link back to this page.