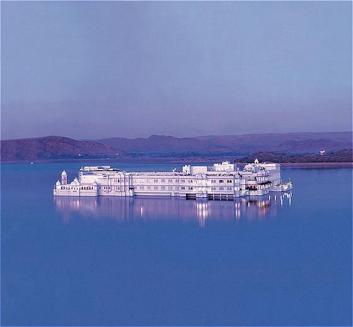 You can publish this article on your website as long as you provide a link back to this page.
This article was last updated on April 16, 2022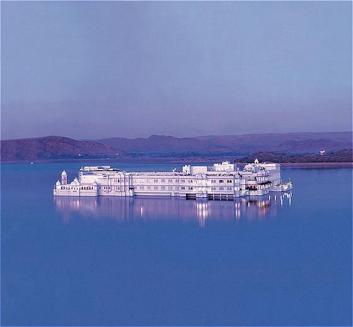 Our time in Udaipur is almost over, and we're getting excited about Mumbai. We have kept minimally busy here with tours, and spent the rest of the time relaxing in the lovely hotel pool and resting in general.
Yesterday morning we visited the largest temple in Udaipur, Jagdish temple. It is built in the traditional Hindi style; a steep flight of very large and narrow stairs leads to a large square platform with a large central temple and four smaller temples on each corner. Ornate carvings decorate the exterior of the temples. They depict the various layers of divinity: along the bottom there are demon faces, then people in various forms and poses including erotic carvings, then a layer of larger carvings of people of a more "divine" nature, followed by a layer of gods above. Before we could see inside the temple, we could hear the beat of drums and singing spilling into the warm, dry, morning air. When we reached the main room, there was a group of about 20 people seated on the floor in the centre. A few were standing and swaying or dancing to the music with their eyes closed, while the others sang, chanted, beat drums, and played other musical instruments. Everyone was smiling. It was very lively and made us think of an Eastern version of a Southern Baptist or Pentecostal church, where the worshipers really lose themselves in the moment with the music. Simon also fixated on the variegated floors of the temple, which were made of a raw granite which almost had a soft texture imparted by the irregular unfinished surface. It was quite beautiful (sorry, no photos allowed in the temple). Carvings and other idols adorned the various walls, and there was a secondary chamber set back from the main room in which could be seen a black marble idol of Shiva the Destroyer.
The Hindu religion is extremely confusing due in part to the enormous number of gods and also because everyone seems to believe that one or some of the gods are more important than others (there is a difference of opinion and spectrum of belief that seems more varied than all the different sects of Christianity). In spite of this, we seem to have been able to apprehend some basics. Hindus generally believe that there is a trinity composed of three supreme beings: Brahma the Creator, Vishnu the Preserver, and Shiva the Destroyer. Each of these gods have various incarnations (e.g. Vishnu has 9 incarnations including Rama, Krishna, and Buddha; his 10th incarnation will herald the end of the world). They each have wives (Lakshmi for Vishnu, Pavarti for Shiva) who are goddesses of various aspects of life and have different incarnations to match a given incarnation of their husbands. Then we have children of the gods. Ganesh, the elephant-headed god, is perhaps the most popular, son of Shiva and Pavarti. Each god has a particular vehicle (an animal such as a bull, a rat, a tiger, etc.) and are usually portrayed with multiple arms and sometimes heads, which represents the many facets of their power and knowledge. Something interesting we learned in Delhi was that Hindus acknowledge that this doesn't make rational sense, and as they enter the temple you can see them touch their head and then temple steps. This represents leaving their mind and reason outside, and using their heart inside the temple, since they believe religion is supposed to touch the heart and the mind can interfere with that.
We ambled from the temple up the road to the City Palace, which is still occupied by the Maharana (this means the same thing as Maharaja, but they cannot call themselves that anymore since they lost all their power in 1974). Construction of the City Palace began in the 6th century and continued over a period of 1000 years. You can see the different influences in the architecture of different parts of the palace depending on when it was constructed – it started with Persian style architecture and then there was Chinese style and finally more European influence. Like most palaces we have seen, parts of the palace are in pristine condition where other parts have been damaged and/or destroyed over the years. Our guide was very knowledgeable about the palace, but due to the heat and the number of other palaces we have seen on our trip so far, we kept him moving along at a pretty good pace.
Our final stop of the morning was the Fountain Gardens. The structure in and surrounding the gardens was rather decrepit, and like every other monument in India there were hawkers at the door selling everything from bottled water to memory cards for cameras. We have learned to ignore these hawkers completely, if you give them any hint of attention they will stick to you like glue and follow you around offering deals (each one better than the last) for tens of minutes in some cases. Blatant indifference comes much easier to James than Simon, but Simon has gotten much better at it as the trip goes on. The gardens themselves were lush and green, which is really quite impressive given the scorched earth that surrounds them (the temperature reached 48 C that day) – if you didn't look at the other surroundings, you would swear you were in Miami. For anyone who doubts global warming, they need to take a trip to India where the temperatures in the North have been rising about 2 degrees a year in the summers for the last 5 years. Udaipur, which is known as the City of Lakes, is virtually unrecognizable as such due to the increasing temperatures in the summers and the decreasing levels of rain in Monsoon season – it's really very sad and water supply is becoming a major problem facing the Northern parts of India.
That evening we went to a cooking class, which has been one of the highlights of the trip for both of us. We met with Shakti Singh, the owner of a local shop called the Spice Box. He led us across the street and up a narrow, labyrinthine staircase to the third floor of a building which housed his cooking studio. It was a small, cramped room with a bench along the walls and a table with a small gas stove in the middle. It was tremendously hot and he had several fans humming at full blast to cool the cramped quarters, but even with the fans James felt like he was going to pass out at one point until he acclimated. We were shown a variety of the base spices used in traditional Indian cooking and walked through preparation and cooking of several dishes, all of which were vegetarian. He gave us recipes for everything that we made, and we made notes as we went. The dinner was simple but delicious, and quite different from what you would get in a restaurant. We learned that restaurants usually have a stock of basic curries and pre-boiled meats and vegetables which they mix together and add whatever extra flavours and spices are called for in a particular dish. This results in an extremely saucy dish (which we love), but normal Indian cooking doesn't have so much sauce, which makes sense since we can't imagine eating that much rich, oily sauce on a daily basis. After dinner we sat for a while and chatted about life in India, and differences with other parts of the world including Canada. Our guide ate with us and joined in the conversation, and we learned a little bit about the importance of family life and food in Indian culture. They generally live with several generations of family in the same home, and dinner is the time when they all come together and talk as a family about everything going on in their lives and where the wisdom of older generations is shared. They are also accustomed to eating immediately before going to bed.
Mr. Singh was very proud about having recently been written up in the Victoria Times Colonist and featured in several other travel guides. He has had a lot of Canadians come in recently for cooking classes. He started his business several years ago as a spice vendor, and people thought he was crazy given the number of similar spice shops in the area. He decided to focus on selling to tourists, but realized that in order to sell to tourists you needed to teach them how to use the spices first, and started his cooking classes. Now he says that the bulk of his business comes from the cooking classes, but he still sells spices in a small shop just across from his studio. We went there after and purchased a few of the spices we had learned about. We also gave him a small gift of some maple sugar candies that we had brought from Canada. He was quite grateful for it, and threw in some black cardamom pods, which are supposed to be more difficult to find at home.
This morning we saw a few more temples. They were older ones, and one of them was partly in ruins and no longer active. Still, the carvings on the exterior are in fairly decent condition and quite interesting to see. On our way out there, we passed hundreds of marble yards. Marble is one of the major industries in the area, and they produce massive quantities of marble, granite, and other stone products in the area. We had originally planned to visit the Lake Palace (where one of the James Bond films was shot) for lunch. It is supposed to be quite spectacular when the lake is full. You have to take a boat out, and the palace is an island in the midst of a lovely deep lake. Now, instead of a lake, there's grass land and flocks of cattle around the perimeter, and there is a small swampy channel that a boat uses to ferry people between the palace and the "shore", all of a 1 minute journey. We were told by our concierge that there is a $50 cover charge just to GO to the palace, let alone eat their extremely overpriced fare, so we decided to skip it and cancelled our reservation. It would be something neat to do if there was a lake, but the sheer arrogance of it was a turn off to us, and we've had enough of hotel food at this point anyway. Instead we opted for a much more reasonable local restaurant for lunch, and then wandered around the local market streets and back alleys prior to hopping in a tuk-tuk (we finally found out that's what the 3-wheeled cabs are called) and coming back to our hotel. On our wandering, all the children we came across ran up to say hello to us. We have found this to be the case all over India, and they often wave when we drive by in the car. It seems they're fascinated by westerners, and we find it really adorable. Even in small villages, the children know how to say "hello" and "where are you from?".
Tonight we plan to feed the animals on the hotel's reserve grounds, and then venture out of the hotel again for dinner. In the evening, we will come back for a reprisal of last night, when we had drinks at the hotel's outdoor restaurant with live Indian performers playing music and dancing under the moon and stars. Then it will be off to Mumbai to finish our trip! We hope everyone is well at home…