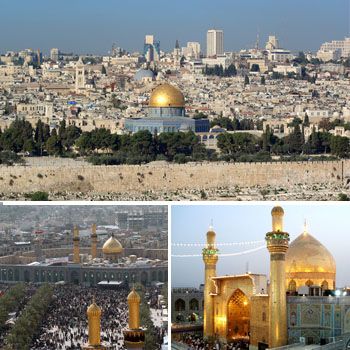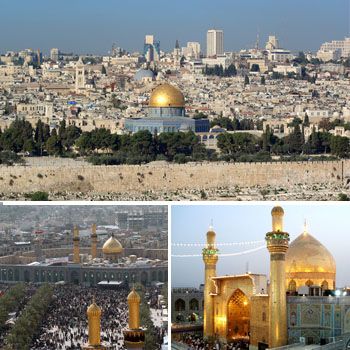 Islamic world heritage is full of sacred sites that have spread all around the world. Wherever one goes, Muslims are likely to find some religious site to keep their religious fervour alive. Let us review some top favourite Muslim religious sites.
Jerusalem:
Jerusalem is the site of first Qibla, before Khaana'e Kaaba was made Qibla later. Jerusalem has religious associations because on the occasion of Mairaaj Sharif, Apostle of Allah (Peace be upon Him) travelled miraculously to Jerusalem to head a congregation of all prophets there.
Both Masjid Al-Aqsa and Dome of Rock are visited as Holy Placed in Jerusalem. This place faces high visitor traffic because it is presumed to be sacred by Christians and Jews as well. Caliph Umar R.A. built a mosque over this Holy site to protect this sacred place and make it a place of worship for Muslims. After the two Holy Masjids in Saudi Arabia, Masjid Al-Aqsa is considered to be the third most sacred place for Muslims.

Karbala, Iraq:
Karbala is also a major religious site of Islam, particularly for the Muslims belonging to Shi'a sect. It is situated near Baghdad in Iraq. Imam Hussain's tomb in Karbala remains one of the most visited place throughout the year. Al-Makhayam is the place where Imam Hussain's camp was located when he was martyred in a deadly battle. It is a sacred place for Shi'a sect of Muslims as well.

Najaf, Iraq:
It is the capital of Najaf province in Iraq. It is another holy place for Shi'a sect of Muslims and one of the best Muslim religious sites in the world. It is a central point of power in Iraq, and is largely visited by visitors coming to Holy shrines all around the year. Hazrat Ali ibn Ali Talib's sacred tomb is in Najaf, so whosoever visits Iraq for these religious sites cannot return without paying a visit to Najaf as well.

These religious sites and other sacred places in Islam are largely visited by Muslims all around the year and especially around
yearly occasions
. Muslims visit them because of their religious associations and the blessings one gathers from visiting such places.
Click HERE to read more from Fashion Central.