This article was last updated on April 16, 2022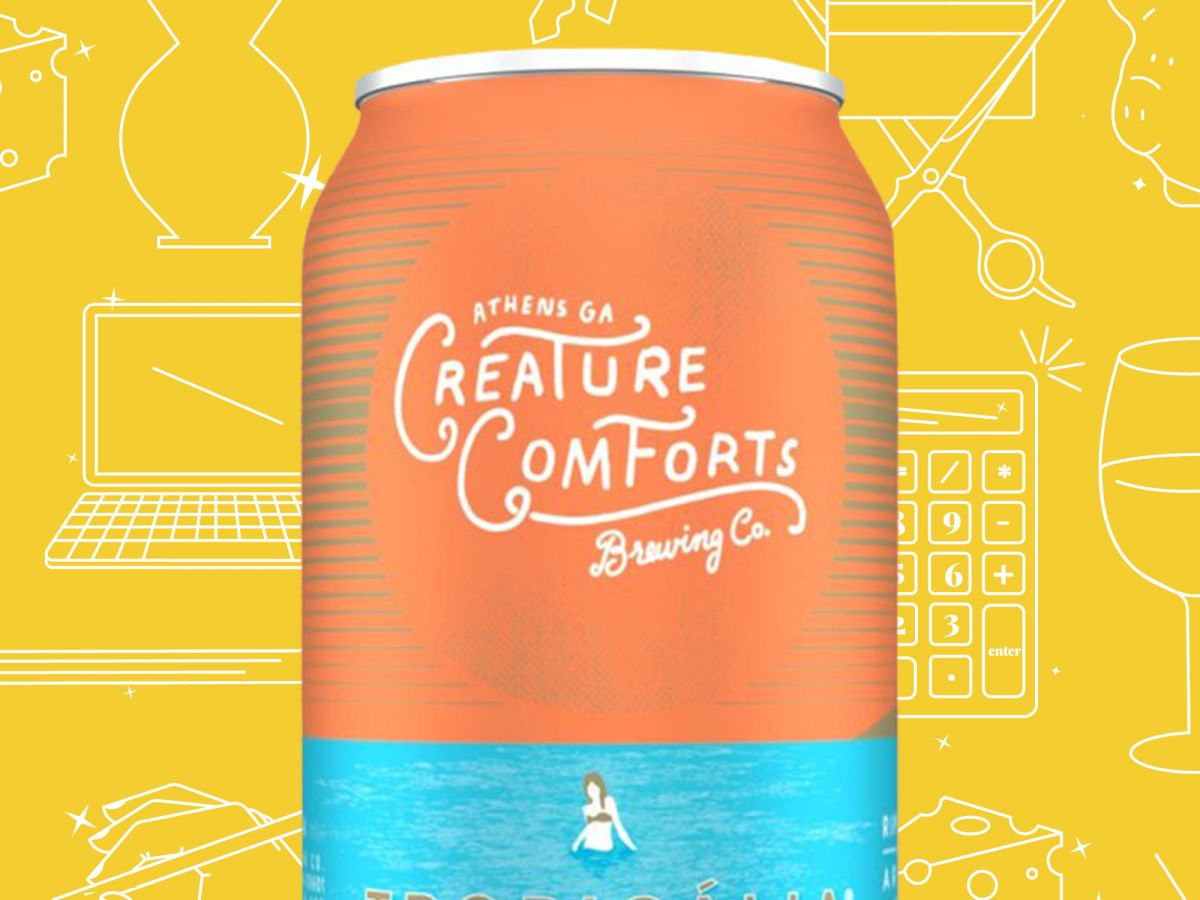 Welcome toMoney Diaries , where we're tackling what might be the last taboo facing modern working women: money. We're asking millennials how they spend their hard-earned money during a seven-day period — and we're tracking every last dollar.
This week: a developer working in IT who makes $72,000 per year and spends some of her money this week on beer.
Occupation: Developer
Industry: IT
Age: 31
Location: Georgia
Salary: $72,000
Paycheck Amount (monthly): $4,494.32
Gender Identity: Woman
Monthly Expenses
Monthly Housing Costs: $575 (I live alone in a one-bedroom behind a big house. It is cheap, but it has not been updated since the 1970s.)
Monthly Loan Payments: $0 (state school + HOPE scholarship = no tuition payments; other scholarships and my parents covered the rest)
Savings: $1,000 (I work for a small company without a 401(k). I put $500 in my Roth IRA and $500 in a general investment fund each month. I have about $25K in my Roth and $36K in my general investments. I also keep about $25K in an emergency fund. It is probably more than I need, but it helps me sleep at night.)
Power & Gas: $150 (Water is included with my rent.)
Health & Dental Insurance: $438.18
Phone: $70
Spotify: $14.99 (I pay for this for my family. My sisters sometimes give me money for it, but I don't really think about it. We all cover each other a lot, so it evens out.)
Internet, Cable, HBO: $100
Wine Club: $40
Car Insurance: $585 every six months
NY Times Crossword: $40 every year
Car Registration (Annual): $72.31 in 2019
Day One
7:15 a.m. — My alarm goes off in the middle of a dream about riding my bike to Canada and not having my passport, so I need to go home and get it. I should get up and do a little yoga, but I don't feel like moving yet. My little sister decides to call me at 7:30 (whyyyy) to tell me something before she gets to school (she's a teacher). I get up after we hang up and look for my passport, because I have an international trip coming up soon and realize I haven't seen it in a while. I find it in my box of important documents, right where it should be. After that, I make my tea, grab overnight oats that I prepped last night, and put together a quick quinoa bowl that I made up last week. I wash my face, put on lotion, eye cream, and sunscreen, brush my teeth, and then head out the door.
8:30 a.m. — I get to work on time, open my email, and spend some time checking to make sure the architecture update we had this weekend didn't break anything on the production client side. I spend the rest of the morning on a small project that came up on Friday.
11:45 a.m. — I don't think I ate enough yesterday, because I am starving today and get my lunch a little early. It is my quinoa bowl with corn, black beans, tomatoes, arugula, avocado, and a cumin/lime/jalapeño dressing from Melissa Clark's cookbook. (I LOVE her recipes on The New York Times, bought her dinner cookbook, and use it all the time. HIGHLY RECOMMEND.) This recipe is good, but I ate it for lunch at the end of last week, too, and am a little tired of it.
12:30 p.m. — I start texting my friend about our bike plans this weekend (my dream about riding a bike to Canada is not completely random). She is training for a full Ironman, but I skipped out on that and am just doing the bike training with her (we've done several half-Ironmans together). We are riding 100 miles this weekend, so I text another friend about a route he has done before. I also sign up for a hot yoga class tomorrow at a small gym close to my house. I paid $275 at the beginning of July for a 20-pack ($13.75/class), because that is the cheapest rate they have, and am about halfway through them (I average about one class/week to supplement my outdoor workouts). I like it because I know other people who go/work there, and I can pay as I go.
5 p.m. — I've spent the past hour checking reports and seeing if anything is running slower due to the weekend updates. My eyes are glazing over, and after a quick email and phone call, I head out. I stop by my parents' house on my way home, because my mom said she brought me a cookie from one of my favorite bakeries that they had at her work today (she is an elementary school administrator). When I get home, I eat the cookie, make some tea, and also munch on some cheese and crackers. I make a grocery and book list and head out to run some errands.
7 p.m. — I go to a used bookstore that buys back DVDs, et al. and drop off a pile of stuff, and they tell me it'll take an hour to process. I get out my book list. This store is organized kinda weird, so I come with a list of books/authors that I am looking for. My list has a lot of books about/set in France, because I have a trip there soon and I like to read about a place before I go. I find a bunch of books on my list, as well as some other books. Some weird man tries to talk to me when I am wandering around, and I try to avoid him as much as I can. Yes, I can carry my books by myself, and please, dude, do not help me… At 8, the buyback people text me and offer me about $20 in store credit for half the stuff I brought. I take it and use it to buy all the books I found, as well as spending more. I buy about 12 books total. Do I need them? No. Do they bring me joy? Yes. So Marie Kondo. $65.50
8:30 p.m. — I stop by Publix on my way home and pick up groceries for the rest of the week. I get stuff for zucchini quesadillas and my breakfasts. I end up buying cheese, baking powder, milk, zucchini, cilantro, tomatoes, avocados, blackberries, and raspberries. This is a lower total week for me grocery-wise, because last week was higher. (I normally yo-yo between about $75–$85 one week and then $25–$35 the next. This is one of those lower weeks, since I have some leftover lunches that I am finishing from last week, as well as some dinners that I will eat out.) $28.74
9 p.m. — When I get home, I put everything away and eat some more snacks. So much for making dinner tonight. I take a shower, read my book ( The Discovery of France by Graham Robb — very good if you are interested in the social history of France; it's not one I bought today, but I need to finish it before I start my new ones), and realize I am exhausted, so I turn my lights off around 10:15.
Daily Total: $94.24
Day Two
7:15 a.m. — Alarm goes off. I wake up to a bunch of texts, but only have the mental energy to respond to my little sister. We text back and forth for a couple minutes as I try to force myself to get up. I grab my overnight oats, put together the last bit of my quinoa bowl (yay for being the last day I have to eat it), and head to work around 8:30.
12:30 p.m. — Lunchtime after a slow morning. I am still trying to get this project done, but I am over it.
1:45 p.m. — My development server goes down and I am so confused, because that rarely happens since it's on an internal network. Apparently, we blew a breaker?? Weird. It takes a little while to get it back up, and I completely lose where I was or what I was doing. So much for being productive this afternoon.
5 p.m. — I was more productive after the server came back, and 5 p.m. hits and I am outta work. I get home and eat cheese and crackers and start prepping Smitten Kitchen zucchini quesadillas. I change and get ready for yoga at 7.
8:30 p.m. — Home from yoga, and I can feel the burn in my core. I put together two quesadillas and broil them and eat them with lime and avocado. The zucchini and cheese mix looks disgusting, but damn, does it taste good.
10 p.m. — I am texting a couple people about plans for later in the week and falling asleep at the same time, so I turn the light out around 10:20.
Daily Total: $0
Day Three
6:55 a.m. — I wake up before my alarm and roll over to check my phone. My little sister texted me at 4:45 a.m., when she got up for her first day of school. I respond to her and then get up around 7:25 to get a little yoga and stretching in.
8:30 a.m. — I get into work and eat my oatmeal.
12 p.m. — I eat my first zucchini quesadilla for lunch with half an avocado. I know that I will be hungry later, so I put the rest of the stuff back in the fridge but plan on eating more soon.
2 p.m. — Yep, hungry again. Second quesadilla time!
4 p.m. — My dad texts the family that he is grilling for dinner. Score! I am swimming at the lake with a friend after work, but I respond that I will stop by when I am done.
5 p.m. — I leave work right on time and head out to the lake. It is about a 25-minute drive from my office, and I beat him there. I run into some other friends, who are also out there to get a short swim in. I have not gone swimming since mid-May, and it is now August… I get out and feel pretty good to start, but when I turn around, my arms start to give out and my pull fails, lol. I finish up at 1,900 yards in 38 minutes, so I am not totally unhappy. I should get that faster by the end of the summer if I start swimming consistently (we will see if that happens).
7:30 p.m. — My sister calls me on my way to my parents', where she is just leaving. We talk for the last 20 minutes of my drive (yes, I have a hands-free device, and yes, I know that I talk to my sister a lot), and then I get to my parents' and eat a bratwurst and chicken. My mom offers to make me a salad, but I just want protein.
8 p.m. — Finally home, and I take a shower and eat some more cheese and crackers. Swimming makes me hungry! I take a shower and start to read Thrones, Dominations by Dorothy Sayers and Jill Paton Walsh (one of my new books — I love Dorothy Sayers and wish she had written more of her Lord Peter mystery books. Her estate commissioned Jill Paton Walsh to finish this book that she never did). Around 10, I tell myself I should go to bed, but I end up finishing it and staying up till 12:30. Oops! I will pay for that tomorrow…
Daily Total: $0
Day Four
7:45 a.m. — Oof. I set my alarm for a little later, but I am still dead tired getting up. I have to get all my stuff together to ride with people after work, too. I grab my overnight oats and make my tea, pack my bike bag, put my bike on the back of my car, and then head to work around 8:30.
1 p.m. — I don't eat till later because the morning is busy, and I forgot an avocado to eat with my quesadillas. 🙁
4:45 p.m. — I skip out of work a little early, because my friends and I are supposed to meet at 5:15 to ride. My gas light came on, so I stop at a gas station and put $20 of gas in, but I pay with a gift card my landlady gave me because she felt bad that my AC stopped working for a couple days in mid-summer (I have a really awesome landlady, y'all. She got it fixed ASAP, but she wanted to do something for me). I get out to the lake, and we plan on riding for about two hours.
7 p.m. — Okay, that ride was really, really hot, so I convinced my friends to turn around early. I rode about 27 miles in 100 minutes, and that was far enough. I think I drank 50 oz. of water, and I am still thirsty after it. I stop by a friend's house to rinse off and drop off my bike, because I am spending the night with her tomorrow and don't need to bring it back into town.
8 p.m. — I meet back up with the girls I rode with to grab burgers. I get a burger with bacon, blue cheese, onions, barbecue sauce, and fries on the side. I eat it all and then finish my friend's fries. I drink two glasses of water, but I am still SO THIRSTY. $12.96
9 p.m. — On my way home, my friend calls me to complain about something going on in her life. By the time I am done catching up with her, my little sister has also called to tell me about her day. Ergo, I do not get into the shower till about 10, and then I have to get all my stuff for spending the night with my friend tomorrow night. I grab all my bike stuff, snacks for my ride Saturday, PJs, and toiletries and throw them in a bag. As soon as I am done, I crash in my bed around 10:45. Good nighttttt.
Daily Total: $12.96
Day Five
7:20 a.m. — I wake up from a dead sleep to my alarm. Ugh…at least I only have to grab everything that I put together last night. I get my oats, tea, and the three other bags I am dragging to work and head into the office around 8:15.
11 a.m. — I take a break from work to browse Paris hotels. I am going to France in two months and have been trying to save most of my money (basically, every time I think about buying something not related to my France trip, I ask myself if I would rather have it or not worry about buying stuff in France. It actually works pretty well, and I have been good about meal planning/not grabbing takeout for the past couple months). I decide that I need to book the hotel for the first night, when I will be by myself before I meet up with my friend in Nice. I also know I will be exhausted after my flight, so I decide to spend a little more to get a nicer hotel than what I would normally spend. I book the one night. $318.54
12:15 p.m. — I eat the last quesadilla and the avocado that I remembered this morning. We have a meeting at 1, so I wanted to be sure to eat lunch before it.
1:30 p.m. — That meeting was not as bad as it could have been. I send a couple emails in follow-up and spend the last couple hours of my day planning out what I will need to be doing next week. I plan for a meeting at 9 a.m. Monday morning to discuss some new reports (semi-groan), but I would also rather get it done.
3:30 p.m. — Please tell me it is time to leave. Summer Fridays are the worst.
5 p.m. — And I am outta here! I spent the last hour of work cleaning out my office and throwing old papers away, and it was very cathartic. I run to the bike shop, because I need to get a new bag for my bike to carry my extra tube, as well as fingerless gloves so I can grip my bike better/prevent my hands from getting sunburned (bike gear is an exception to my "saving for France" rule, since it is practically my social life in the summer). My friend is there getting her bike refit, so I say hi to her and the bike mechanic and grab my gear. $58.31
6 p.m. — I head to a Mexican restaurant down the road, where I meet my friend whose house I am spending the night at. I get steak tacos and eat most of the chips. $14.34
6:30 p.m. — We get to my friend's house out by the river. Sadly, it is way too hot to sit outside on her porch (seriously, it is still like 97 outside), so we sit inside and drink wine. I haven't spent solo time with her in months, and it is so good to catch up. Her husband gets home around 8:30, and he comes in to talk to us for an hour before we all decide that we have to go to bed. I am going to be up early to ride, and they are heading to the mountains early in the morning (also to ride, lol, but they have to drive a couple hours first).
10:30 p.m. — I fall asleep pretty quickly in her guest room but then wake up like 20 minutes later and can't get back to sleep…ugh. I turn on some ASMR YouTube videos after tossing and turning for a bit, and they totally knock me out in less than 20 minutes. I wake up again around 2 and realize that the next video on autoplay is some three-hour ASMR sounds video. I turn it off, but then I can't get back to sleep! So I turn it back on and am asleep in five minutes.
Daily Total: $391.19
Day Six
5:50 a.m. — My alarm goes off. I get up really quietly and try to get my stuff together, but my friend's dog wakes up and starts to follow me around. Sorry, girl, I don't have time to play with you… Happily, my friend's husband gets up soon after that, so she isn't too sad. He offers to make me coffee, but I have to head out to the lake. It is way closer from this house than my house, so it only takes me 10 minutes to get there.
6:40 a.m. — And we are on our bikes! There is a group of seven of us starting, but only three of us are trying to ride 100 miles.
12:45 p.m. — Okay, y'all, my side is killing me, and I decide to head back to the car. My friends turn off on a last side road to get eight more miles, but I have 13 miles left on my own. Damn side stitch…
1:30 p.m. — Back to my car! Ninety-two miles is not 100, but it's not too shabby, especially since I am not actually training for anything right now. I literally drank 40 oz. of water in the last five miles, because it is once again SO HOT. I am eating all the snacks from my car and grab a cold Bud Light from my friend's car and wait for them to finish. I normally don't drink much Bud Light, but it really is a perfect thing to drink after a long ride. They finish about 30 minutes after I do, and we chat for a couple minutes. One friend has to run after her ride, but I finish my beer and head back into town to my parents'.
2:45 p.m. — OMG, Chick-fil-A, why is your drive-thru so slow… I am so angry at everything right now. I finally get my 12-pack of nuggets, large fries, and lemonade and start eating the fries on my way home. I eat about half the meal before I hop in the shower and then finish it when I get out. I seriously don't want to move. $8.95
4 p.m. — I get up because I told my dad I would grab a package off my parents' porch because they are out of town. I've also brought all my laundry to their house, because they have a much nicer washer and dryer than I do. I do one load and sit and think about reading my book, but really that is too much effort.
6:15 p.m. — A friend texts me about grabbing dinner with some other people, so I join them at a Tex-Mex place. I get a quesadilla, queso, and chips, and we hang out for the next two hours. We talk about going to get froyo, but the law of inertia wins and we just stay where we are. I finally head home around 9. $7.83
9:30 p.m. — My sister calls me, and we talk about the wedding she went to this evening, but I am fading hard. I brush my teeth and turn my light out around 10:15. I am asleep in less than five minutes.
Daily Total: $16.78
Day Seven
8:28 a.m. — I didn't set an alarm, and I told myself if I woke up in time for church, I would go, but church is in two minutes, so that's not happening. I get up around 9 and head to my parents' to finish my laundry. I put in a load and then run to Panera to get a breakfast sandwich. I could make my own, but that would require me to do dishes, and honestly, I do not have the energy for that this morning. $5.18
1 p.m. — I spent the morning doing laundry, drinking coffee, and finishing my book ( A Presumption of Death by Jill Paton Walsh and Dorothy Sayers), and it was pretty much perfect. I put my last load in and run home to grab my swimsuit and towel, because I am swimming with friends out at the lake at 3 (the same friends I rode with yesterday). I stop back by my parents' to change over my laundry, and they have just gotten home and give me some pralines they got on their trip. I eat half of one and a bag of goldfish as a snack.
2:30 p.m. — I stop at Publix on my way to the lake. It is my friend's birthday, so I grab cookies and beer (Guinness for him, Creature Comforts Tropicália for me and my other friend), so we can celebrate after the swim. $26.97
3:50 p.m. — We finish our swim and made it about a mile. My arms felt better than they did on Wednesday, so that is encouraging! We sit around for another 45 minutes to eat cookies and drink a beer in the shade. Really solid Sunday afternoon, if I do say so myself.
5 p.m. — I chat with my sister and then get home and take a shower. Then I turn on the soccer game (go, Atlanta United!) and start my grocery list for the week. I realize that I want to cook every meal I see because I am too hungry to grocery shop, so I make pasta with butter, Parmesan, lemon, and capers. It is really good, even if a normal person might say it is heavy on the capers (blasphemy — the limit for capers does not exist). Once I do that, I get really tired and I don't want to go to the grocery store anymore. I make up my overnight oats and decide to make a stir-fry with what I have, so I don't eat out tomorrow. I use onions, bell peppers, chickpeas, garlic, jalapeño, and harissa and also make up coconut rice. I eat a second dinner of that and drink another Tropicália and pack up the rest for two lunches. This is the kind of night that, pre–France trip planning, I would have gotten takeout for dinner and eaten out for lunch tomorrow. However, I would much rather have that $30-ish to spend in France.
9 p.m. — After I finish cooking and eating, it is almost 9 p.m., and I head to my bed and grab my book (back to The Discovery of France — I am the type of person who reads six books at the same time). I read till about 10:15 and then brush my teeth, wash my face, and head to bed.
Daily Total: $32.15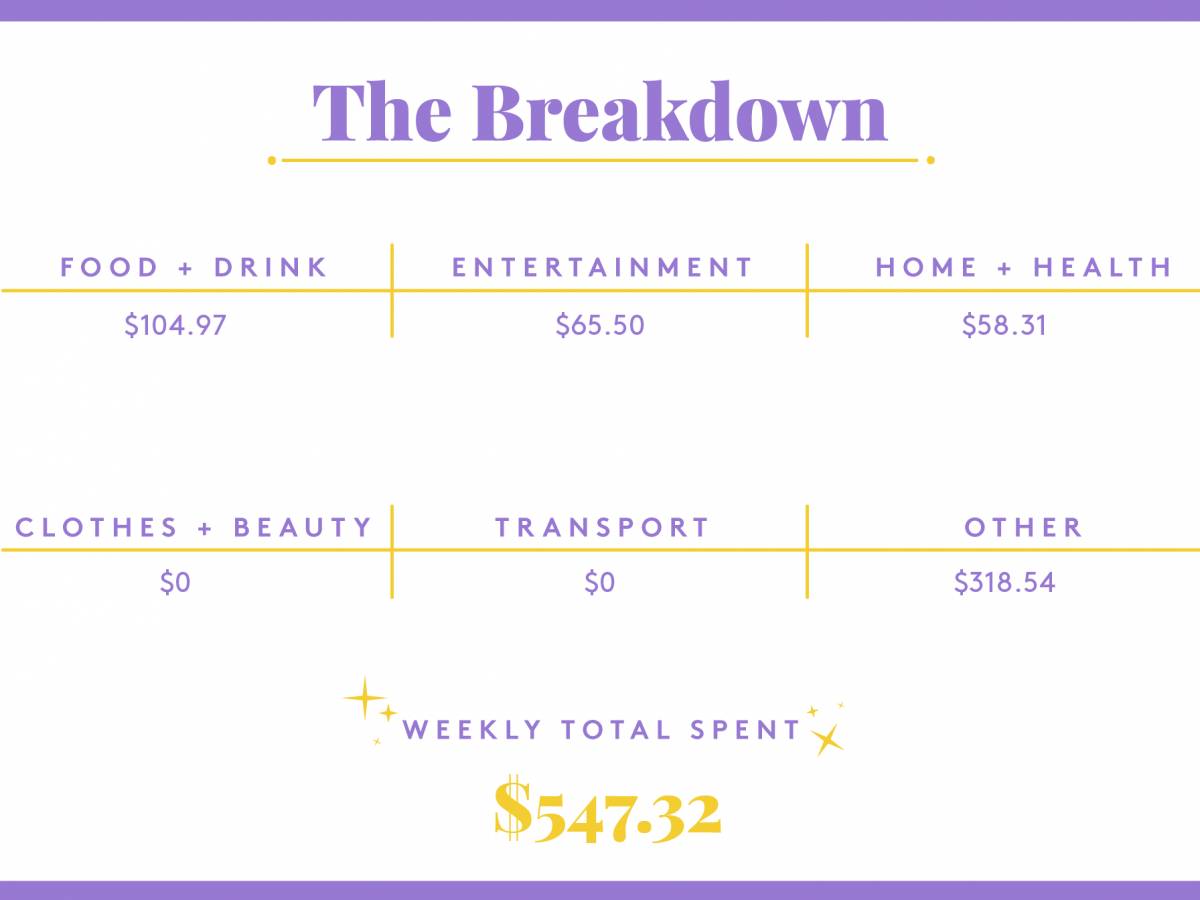 Click HERE to read more.


You can publish this article on your website as long as you provide a link back to this page.
You can publish this article on your website as long as you provide a link back to this page.