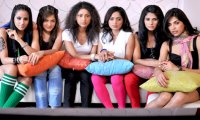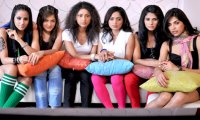 EXPECTATIONS United Six? Errr…, now how would the music actually sound in this one? That's the thought that crosses your mind when you pick the album of United Six. A film which has arrived out of nowhere ironically has only one known name – Pritam – who is the composer here. Still, despite dozens of musical successes that Pritam has given in the past, one doesn't trust 'United Six' to be carrying anything worthwhile that would warrant a repeat hearing. With nil expectations, one plays on the songs that have been penned by Ashish Pandit.
MUSIC The opening beats are the coming together or Punjabi folk and Western rap that actually manage to give 'Waha Bhai Waa' a good beginning. A dance number about a girl who prides herself on having a key to the heart of many a men out there, 'Waha Bhai Waa' is a dance number which actually turns out to be just about passable as it progresses further. With support from Bob who does all the rap, Anushka Manchanda does all at her end to bring some sensuality behind the mike. However the tune is so ordinary that even she is unable to help much. Also, the catch phrase Waha Bhai Waa' appears to be an after thought as it is not quite connected to the rest of the song which also arrives in a 'remix version'.
It is back to discos in the 80s with 'Give it up' taking a Western route. The sound here is the kind that one would have associated with Biddu rather than Pritam as a result of which 'Give It Up' just doesn't manage to rise over the ordinary. Yet again the singers do their job well with Monali Thakur and Suzanne D'mello trying to be all spirited. However not just the tune really ordinary here, the arrangements are half hearted as well due to which United Six fails to take off even as one reaches the mid-point of the film. Perhaps Pritam too realised by this time that he had to do something soon pronto to bring United Six out of total mess. This is the reason why he brings out his ace, Neeraj Sridhar, and entrusts him with the responsibility of singing 'You Are The Reason'. As expected, the man does his job well with 'You Are The Reason' turning out to be one cracker of a number. If the song would have been given to the likes of Saif Ali Khan or Shahid Kapoor, they would definitely made a game out of it because one ends up remembering many a chartbuster songs that Pritam created for them in Love Aaj Kal, Jab We Met and Kismat Konnection. With Ritu Pathak giving ample support to Neeraj, 'You Are The Reason' manages to bring some sanity in the proceedings. Last to arrive is 'Booty Shake' which is kick started by Style Bhai and pronto sees Sunidhi Chauhan taking over from him. Carrying on the same sound which has been created in the album so far, 'Booty Shake' is a number where women protagonists decide to live life to the fullest with not much care for the rest of the world. Though one does sense a Pritam touch in this song, the end results are again not exciting enough to make one go for a repeat hearing.
OVERALL Capable of doing far better in films that justify his brand value, Pritam has done much better in the past. This is the reason why it is disheartening when he creates a soundtrack like United Six which, save for a solitary song, only makes one wonder if the composer should actually be picking up assignments by the dozens.
OUR PICK(S) You Are The Reason