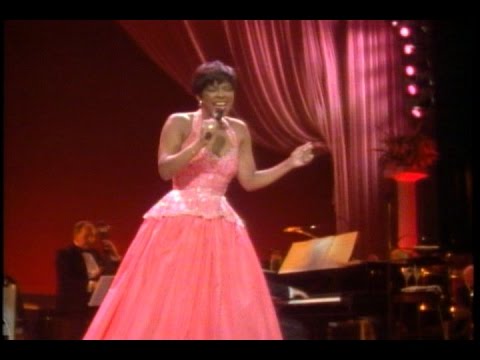 Natalie Cole – The Unforgettable Concert (1992) (photo Thirteen/WNET)
By Stephen Pate – PBS affiliate Thirteen/WNET is playing whack-a-mole taking down Natalie Cole's 1992 concert from YouTube.
Bob Dylan tried the same thing for a decade. Recently his manager Jeff Rosen admitted they missed the window of opportunity to monetize Dylan's unreleased videos over copyright concerns.
When the late, great Natalie Cole recorded "Unforgettable: With Love" as a tribute to her father Nat King Cole in 1991, the album and song Unforgettable won 6 Grammys (1992), sold 7 million copies, and spawned a popular North American tour.
Thirteen/WNET, a major PBS affiliate, recorded Natalie Cole's Unforgettable Tour performance in Pasadena, California in January 1992. It was a wonderful show that spotlighted Natalie Cole's charm, humor and beauty along with her great singing.

Natalie Cole – The Unforgettable Concert (1992) (photo Thirteen/WNET)
It was a night of pop songs, jazz, and ballads with a full orchestra and small jazz combo. Ms. Cole sang the same material as the album and she made it come alive. It is measurable more entertaining than listening to the CD.
The PBS show "Unforgettable, with Love: Natalie Cole Sings the Songs of Nat King Cole" was nominated for 4 Emmy Awards in 1992 and won 2. The title is sometimes shortened to "Natalie Cole The Unforgettable Concert" or "Natalie Cole Unforgettable Concert 1992".
For where to find the CD, LP or video – see the end of this article,
You could watch the 90 minute concert, long out of print from PBS, on
YouTube
until recently when the copyright holder asked YouTube to remove the audio. Underneath the silent video is the notice –
"This video previously contained a copyrighted audio track. Due to a claim by a copyright holder, the audio track has been muted"
Obviously, without the audio who wants to watch it?
I understand the legal and ethical rights of copyright holders to monetize their works. What I don't get is why copyright holders such as THIRTEEN/WNET think this game of whack-a-mole works. As soon as a copyright holder asks YouTube to take down a video, some else posts another copy of the video.
I posted Dylan videos a decade ago until Bob Dylan hired Web Sheriff to take them all down. It hasn't stopped other people from posting more than 3 million Bob Dylan videos on YouTube.
YouTube has become the largest repository of musical performances in the world. You can find almost anything that ever existed on YouTube.
For example, Bob Dylan was impressed and inspired when his girlfriend Suze Rotolo took him to see a production of Brecht's Pirate Jenny. (See A Freewheelin' Time: A Memoir of Greenwich Village in the Sixties) You can watch the original 1931 performance of legendary Lotte Lenya singing "Seeräuber Jenny" in the original 1931 film Die Dreigroschenoper (The Threepenny Opera) on YouTube, something Bob Dylan could only imagine.
Culture for everyone transcends the rights of copyright holders to play dog-in-the-manger hiding their content from the public without providing alternative access.
Thirteen/WNET who presumably own the copyright of this performance has a
YouTube channel
for their original content. They can monetize their content on YouTube.
In any event, anyone who wants to watch the concert can quickly find it again. I'm not suggesting people disobey copyright law but they do.
The 400,000 plus people who enjoyed the Natalie Cole concert over the past two years will have to hunt around to find an upload with audio. PBS is missing a revenue opportunity as long as people remember Natalie Cole, who died in December of 2015.
I wrote Thirteen/WNET archives department to see if they were planning on releasing a DVD or Blu-ray of the concert. They haven't written back yet. If you are interested in this performance, write them yourself at archives@thirteen.org.
It seems a shame to sit on great performances and deny the public a legitimate way to enjoy them. WNET has hundreds if not thousands of great performances in its archives that the public deserve access to and I'm sure many people are willing to pay to license their favorites for personal viewing.
Everybody knows the digital world has broken the copyright system. I think the best way to deal with it is license material for viewing with micro-payments.
You can still get the Unforgettable album "Unforgettable: With Love" in the USA. It's also available in Canada from Amazon.ca. I got my copy from iTunes – it's quick and I like having my music on the computer and all my portable devices – Unforgettable: With Love – Natalie Cole.
Click HERE to read more
The PBS show "Natalie Cole The Unforgettable Concert" was only available on VHS and LaserDisc which are also out of print. There are copies available on eBay and Amazon.com. The LaserDisc is the same video and audio quality as the YouTube version.