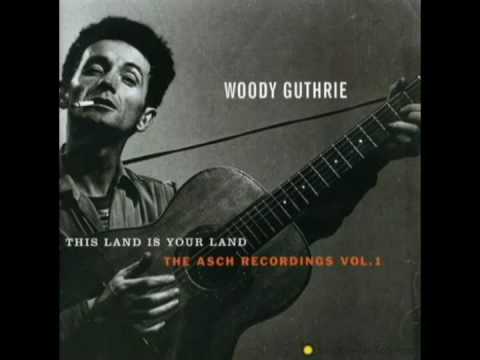 "Most songs that last the longest are the ballads that tell you a story about the news of the day" Woody Guthrie
Woody Guthrie's guitar has sign that said "This machine kills fascists." Not only was Guthrie a communist sympathizer, the German Nazi fascists has just torpedoed the Reuben James off the US coast.
"I can't invent the news every day," said Woody Guthrie.
"Nobody can. But I can do my little job which is to fix the day's news up to where you can sing it. You'll remember it lots plainer if I can make it easy for you to sing the daily news at your job or else at your play hours."
"Such as the Nazi torpedo that blew up this famous American ship before we declared war on Hitler and Mussolini." (Woody Guthrie, as quoted in Robert Shelton (ed.), Woody Guthrie, Born to Win).
Writing 'The Sinking of the Reuben James'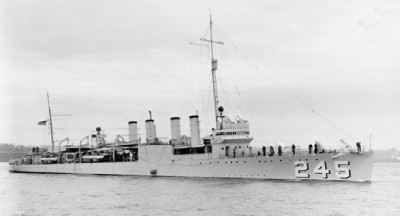 "When the U.S.S. Reuben James was torpedoed by the Nazis off the coast of Iceland in late October [1941], killing 86 and wounding 44, Woody was inspired to write a ballad about the incident.
He decided the best way to humanize the tragedy would be to name all 86 victims, and he set out to do just that (to the tune of the Carter Family's "Wildwood Flower"):"
"There's Harold Hammer Beasley, a first rate man at sea
From Hinton, West Virginia, he had his first degree.
There's Jim Franklin Benson, a good machinist's mate
Come up from North Carolina, to sail the Reuben James.
Dennis Howard Daniel, Glen Jones and Howard Vore
Hartwell Byrd and Raymond Cook, Ed Musselwhite and more
Remember Leonard Keever, Gene Evans and Donald Kapp
Who gave their all to fight about this famous fighting ship." (original lyrics for 'Reuben James')
"Woody brought his completed work to a songwriting meeting in early November and everyone agreed he'd come up with a sensational idea for a song, but all those names were a bit… boring."
"You didn't have to go through all that to personalize it," Seeger argued.
"A rousing agitprop chorus could get the same message across. If you combined a chorus with ballad verses describing the event in detail, it might make a better song. Woody agreed to give it a try and reworked the verses, while Seeger and Lampell developed the chorus that would make the song one of the Almanacs' best-known." (Joe Klein, Woody Guthrie: A Life, London, 1981, p. 209)
The Almanac Singers
During 1940, Woody Guthrie was a founding member of The Almanac Singers along with Pete Seeger, Lee Hays and Willard Lampell.
They wrote and sang topical songs, what became called protest songs during the folk boom of the 1950s and 1960s. Their songs were anti-war, anti-racism and pro-union.
"They were part of the Popular Front, an alliance of liberals and leftists, including the Communist Party USA (whose slogan, under their leader Earl Browder, was "Communism is twentieth century Americanism"), who had vowed to put aside their differences in order to fight fascism and promote racial and religious inclusiveness and workers' rights. The Almanac Singers felt strongly that songs could help achieve these goals." (Wikipedia)
Bob Dylan became a follower of Guthrie, Seeger and The Almanac Singers. Dylan became famous as a protest singer, a label he would later eschew. Dylan said protest songs didn't change anything. However, he never gave up the protest point of view in his music.
"The New York Times explained how he has continuously tried to distance himself from the spirit of the anti-war movement and how his memoirs stress that he "had no interest in being an anti-establishment Pied Piper and that all the 'cultural mumbo jumbo' imprisoned his soul and made him nauseated." (Wikipedia)
"Meanwhile the Almanacs continued producing new material, mostly 'win-the-war' numbers that ran in sharp contrast to the politically obsolete ideals that fueled 'Songs for John Doe.' One of the first songs to reflect this new philosophy was 'Reuben James,' Woody Guthrie's response to the October 1941 sinking of an U.S. destroyer. Gordon Friesen, an Oklahoma native who recently arrived at Almanac House with his wife, Agnes 'Sis' Cunningham, recalled how it was written:
"This song was mainly written by Woody Guthrie. He wrote all the verses but was stumped for a chorus. The other Almanacs felt the song was very good and kept steady pressure on Woody to finish it.

For a while Woody tried to build a chorus around representative names taken from the casualty list appearing in the 'New York Times.' He wanted to convey the idea that the crew of the Reuben James symbolized the fighting unity of melting pot America and fairly begged for some such treatment. On it were Scandinavian, Irish, Anglo-Saxon, Jewish, Spanish derived names — Ghetzler, Evans, Ortizauela, Johnston, Polizzi.

But the idea was too broad for condensation into short petry. Finally at an Almanac session on the problem, someone suggested the line: 'What were their names.' Woody took it from there and finished the song."
(Ronald D. Cohen & Dave Samuelson, liner notes for "Songs for Political Action," Bear Family Records BCD 15720 JL, 1996, pp. 93-94.)

'The Sinking of the Reuben James' by The Weavers (Ronnie Gilbert, Lee Hays, Fred Hellerman, Pete Seeger, Erik Darling, Frank Hamilton and Bernie Krause)
Lyrics The Sinking of Rueben James
Lyrics as recorded by THE ALMANAC SINGERS, New York, NY, c. Feb 1942, and reprinted ibid., p. 105. ORIGINAL ISSUE: "DEAR MR. PRESIDENT," Keynote K-307-B (KEYNOTE ALBUM 111), 1942. [PETE SEEGER, lead vocal]
Have you heard of a ship called the good Reuben James
Manned by hard fighting men both of honor and fame?
She flew the Stars and Stripes of the land of the free
But tonight she's in her grave at the bottom of the sea.
CHORUS:
Tell me what were their names, tell me what were their names,
Did you have a friend on the good Reuben James?
One hundred men were drowned in that dark watery grave
When that good ship went down only forty-four were saved.
'Twas the last day of October we saved the forty-four
From the cold icy waters off that cold Iceland shore.
It was there in the dark of that uncertain night
That we watched for the U-boats and waited for a fight.
Then a whine and a rock and a great explosion roared
And they laid the Reuben James on that cold ocean floor.
Now tonight there are lights in our country so bright
In the farms and in the cities they're telling of the fight.
And now our mighty battleships will steam the bounding main
And remember the name of that good Reuben James.
Covers of The Sinking of Reuben James
The Almanac Singers on Dear Mr. President 1942
Will Geer on Bound for Glory 1958
Johnny Horton on Johnny Horton Sings History 1960
Oscar Brand on Every Inch a Sailor 1960
Kingston Trio on Close-Up 1961
The Chad Mitchell Trio on Reflecting 1963
Cisco Houston on Cisco Houston sings the songs of Woody Guthrie 1963
James Talley on Woody Guthrie and Songs of My Oklahoma Home 1999
Folk Family Robinson on Songs of America (2007). Folk Family Robinson is Chris and Rich Robinson of the Black Crowes and their father Stan Robinson.
Many of the quotes in this article were compiled previously by the website Woody Guthrie and re-printed here with thanks. This story was suggested by 'Sing-along: On Listening to Pete Seeger Perform "The Sinking of the Good Reuben James"" by Bob Cowser, in Huffington Post.
By Stephen Pate, NJN Network
Where to Buy music and books