Halifax blues man and his friends lay down a deep groove for the crowd and CBC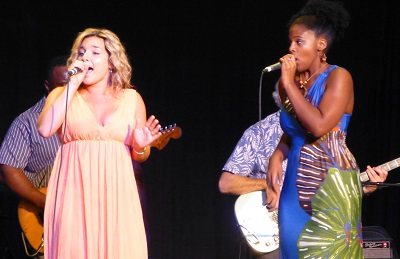 The Joe Murphy Blues Revue kept the heat on Friday night in the CBC tent on the Halifax waterfront.
The mostly over 40 crowd danced the night away like teenagers.
The audience was treated to everything from Zydeco, Chicago blues, boogie woogie, to Texas blues and a stunning chorus line.
Joe Murphy kept the pace going all night with adroit arrangement of songs, soloists and his witty jokes. The band just rolled their eyes and laughed.
It was a CBC featured show at the Halifax Tall Ships Festival, to be broadcast later.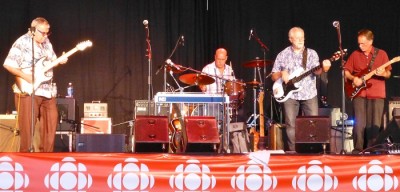 It takes decades to get a groove as tight as veteran blues-men Joe Murphy had in the show. Backed by the seasoned Water Street Blues Band, the night featured top local blues musicians like Carson Downey, John Campbelljohn, Bill Stevenson, and Carter Chaplin.
Joe Murphy and the Water Street Blues Band have been rocking the blues for decades.Their Saturday evening show at Your Father's Moustache on Spring Garden Road has lasted 27 years. Murphy also held court at Bearly's on Thursday nights for years.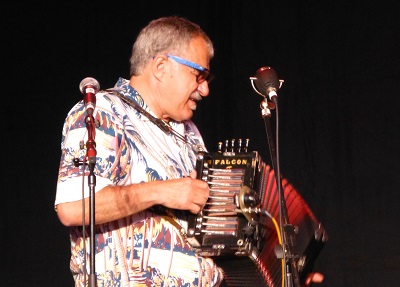 Murphy was sneaking into bars in Halifax to listen and play when he was going to St. Pat's high school during the 1960s. He learned the blues from the great musicians who played locally but he also ventured out to learn from greats like Otis Rush and John Lee Hooker.
Somewhere along the way, Joe learned his mother was Acadian so off he went to Louisiana to visit far-flung Cajun relatives and learn Cajun accordion and Zydeco.
During the Tall Ships, Joe Murphy and the Water Street Blues Band were the busiest musicians in Halifax. Along with Saturday afternoon and the Friday night show at the CBC tent, they played two gigs over at the Casino. A loyal group of fans were at each show.
The Water Street Blues Band cooks. Joe and the band has sympatico. They groove together and enjoy their gigs and the joy goes straight out to the audience. These four accomplished blues musicians have been with Murphy for decades – John Eyman, guitar; Barry Cooke, keyboards; Gregg Fancy, bass and Gary Potts, drums.
Carson Downey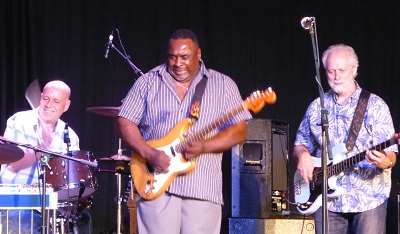 Carson Downey is a blues dynamo who plays so hard and fast I was afraid he would pull the neck off his Fender.
Carson Downey is in a tough spot. He's a black musician playing the blues in a region that likes it white-bread. At times he reminded me of Stevie Ray Vaughn but he is Carson Downey and his own man.
He did a version of "The Thrill is Gone" that would make SRV and B.B. King proud. You should try to see him. I sure want to catch his act in a club soon. In the meantime, check out some of his videos on YouTube. The fan ones at clubs are better than the work CBC did for him since they show his raw energy to better effect.
Bill Stevenson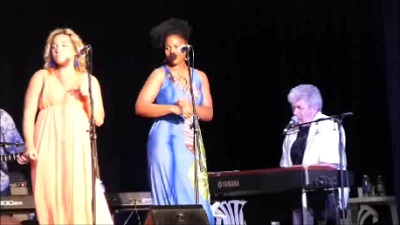 Bill Stevenson is an award-winning keyboard player, singer, music producer and broadcaster who just happens to like the blues. Bill is so accomplished he has a Linkedin profile.
I saw Bill Stevenson the week before backing several artists at the TD Halifax Festival, just before being ejected for taking photographs.
No one was being ejected from the Joe Murphy Blues Revue. Bill Stevenson was letting his hair down with wicked St. Louis blues and boogie woogie piano and animated growl. I like him playing jazz but as a bluesman he rocks.
Bill brought with him the lovely singers Laura Roy and Kirsten Olivia who grooved, did backup singing and then belted out their own songs.
Kirsten performs with the group Asia and NuGruv. Laura Roy recently joined the group.
Carter Chaplin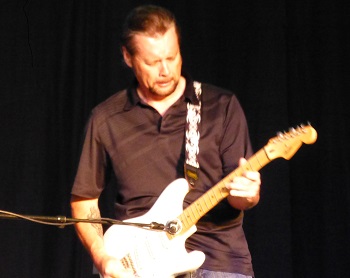 I spotted Carter Chaplin sitting in the audience before he went on stage. There's one bad-ass guitar player, I thought.
Sure enough, when the dude did his time on stage he wowed us. He's like Jimmy Vaughn meets James Dean, all shy backward appearance hiding the anger of a Texas bluesman who means business.
John Campbelljohn
John Cambelljohn was unknown to me until he sat down and played the pedal steel. He took center stage with his sweet, fluid guitar and vocals.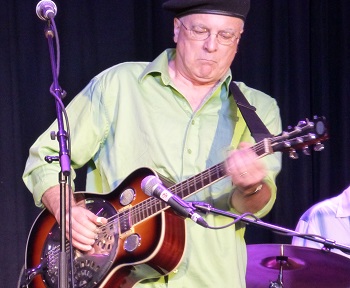 He also played a mean slide Dobro and backed most of the other musicians on stage.
Some say he is a guitar god in making. I worry about gods of any sort let alone mere mortals taking on the mantle from Clapton. Hot licks do no make soul.
John is a great slide payer and a decent blues singer.
None of my videos of the Joe Murphy Blues Revue sound great. I am going to check with CBC and see when this will be broadcast. It was awesome live.
I will try to get a Flickr gallery posted later today. It was one awesome night. Take a few minutes and click through to the artists to hear their stuff.
The Halifax Tall Ships Festival 2012 runs until July 23rd and then moves to the following ports:
Lunenburg (July 25 – 26)
Shelburne (July 28 – 29)
Pictou (July 28 – 29)
Port Hawkesbury (July 25 – 26)
Pugwash (July 28 – 29)
For more details check out the online schedule.
By Stephen Pate, NJN Network