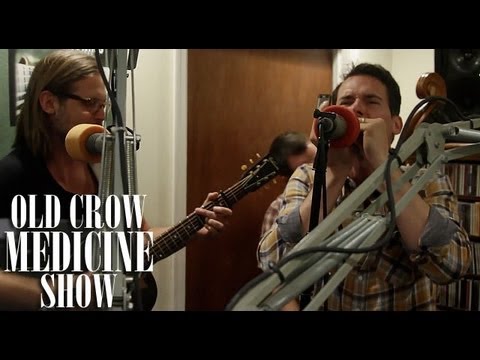 The new CD from Old Crow Medicine Show is a treat for fans of old-timey new folk music with modern themes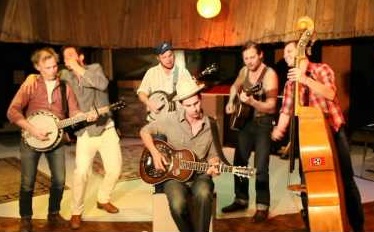 There is plenty to like about the new CD from Old Crow Medicine Show – "Carry Me Back".
It showcases the band's close harmonies, authentic and energetic string band playing and a mix of modern and ancient lyrics.
Old Crow Medicine Show is the band that inspired Mumford and Sons to play folk music.
Old Crow Medicine Show, founded by two high-school friends Ketch Secor and Critter Fuqua, has been recording since 1998. Almost disbanded in 2011, they are enjoying a resurgence in fan interest based on the spectacular success of British folk artists Mumford and Sons.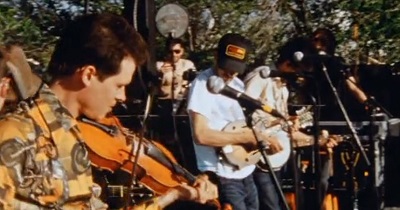 No one could have predicted the storm of interest generated by Mumford and Sons who are playing a high-energy version of American folk, roots and bluegrass music.
Mumford and Sons two-year-old CD "Sigh No More" is #13 iTunes and the unreleased "Babel" is #14. Over at Amazon.com,"Babel" is #2 and "Sigh No More" is # 20. "Sigh No More" has spent an astounding 900 days in the Amazon.com Top 100 for all music, not folk or country.
When I saw Old Crow Medicine Show in the Mumford and Sons movie "Big Easy Express" it was a eureka moment. This group is awesome. I had to hear more.
Carry Me Back

After a CD produced by rock genius Don Was, "Carry Me Back" is a return to Nashville studios and a new label ATO for Old Crow Medicine Show.
The band has returned to their roots. The feeling is all good-time string-band with guitars, banjo, standup bass, fiddle, mandolin and Dobro guitars.
The music is a toe-tapping infectious country, bluegrass, folk whatever you want to call it. It reminds me of the time I discovered The Greenbrier Boys in 1964 with young people playing the good old music with joy and feeling.
There are reflective songs like "Ain't It Enough" which asks "ain't it enough to live by the ways of the world…and love one another for it's only one life that we got."
"Carry Me Back to Virginia" is less John Denver and more Civil War horror story. "Levi" is a modern tale of a country boy shot in Iran "ten thousand miles from a southern town."
"Mississippi Saturday Night" is about those crazy nights in the country when music, liquor and sex get mixed too strongly. I inserted the video with some trepidation since the audio barely approximates the dynamics of the CD.
| | MP3 | CD | Vinyl |
| --- | --- | --- | --- |
| | MP3 | CD | Vinyl |
| Carry Me Back | | | |
| | | | |
| Big Easy Express – with Mumford and Sons and Edward Sharpe and Magnetic Zeros – Blu-Ray and DVD | | | |
"Steppin' Out" is a jug band tune that reflects Critter Fuqua's battles with the demon bottle. "All the while you been steppin' out/ somebody's been easin' in/ every time you paint the town/ drunk on women and gin/ while you hold to the hair, run with the hounds/ somebody's tearin' your doghouse down."
Critter Fuqua was frank in describing his reasons for leaving the band in 2007. "I mean, I left the band, I guess, in '07 after our European tour. You know, I'm a recovered alcoholic now. Back in the day I couldn't stop drinking. I needed help. So I got into this treatment centre in Texas, and my parents live in San Antonio. When I got out of treatment, I knew I couldn't go back doing what I was doing right then because I had priorities, which No. 1 was to stay in recovery and stay sober. So I moved to a halfway house in Kerrville, then got my own place, then liked Kerrville, liked being near my family, applied to college, got in – 'Oh, I'll do an English degree.' Really healed myself in that four years." (
Nucountry
)
Band History
Wikipedia has a decent history of the band page that feels like a fan or family member wrote it. Cute. "Ketch Secor and Critter Fuqua first met in the seventh grade in Harrisonburg, Virginia in Rockingham County, and began playing music together."
Playing in small clubs and busking the band grew to seven members all intent on playing old time music. Luck would have it they were discovered by Doc Watson's daughter who invited them to the Doc Watson MerleFest.
The boys moved to Nashville in 2000 and were encouraged by Marty Stewart and then fell under the tutelage of Gillian Welch and her partner David Rawlings. Marty Stewart's place as President of the Grand Ole Opry got the band work. Welch and Rawlings, two of the most determined performers and promoters of old-time music, promoted the band. David Rawlings produced their albums until 2008′s Don Was production.
In 2004, Old Crow Medicine Show released "Wagon Wheel" which became a cult hit with the chorus "Rock me Momma". The song towers over the group like "Willin'" was the signature song for Little Feat in the 1970s. No Old Crow Medicine Show is complete without a performance of "Wagon Wheel", which has been covered by more than 20 artists including Mumford and Sons and Matt Anderson. The song was certified Gold in 2011.
This is not the type of music that makes a band rich and famous. The music is authentic and eschews Nashville conventions for authentic feel. The economics of a 7-man band are not conducive to having a normal life once young men get to the end of their 20s. Worn down by more than a decade on the road, the Old Crow Medicine Show more or less disbanded in late 2011. Willie Watson had replaced Critter Fuqua Ketch Secor's right hand man during his alcoholism recovery phase
This CD was recorded with Fuqua in guest artist position. Since then, he has re-joined the band and long-time member Willie Watson left.
Some pundits who are familiar with the band regret Watson's departure but welcome Fuqua's return and the return of the band to their roots.
"Carry Me Back" is a great album and is enjoying critical and fan success. The band is currently touring and will appear at the October 14 2012 Woody Guthrie Tribute Concert @The Kennedy Center Concert Hall.
Old Crow Medicine Show Band Page
Thanks to Dave's Diary for details on the CD and the band.
By Stephen Pate, NJN Network
Where to Buy
Available on iTunes and Amazon.com