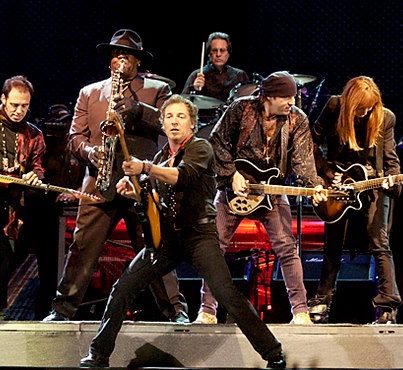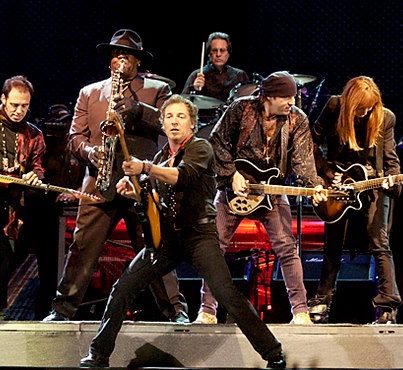 This was totally evident on Friday, Aug 24, 2012, just past 8 pm as the one and only BOSS strode onto the stage at the Rogers Centre in Toronto, Ontario and immediately called the shots as he broke into 'Workin' on the Highway!' to hoots of approval from the standing crowd! With the end of that song straining into 'Hungry Heart', he had the whole arena singing along with him and one could definitely feel the bonding vibes between the 'staff' and the 'boss'! And this was only the beginning!
The show continued with each song slamming into the next without a break! This was the Boss and his rebooted E-Street band at its best! Around the 9.30 pm mark, Bruce jammed away with his guitar buddy little Steven treating the non-stop dancing crowd to some amazing riffs! Steven broke away and in came Nils and the Boss/ Nils duo slammed into a spectacular guitar freakout setting Rogers Centre afire!
Believe it or not, a little later the Boss was 'upstaged' as he brought up a young pre-teen girl from the audience to sing a good portion of 'Waitin' on a Sunny Day!' as the crowd cheered. The little girl had a real melodious voice and actually sang in key and Bruce let her have her day for a while before prompting her to end with 'Come on, E-Street band!' As she jumped off the stage, Bruce quipped 'Canada's got talent!' Yeah, man, it certainly does!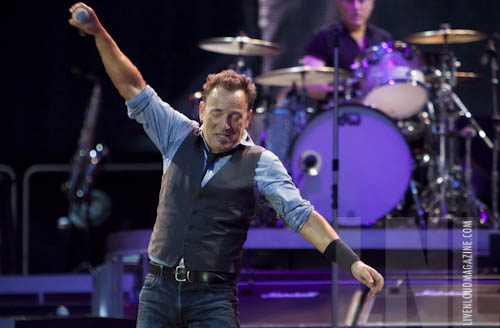 It was an evening of pure rock ecstasy as Bruce played several of his hits. He picked up various hand written requests on placards from the audience such as 'Thundercrack', with a lightning bolt emitting from somebody's buttocks, showing it off to the audience before obliging the person and actually playing the song. He did the same for 'Rosalita'.
He did many of his hits including 'Wrecking Ball', 'Murder Incorporated', 'Candy's Room', 'Born to Run' and more before breaking into 'Dancin' in the Dark' getting everybody into a dancing frenzy and once again calling up the same young girl who sang 'Waitin' on a Sunny Day' to dance with him and then picking her up in his arms and returning her to her family! The girl was all smiles! He also made another woman's evening by answering to a written request on a board to 'dance with my wife for her anniversary!' Yes folks the lovable boss grooved with his 'staff '!
Following that inimitable super high-octane performance, a sweating Bruce treated the audience to some theatre by collapsing to the floor and saying he was dead beat and couldn't go on. He had played for more than 3 hours by then. However, the crowd yelled for more, and guitarist Steven came up with a sponge and dripped water over Bruce to revive him. Bruce got up and, as the true musician he is, sang not one, not two but three encore numbers and went deep into the crowd clapping their hands. With some deadly battering from drummer Max Weinberg, he also rammed into a really long, heavy, granddaddy version of the legendary 'Twist and Shout' that sent the audience wildly twisting and shouting themselves hoarse.
After 3 hours 35 minutes, the night ended with 'Glory Days'. The concert was beyond exceptional and the raw brutal energy Bruce and his band exuded was a categorical assertion that there is still a rock nirvana!
SET LIST

1) Working On The Highway
2) Hungry Heart
3) Sherry Darling
4) We Take Care Of Our Own
5) Wrecking Ball
6) Death To My Hometown
7) My City Of Ruins
8) Spirit In The Night
9) Thundercrack
10) Jack Of All Trades
11) Murder Incorporated
12) Prove It All Night
13) Candy's Room
14) Mona/She's The One
15) Darlington County
16) Shackled And Drawn
17) Waitin' On A Sunny Day
18) Incident On 57th Street
19) The Rising
20) Badlands
21) Land Of Hope And Dreams
22) We Are Alive
23) Thunder Road
24) Born To Run
25) Rosalita (Come Out Tonight)
26) Dancing In The Dark
27) Tenth Avenue Freeze-out
28) Twist And Shout
29) Glory Days