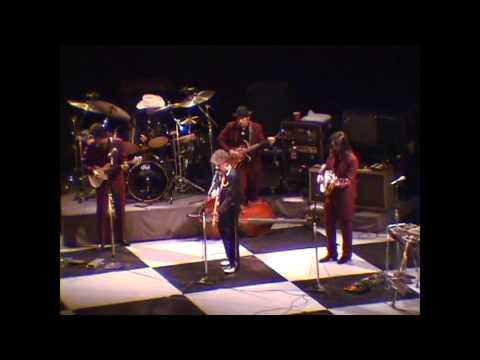 This article was last updated on April 16, 2022
Canada:

Oye! Times readers Get FREE $30 to spend on Amazon, Walmart…
USA:

Oye! Times readers Get FREE $30 to spend on Amazon, Walmart…Bucking recent bad press, critics praise Dylan's Boston TD Garden show

Bob Dylan rare concert video "High Water (for Charlie Patton)"
Still performing at 71 years old has not stopped the run of bad press and fan walkouts on Bob Dylan concerts this fall.
Things have changed Sunday night in Boston, Massachusetts when critics sung the Bob Dylan's praises without apology.
The answer is not blowing in the wind for reviewers at the Boston Globe and CantonRep.com in Connecticut who enthused over the concert.
Can you tell where Dylan sang "High Water for Charlie Patton" in the rare fan video below? It was certainly back in the days when he played his Fender Stratocaster on stage. Leave a comment.
Majestic – Boston Globe
"Bob Dylan roams from jagged to majestic at TD Garden" wrote Scott McLennan in the Boston Globe.

"Aside from his famously ragged voice, Bob Dylan brought a smooth touch to his show on Sunday at TD Garden, spending much of the concert at a piano, hammering out contemplative melodies beneath lyrics that ran from boasts to ruminations."
"The slow burn began with "I'll Be Your Baby Tonight," which Dylan transformed into a ragtime arrangement, chopping up lyric phrasings to fit the tempo shifted from its original country lope. Dylan's voice was full and clear from the start, which isn't always the case, and made for a nice launch."
"Dylan ended his show with "Blowin' in the Wind," which sounded as sincere in its majestic shade of blues as it originally did in a ragged folk setting."

"High Water (for Charlie Patton)" from what concert?
Bob's still got it – CantonRep
"I saw Bob Dylan at the TD Garden in Boston last night," wrote Pete Chianca on the CantonRep.com "and I'll admit I was a tad nervous: I hadn't seen a Dylan show in about 14 years, and I was afraid that in the interim he might have completed his ongoing transformation into a doddering Mr. Mumbles. Turns out I needn't have worried."
"One thing I marvel at every time I see Dylan: Is there any other artist who not only writes new arrangements to basically every back-catalog song he performs, but makes them all sound like they could fit perfectly on his latest album? It's absolutely fascinating to watch — at one point I was sure he was going to launch into "Long and Wasted Years" from this year's Tempest, and instead it was a lilting version of "Visions of Johanna" that sounded like he could have written it six months ago."
"Dylan finished the show with a classic foursome — "Ballad Of A Thin Man, "Like A Rolling Stone, "All Along The Watchtower" and "Blowin' In The Wind" — and did them all justice. But by that point he'd already proven that at 71 — 71! — he's still capable of croaking through some of the most vital and complex songs ever written with a compelling verve that shows that he still cares about what they mean. And so should we."

"High Water (for Charlie Patton)", in the video clip, was released on the 2001 CD "Love and Theft" which is considered by many the best Dylan release of the past decade.
The song us based on blues singer Charlie Patton's "High Water Everywhere", one of the songs about the 1927 Mississippi flood. Dylan recycles lines throughout the song and the album.
Copyright notice – the fan video of Bob Dylan in performance is used under Fair Use / Fair Play provisions of US and Canadian copyright laws for commentary, criticism, news reporting, research, teaching, library archiving and scholarship. No copyright is claimed. All rights belong to the artist and his publishers.
You can publish this article on your website as long as you provide a link back to this page.