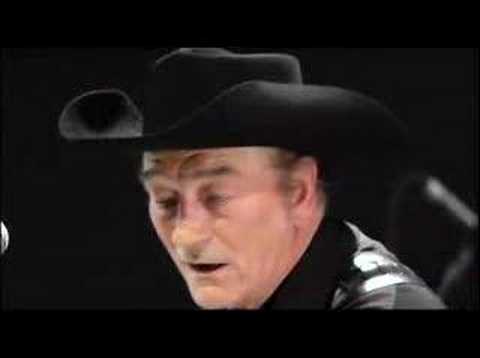 Stompin' Tom Connors the Canadian, working-man's rebel dies at 77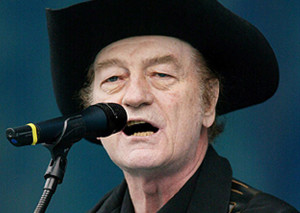 Stompin' Tom Connors, one of Canada's great folk heroes, passed away on March 6, 2013 of natural causes at his home in Peterborough Ontario.
His songs were about Canada, the places from coast to coast, with a focus on the working people from working towns in Ontario.
Stompin' Tom was a fiercely patriotic Canadian in his songs and career.

Stompin' Tom Connors – Sudbury Saturday Night
Throughout his hard scrabble life, Stompin' Tom defied convention, the norms of the music industry and catered to his own fiercely loyal fans.
Stompin' Tom Connors last message to fans
A few days before he died, Stompin' Tom wrote this message for his fans.
"Hello friends, I want all my fans, past, present, or future, to know that without you, there would have not been any Stompin' Tom."
"It was a long hard bumpy road, but this great country kept me inspired with it's beauty, character, and spirit, driving me to keep marching on and devoted to sing about its people and places that make Canada the greatest country in the world."
"I must now pass the torch, to all of you, to help keep the Maple Leaf flying high, and be the Patriot Canada needs now and in the future."
"I humbly thank you all, one last time, for allowing me in your homes, I hope I continue to bring a little bit of cheer into your lives from the work I have done."
Sincerely, Your Friend always, Stompin' Tom Connors"
Stompin Tom Connors the songwriter and singer
Stompin' Tom got his nickname from his habit of kicking or stomping his cowboy boot on a plywood board to keep the time in noisy bars before he could afford a drummer.
His voice was like raspy sandpaper but his songs were straight from the heart about working Canadians and the places where they lived. You don't need much imagination to put yourself in Sudbury at a tavern on Saturday night when you listen to Stompin Tom.
Stompin' Tom wrote more than 300 songs about Canada that he sang like a patriot.
Hard travelling for Stompin' Tom
Born to a single mother in St. John, New Brunswick, Charles Thomas Connors lived on the street, hitchhiking and begging. The Children's Aid Society put him in fosters home until he was adopted by a family from Skinner's Pond PEI at 8 years old.

Life on PEI was no picnic. People adopted boys for free labor on the farm. The "Anne of Green Gables" story starts when Matthew sends for a boy from the orphanage and was disappointed with the girl Anne. What kind of work can she do?
8 year old Tom Connors was expected to work hard on the farm. He ran away from home five times. In his autobiography "Stompin' Tom: Before the Fame" he said his life was nothing better than an indentured slave farm laborer.
Each time he ran away, before the last successful escape, his adopted parents called the police and who picked him up before he got on the ferry to the mainland.
Stompin' Tom Connors – Bud the Spud
Making is escape on the fifth try at age 13, he hitchhiked west to pick up work, living off the road.
In a way, Stompin Tom Connors lived the life of a hobo that Bob Dylan invented for himself. He would work at anything to put food on the table and traveled across the country relentlessly.
Stompin Tom got his big break in Timmins Ontario when he was 28. "Money was a scarcity for Tom during this period in the 1950′s and early 1960′s; it may also have been his big "break", when he found himself a nickel short of a beer at the Maple Leaf Hotel in Timmins, Ontario. The bartender, Gaet Lepine, agreed to give Tom a beer if he would play a few songs. These few songs turned into a 13-month contract to play at the hotel, a weekly spot on the CKGB radio station in Timmins, eight 45-RPM recordings, and the end of the beginning for Tom Connors." Stompintom.com
Stompin' Tom Connors early career
Stompin' Tom Connors did not fit into any of the easy categories of music. He was not considered hip or cool like folk artists. He also didn't affect the Nashville twang of most Canadian country singers.
He was just the man in the black hat, stompin' boots, and songs about working people. That made him a big hit with his fans.
Stompin' Tom Connors – Big Joe Mufferaw
In 1979, after a decade of success, Stompin' Tom handed back his Juno Awards and retired from the music business. Some of his complaints were about selling out the American market and some about the phonies who ran the radios and music business.

In 1986 he came back, founding his own A-C-T Records that specialized in Canadian music. Later he signed with Capital EMI and most of his old records were re-issued.
Since then he continued to tour and bring out new records, a total of 20 in all.
A Stompin' Tom Connors concert was a treat for his fans but increasing took its toll on the aging artist.
Despite his hardships, Stompin' Tom remained a humble man of the people. He did accept awards like The Order of Canada and an Honorary Doctor of Laws without protest but everyone knew deep down he was still a man of the people.
Where to find Stompin' Tom Connors music
Most of Stompin Tom's CD are out of print. You can find almost all of his recent CDs on Amazon.com in the USA ironically, some of it available on MP3.
Stompin' Tom's website also offers great CDs and the DVD of the 2005 Hamilton Place concert video. Some things are out of print but I expect they will get enough demand to re-issue the most popular titles, especially the DVD which is very good.
You can watch most of his songs on YouTube as well.
I leave you with one more Stompin' Tom Connors song, Hockey Song, which CBC should have picked for the Hockey Night in Canada theme.
Stompin' Tom Connors – Hockey Song