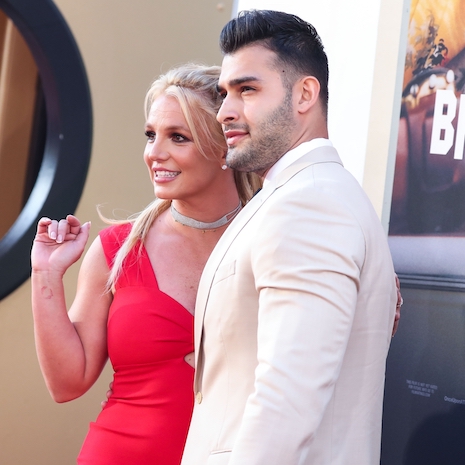 This article was last updated on August 24, 2023
Canada:

Oye! Times readers Get FREE $30 to spend on Amazon, Walmart…
USA:

Oye! Times readers Get FREE $30 to spend on Amazon, Walmart…Today on Page Six, the New York Post had this "EXCLUSIVE" story: Madonna wants Britney to Join Her Onstage on "Celebration Tour"
MADONNA RESCHEDULES WORLD TOUR
Pop icon Madonna has just rescheduled her worldwide tour after being hospitalized due to an infection. The incident forced her to postpone her originally planned shows. As she prepares to hit the stage again, she has a special request for her close friend and fellow pop star, Britney Spears.
A SURPRISE GUEST
Madonna and Britney Spears have been friends for many years. In fact, Madonna was one of the few celebrity guests at Britney's wedding to Sam Asghari last year. With recent news of Britney's husband, Sam Asghari, filing for divorce, Madonna wants to lift her friend's spirits by inviting her to join her on the "Celebration Tour".
RECREATING AN INFAMOUS KISS
The highlight of the proposed collaboration would be a recreation of their infamous kiss from the 2003 MTV Video Music Awards. The moment when the two pop icons locked lips on stage created shockwaves throughout the entertainment industry and remains a pivotal moment in pop culture history.
A FUN WAY TO FORGET TROUBLES
Sources close to Madonna reveal that she believes having Britney join her on stage will be a fun and exciting experience for both the performers and the fans. The opportunity to relive a iconic moment from their past would undoubtedly bring joy to Britney, allowing her to temporarily forget about her personal troubles.
FANS REACT
News of Madonna's desire to have Britney join her on tour has sparked excitement amongst fans. Social media platforms were flooded with messages of support and anticipation for the potential collaboration. Many fans are hopeful that they will be able to witness the iconic kiss being recreated live on stage.
MOMENT THAT DEFINED AN ERA
The 2003 MTV Video Music Awards kiss between Madonna and Britney Spears will forever be remembered as a defining moment in pop culture. At the time, it generated controversy and sparked discussions about female empowerment and sexuality. Today, it is still referenced and celebrated as a landmark moment in music history.
A REUNION LONG AWAITED
Madonna and Britney's friendship has been public knowledge for years, but a reunion on stage is something many fans have been eagerly awaiting. The opportunity to see these two icons perform together again is a dream come true for many. The potential chemistry and energy that they will bring to the stage are sure to make for an unforgettable concert experience.
THE "CELEBRATION TOUR"
Madonna's "Celebration Tour" promises to be a spectacle unlike any other. With her extensive catalog of hits and a reputation for delivering jaw-dropping performances, fans can expect nothing but the best from the Queen of Pop. Adding Britney Spears to the lineup would only amplify the anticipation and excitement surrounding the tour.
INDUSTRY BUZZ
Industry insiders are speculating about the impact this collaboration could have on both Madonna and Britney's careers. The combination of their star power and the nostalgia associated with their past performances is expected to generate significant attention and media coverage. It could potentially elevate both artists back to the top of the charts.
GENERATING BUZZ
The news of Madonna's desire to have Britney join her on tour has already generated substantial buzz within the entertainment industry. Industry experts predict that ticket sales will skyrocket and the demand for a potential live recording of the reunion will be unprecedented.
CONCLUSION
Madonna's plan to bring Britney Spears onstage during her "Celebration Tour" has been met with enthusiasm by fans and industry insiders alike. The opportunity to recreate their infamous kiss and witness these two pop icons performing together again is a dream come true for many. As the tour approaches, the anticipation continues to build, and fans can't wait to see what Madonna and Britney have in store for them.
You can publish this article on your website as long as you provide a link back to this page.