This article was last updated on May 27, 2022
Canada:

Oye! Times readers Get FREE $30 to spend on Amazon, Walmart…
USA:

Oye! Times readers Get FREE $30 to spend on Amazon, Walmart…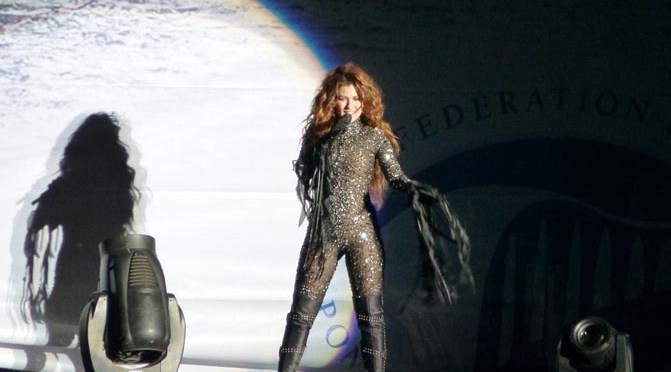 Shania Twain pulled out all the stops with her famous voice and sexy moves plus the lights and video of a top Las Vegas show on a cold PEI night
By Stephen Pate – The night was cold but the music was hot country in Charlottetown for the Labor Day Weekend with International star Shania Twain headlining the concert of the year.
Known for her powerful voice, good looks, dressy and sexy style, Shania Twain put on a show that we will never forget.
There were more than 22,000 Shania Twain fans packed into the Charlottetown Event Grounds, a venue sadly in need of a real name, for a walk down memory with the Canadian singer who made it big by rocking country.
Starting from the end of "Gonna Get You", almost the last hit song for Shania back to "Rock This Country", Shania Twain put on a show that no one will forget.
Backed by six dancers, eleven musicians and three backup singers from the Las Vegas show that has run two years at Caesars Palace, Shania Twain sang and danced her way back into the hearts of the fans she almost abandoned after a long hiatus in her career.
From the first song, there was an instant rush of affection almost adoration for Shania Twain who captured fans with her enormous beauty, powerful singing, and cross between country music and rock and roll.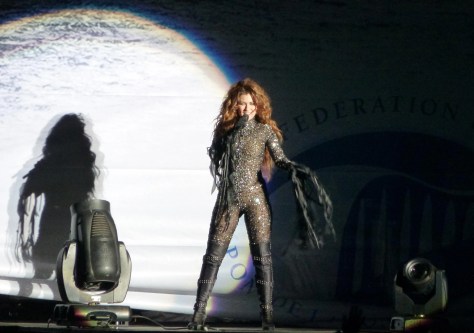 Today fans are used to heavy rock in country music but Shania was one of the first to crossover under the guiding hand of heavy metal producer Mutt Lange her manager, producer and now former husband.
Despite the gasps in Nashville, Mutt Lange produced one country hit after another with a sexy pop and rock style starting with the Grammy winning and best-selling country album "The Woman in Me."
Last night Shania Twain updated the hits from that album with an even hotter style with sizzling percussion, electric guitars and fiddles. In "Whose Bed Have Your Boots Been Under?" we got heel and toe country dancing right off CMT. "Any Man of Mine" was liberated woman's love song and the kettle drums in "(If You're Not in It for Love) I'm Outta Here!."
The arrangements with the big drum kit sound from one drummer was distinctively her style from the 90′s. The sound system was capable of a high level of percussion dynamics without being deafening.
Shania Twain is a beautiful and sensual woman and her fans were treated to frequent and extravagant costume changes from the opening skin-tight bejeweled suit, through leopard skin flowing pant suit, the short-short black dress in her Robert Plant send-up "Feels Like A Woman" to the elegant flowing white formal gown in "From this Moment On" and"You're Still the One." She would peel off layers from each costume set to create even more gorgeous outfits.
Each song blew the audience away with the dancing, singing and music. The video show behind the stage was second to none with animation, videos and sometimes an eye-popping combination of animation and live video from the show. It was very impressive. The videos also gave her a chance to change costume without a dead spot in the concert.
During "Honey, I'm Home" Shania Twain walked down into a fenced off area of the audience to touch and thrill her fans. You just wanted to be there with them.
Shania Twain has the professional stage poise of a top performer but we also got to see her down-home style during a campfire sing-along with a few members of the audience who could only be described as real people. Two men from Halifax, NS wore homemade Shania sleeveless t-shirts. When she tried to elicit a "true-love-from-age-12&Prime story from one couple, they told her it was they're second marriage at which she had to laugh and admit her own. Another man blurted out he was living common law with his wife. Hey it's country.
With one last song, which I think was "Rock This Country" the stage went dark. Shania Twain and her entourage left in black Escalade SUV's.

I say think because I was so cold there are no notes from the concert, except my warm memories and some fuzzy pictures from the wheelchair zone.
After breakfast I will update the pictures from the concert.
I'll have to get out my video of Shania Twain – The Platinum Collection to watch one this afternoon.
Follow me on Twitter at @sdpate or on Facebook at NJN Network, OyeTimes and IMA News Buzz. You can also subscribe and receive notifications of new stories by email.
By Stephen Pate, NJN Network
You can publish this article on your website as long as you provide a link back to this page.