This article was last updated on May 27, 2022
Canada:

Oye! Times readers Get FREE $30 to spend on Amazon, Walmart…
USA:

Oye! Times readers Get FREE $30 to spend on Amazon, Walmart…
Levon Helm Rejoins The Band For The Basement Tapes
By Stephen Pate – In 1966 after touring across the United States and back with Bob Dylan and the Hawks, Levon Helm had enough. As he said in his autobiography, This Wheel's on Fire: Levon Helm and the Story of the Band.
"Richard, I can take getting booed here; this is my country. I can't see taking it to Europe and hearing this shit. And anyway, I don't really wanna be anybody's band anymore.'
(Richard) looked at me and said, "You're gonna leave.'
"How did you know?"
What follows is an edited excerpt covering the period of The Basement Tapes in the book. If you haven't read "This Wheel's On Fire", it's available in paperback or Kindle editions from Amazon.com (or in Canada.) It's a great read.]
Woodstock, New York
[From This Wheel's on Fire: Levon Helm and the Story of the Band] When the early English colonists arrived in New York in 1628 found the Dutch already there so they sailed up as the called the Hudson, and built a stockade and called it Kingston. The Dutch settlers retreated and began to farm the Woodstock valley and the Bearsville flats.

Several important artists' colonies were established after 1900 by wealthy New Yorker's seeking alternative to the organized Bohemianism of Greenwich Village.
By the twenties and thirties, were coming for the summer and putting on plays, and Woodstock had become a full-blown summertime arts colony for welcoming talented people who needed a quiet place to or rest.
Peter Yarrow [Peter Paul and Mary] had spent summers in Woodstock since he was a boy. His mother had some land with a cabin on it, and Peter started bringing his friends in the early sixties.
He took Bob Dylan up to Woodstock as early as 1962, and Bobby spent a lot of time up there in that house with his girlfriend, writing and playing chess down at the Woodstock Bakery.
Milton Glaser, an artist and art director, took Albert Grossman to Woodstock. Glaser is famous for his I Love NY logo and the Bob Dylan poster. Albert fell in love with the place. He bought an old stone house in Bearsville and gave Bob Dylan a private room in back with its own entrance. Immediately, Albert and Sally's became the headquarters of an ever-expanding scene.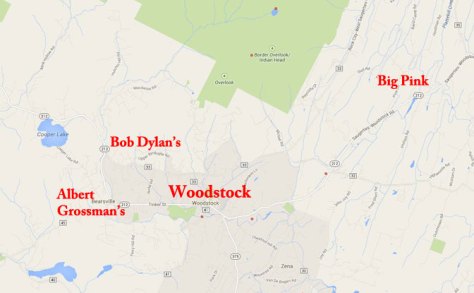 This is where Bob met his wife Sara They got married and moved to an old house in Byrdcliffe in 1965.
After Dylan's motorcycle accident, Albert Grossman suggested to the band that since were on retainer, they might as well move up to the country to closer to Bob, who was getting ready to cut another album. That's how they came to rent the house off Pine Lane in West Saugerties known as "Big Pink."
Rick Danko remembers
'Next thing you know, we trickle up to the country and land at the Woodstock Motel right in the middle of this quiet little rural town.
"Then we got tired of the motel, and I went house hunting and found Pink. It a pink suburban-looking split-level with bedrooms and a long view of Overlook Mountain. It came with a hundred acres of woods and fields and had a pond.
So Richard, Garth and I moved in. Robbie rented a house on the Glasco Turnpike in Woodstock with his beautiful French girlfriend, Dominique. I think they got married right after that.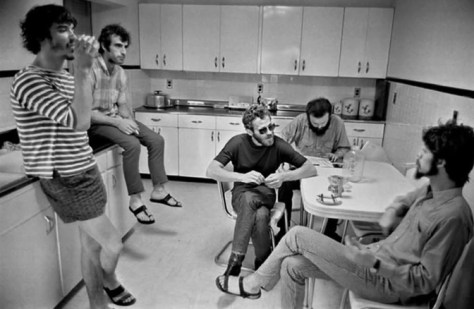 "Big Pink was our clubhouse. Richard did all the cooking, Garth washed all the dishes (he didn't trust anyone else to do them because he wanted them clean), and I took the garbage to the dump, and the fireplace going with split logs. That's how we settled in.

"Bob was having a hard time with the dog one day when I was over at his house. The dog was bigger than Bob, and Bob already had a Saint Bernard pulling him around.
Bob said, 'Please, Rick, take this dog back to the house with you. So I took him back to Big Pink. We went to the vet and I had him groomed.
He looked so great that the next time Sara Dylan saw Hamlet, she wanted him back! But he was our dog by then. He slept on the carpet by the stove through most of the basement tapes music and most of the Big Pink rehearsals as well. That dog heard a lot of music.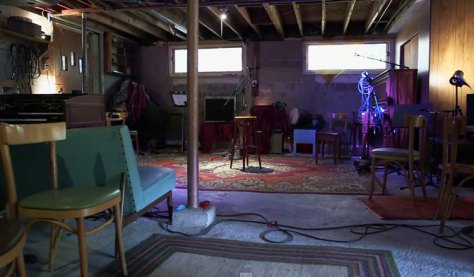 When we'd gotten comfortable, we cleaned out the basement of Big Pink, and Garth put together a couple of microphones and connected them to a little two-track reel-to-reel tape recorder, and that was our studio. For ten months, from March to December 1967, we all met down in the basement and played for two or three hours a day, six days a week. That was it, man. We wrote a lot of songs in that basement. It was incredible!"
While the boys were recording, Rick was busy expending the kind of restless energy it took to convince Albert Grossman that it was time
for us to go out on our own. Warner Bros. was interested. Label chief MO Ostin had sold a lot of records with Peter, Paul, and Mary, and now Albert was telling him we were going to be even bigger. But Capitol Records jumped at the deal.
With a record deal Levon rejoins the band
That's when Rick called me at Mary Cavette's in Memphis, where I
was still watching TV and waiting.

Rick remembers 'I call Levon and tell him we signed the deal with Capitol. They wanna give us a couple hundred thou, Lee. Better come and get your share.'
It's late 1967. The boys told me that they'd been working with Bob on songs and demos since March. He started coming over as soon as
he'd recovered from his injury, usually at the same time every after noon, and they'd all go downstairs and play.
Garth's Revox was used to record these demos, which were sent to Bob's music publisher in New York. Some of the songs already cut had been cowritten by Bob, Richard, and Rick.
They had a typewriter set up in Big Pink's kitchen, and Bob
might sit down and type a few lines. Then he'd wander off, and Richard would sit down and finish the verse.
Dylan and Rick Danko wrote "This Wheel's on Fire." Richard Manuel and Bob cowrote "Tears of Rage", and I could barely believe the level of work they'd been putting out. The demos they cut with Bob included "You Ain't Goin' Nowhere," "Nothing Was Delivered," and "The Mighty Quinn (Quinn the Eskimo). "
There were a bunch of little songs that Bob had written that were kind of funny, like "Please Mrs. Henry," and "Open the Door"
"Tiny Montgomery Homer," which became "Open the Door, Richard" when they got around to recording it.
I could tell that hanging out with the boys had helped Bob to find a connection with things we were interested in blues, rockabilly, R&B. They had rubbed off on him a little with a great rock and roll song called "Odds and Ends,'
"Crash on the Levee (Down in the Flood)" had Bob duetting with Garth's organ. Garth even sang on a couple of songs called "Even If She Looks Like a Pig, Pts. I & 2." The boys had also discovered how to write songs. Bob Dylan had opened it up for 'em.
Levon shows up in Woodstock

When I reported for duty in the basement the day after I arrived in Woodstock, they were working on "Yazoo Street Scandal." Richard was playing drums. It was the first time I'd heard him, and I was just in awe. It was like a force, and he immediately became my favorite drummer.
[The exact date is hard to pin down. It was somewhere after the 71st track was recorded.]
I played some mandolin and sang the vocal. That's how I started to work my way back in. I was uptight about playing, because I'd been away from it for so long, but soon they had me working so hard, there wasn't anything else to do.
Richard was writing and singing up a storm. We cut his "Orange Juice Blues" (also called "Blues for Breakfast' '), with Garth playing
some honky-tonk tenor sax. So when we cut a song called "Ain't No More Cane" in our basement, we tried to do it like that, with different voices. I'd heard this song all my life: My daddy taught it to me, and the legendary bluesman Leadbelly had also recorded a version of it called "Go Down, Hannah."
Our version started with me singing the first verse. Then Richard did the second, Robbie sang the third, and Rick brought it home. We all sang harmony on the chorus, and Garth layered his accordion over everything. Richard played the drums, so I played mandolin.
That recording of "Ain't No More Cane" was a breakthrough. With those multiple voices and jumbled instruments we discovered our sound.
There was contract fever in the air. Bob had recently signed a new five-year deal with his label, and now it was going to be our turn. Bob had left town in October to record his next album in Nashville.
When he came back after Thanksgiving we cut "Nothing Was Delivered and "Long Distance Operator," which Richard sang. I sang "Don't Ya Tell Henry," and we all worked on an unfinished song by Richard and Robbie called "Ruben Remus.
The music from our house well, maybe you know the story. Bob's demo tapes leaked out from his publishers and the musicians they sent them to, and began to be widely bootlegged, initially under the title Great White Wonder. It had been eighteen months since Dylan's last album, and his fans were happy to hear what their idol had been doing during his rural exile. Garth Hudson's funky two-track tapes became the "basement tapes" of legend and renown.
(No one I know except Garth knows exactly how many songs were
recorded, but Rick believes the best of the material hasn't even begun to surface.)
The complete Basement Tapes have been released by Columbia Legacy records in the 138 song The Basement Tapes Complete: The Bootleg Series Vol. 11(Deluxe Edition) and the 38-song highlights The Basement Tapes Raw: The Bootleg Series Vol. 11.
Check out Levon Helm's book This Wheel's on Fire: Levon Helm and the Story of the Band. It's worth reading and I really enjoy it. Buy the book and help out Levon's estate. Surely to God they got nothing from The Band.
Other memories of The Basement Tapes by The Band
For more details on the Basement Taps – see Wikipedia. The article is interesting and balanced.
The book excerpt is copyright Chicago Review Press. In the United States, use of the copyright video is Fair Use under Section 107 of the US Code. Photos by Elliot Landy or stills from the Rolling Stone Magazine video in that video.
Follow me on Twitter at @sdpate or on Facebook at NJN Network, OyeTimes and IMA News Buzz. You can also subscribe and automatically receive notifications of new stories by email. We do not share your email with advertisers. The subscription form is on this page in the left and right columns.
By Stephen Pate, NJN Network
You can publish this article on your website as long as you provide a link back to this page.