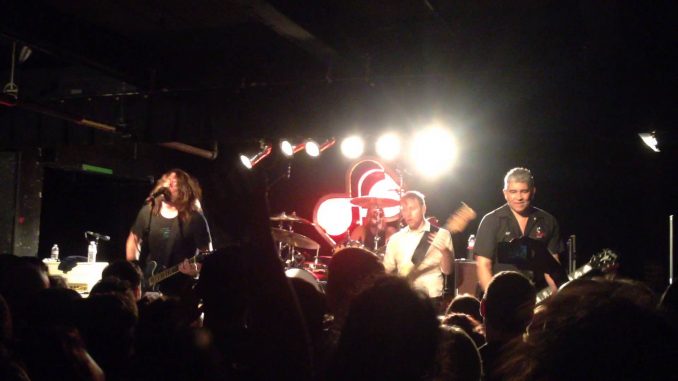 Sonic Highway is my top rock album and a must play every day
By Stephen Pate – Despite all the music I preview and review, Sonic Highways
stayed the CD I spin first every day.
"Sonic Highways" is music that begs to be played at full volume. The band has so much energy and the songs get inside your head.

The second song on the CD, after "Something From Nothing", is "The Feast and The Famine". It was recorded in Arlington, Virginia with plenty of help from the Washington DC punk scene. Pete Stahl and Skeeter Thompson of the punk band Scream help on the vocals.
You can really appreciate drummer Taylor Hawkins rolling thunder behind everything that's going on with the lead and excellent rhythm section and gang vocals on the cut.
Here's the first live performance at The Black Cat club. There is so much positive energy – it gets me going.
"In The Clear" was recorded in New Orleans with the Preservation Jazz Band and takes a less intense tone, still building Foo Fighters with strong guitar riffs and horns.
You might call "In The Clear" lyrical for the Foo Fighters.
Great album. Available everywhere like iTunes, Amazon.com

and Amazon.ca in Canada
.
See: FOO FIGHTERS SONIC HIGHWAYS ROCKS
Follow me on Twitter at @sdpate or on Facebook at NJN Network, OyeTimes and IMA News Buzz. You can also subscribe and automatically receive notifications of new stories by email. We do not share your email with advertisers. The subscription form is on this page in the left and right columns.
By Stephen Pate, NJN Network