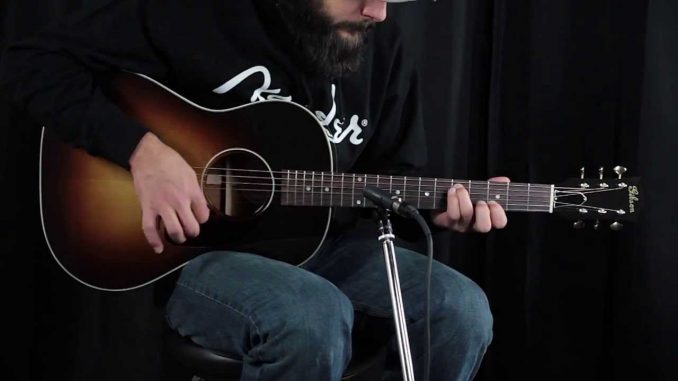 Bob Dylan fans love to speculate about the guitars Bob Dylan plays – here's a unique one the Gibson LG-1
By Stephen Pate – One day in 2006, Aaron Warren was touring the Gibson Bozeman plant. He spied something different in the final setup area. There were two guitars with Bob Dylan's work order attached.
Photo caption: Dylan's Guitar Sign This was the tag they put on Dylan's guitars so they didn't get sent out to anyone else. Photo Aaron H. Warren Flickr creative commons
Intrigued he took a few snaps with his phone and posted them on Flickr. What's different is that the guitars are labelled as Gibson LG-1, a model that has not been made since the 1960s.

"The day I toured the Gibson factory Bob Dylan called and ordered 2 guitars, this was one of them," wrote Aaron Warren. "I was able to play it before Bob did."
"Hey Bob, your strings are way to light and too low, but good choice of guitar!"
The LG-1 is a small body guitar with spruce top and mahogany sides and back, similar to the J-45 but smaller.

"This was the other guitar that Bob Dylan ordered. This guy takes care of all of the celebrities guitars."
In 2006, Dylan was probably trying to find a smaller guitar that would accommodate the rumored arthritis he has. It is quite common for guitar players to get arthritis in their 60s due to over use.
I couldn't find anything but vintage LG-1's for sale but Gibson does make the LG-2 as a custom guitar from time to time. Pictured below is the Gibson LG-2 Americana

Here's a video of a new LG-2 and one for sale on e-Bay for $2,400.
This gentleman is selling his vintage LG-1 model and recorded this short video.
This sighting does add to the list of guitars that Dylan has played. I could not find a picture of Dylan and the LG-1 circa 2006.
Thanks to Aaron Warren for the photographs.
Follow me on Twitter at @sdpate or on Facebook at NJN Network, OyeTimes and IMA News Buzz. NJN has a site icon or Favicon you can save to your desktop or Favorites bar to make it easy to find. You can also subscribe and automatically receive notifications of new stories by email. We do not share your email with advertisers. The subscription form is on this page in the left and right columns.
By Stephen Pate, NJN Network