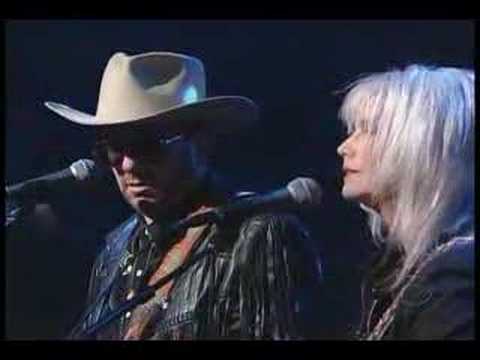 This gorgeous country song performed in harmony with Emmylou Harris is the reason every guitarist must own a tremolo pedal
By Stephen Pate – This performance from The Letterman Show is a grand duet of one of the great Felice and Bordleaux Bryant songs.
The song is best performed with a serious tremolo pedal. That is how they get that dreamy guitar sound. I like Boss TR-2 Tremolo Pedal

since it's simple and costs about $100. (
Canada
)
Other people like the Danelectro DJ-5C Tuna Melt Tremolo Mini Effects Pedal

at $30. (Canada)
Or the $200 multi-effects pedal Zoom G3X – Guitar Effects and Amplifier Simulator with Expression Pedal

. (Canada

)
Which ever pedal you use playing "Love Hurts", make the effect wide and deep for that gorgeous dreamy sound.
Elvis Costello and Emmylou Harris
Elvis Costello and Emmylou Harris were on The Letterman Show promoting the 2004 tour together. While the tour featured music from his recent release The Delivery Man

, Emmylou Harris inspired Elvis Costello to reach into his love of American music for great country songs. Anyone graced with the presence of Emmylou Harris should feel equally inspired.
The tour was captured on the Blu-Ray Elvis Costello & the Imposters: Club Date – Live in Memphis [Blu-ray]

. The concert is also available as DVD Elvis Costello and the Imposters – Club Date – Live in Memphis

.
The tour video is also available from iTunes to buy or rent – Elvis Costello and the Imposters: Live In Memphis.
Tracklisting
1. Waiting for the End of the World
2. Radio Radio
3. Mystery Dance
4. Blue Chair
5. Bedlam
6. Country Darkness
7. Blame it on Cain
8. Either Side of the Same Town
9. High Fidelity
10. The Judgement
11. Monkey to Man
12. The Monkey
13. I Still Miss Someone (with Emmylou Harris)
14. Heart Shaped Bruise (with Emmylou Harris)
15. Wheels (with Emmylou Harris)
16. The Delivery Man
17. Hidden Charms
18. Alison / Suspicious Minds
19. Peace, Love and Understanding
20. Pump It Up
Bonus Features:
• Full performances of: My Baby's Gone (with Emmylou Harris), There's A Story In Your Voice, Button My Lip, Sleepless Nights (with Emmylou Harris).
• "Off The Beaten Path" – 52 minute "Road Trip" documentary with Elvis and Pete.
• Radio And The Fan.
Follow me on Twitter at
@sdpate
or on Facebook at
NJN Network
,
OyeTimes
and
IMA News Buzz
. NJN has a site icon or Favicon you can save to your desktop or Favorites bar to make it easy to find. You can also subscribe and automatically receive notifications of new stories by email. We do not share your email with advertisers. The subscription form is on this page in the left and right columns.
4.5 / 5 stars
By Stephen Pate, NJN Network