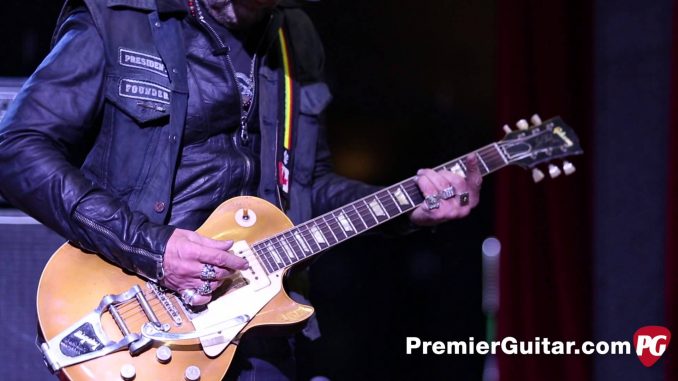 Dylan Producer of Oh Mercy and Time Out Of Mind demonstrates his technique and gear
By Stephen Pate – It's almost a crime to put my name on this story because it belongs to Daniel Lanois, the U2, Bob Dylan, Neil Young and Emmylou Harris producer who is also a unique performing artist.
Daniel Lanois is a rock and roll artist with strong ambient roots nurtured under the tutelage of Brian Eno.

Daniel Lanois is a Canadian musician producer who originally studied under Brian Eno. When Eno retired he left Lanois with a prize client – the new band U2 and the album The Unforgettable Fire

. It all came together for Lanois and U2 with the Grammy award-winning next album Joshua Tree

.

When Bob Dylan was wandering around in the 80s wilderness trying to find his new direction, the one we all love today, Bono recommended Dylan try Lanois.

Somewhat reluctantly Dylan hired Lanois and the two hunkered down in an ancient New Orleans mansion to produce the atmospheric Oh Mercy

. Despite the differences of opinion with Lanois that Dylan wrote up in Chronicles

, and which Lanois doesn't discuss, Oh Mercy was Dylan's best work in 10 years.
Ten years later, Bob Dylan called on Lanois one more time and won the Grammy for Time Out of Mind

. Great art is born out of conflict and stress.
Most artists consider their technique a trade secret. There are guitarist with special skills who turn their backs to the audience so we can't see their fingers and who went to their graves without passing their techniques on. Daniel Lanois is what you would call open to discussing anything about his art and craft. His DVD Here Is What Is

is a mind-blowing revelation of his studio technique.

Daniel Lanois just gave Premiere Guitar Magazine a Rig Rundown that tells all about his stage technique including how he plays his instruments. Rig Rundown rarely gets the artist but Daniel Lanois is a great sharing musician willing to share his technique
In the Premiere Guitar video, for which we are deeply grateful, Lanois explains both his rig and technique on the steel guitar, Les Paul and 8-track ambient music that is part of his current tour with music from the new CD Flesh and Machine

.
There is something in the video for guitar, amp, signal chain, and pedal gearheads plus players who want to expand their technique.
There are dozens of surprises for me, one of which is Lanois' use of ProTools. A few years ago he dumped all over ProTools but then the software has gotten better, good enough to run his shows on a MacBook.
Nothing is really that exotic but he does use everything in a different way.
Main gear take-away Like many musicians, Lanois tries to use gear he is familiar with and loves the vintage kind. Vintage has ambiance, the old sound and vibe, but it also has amps with worn out parts, guitars that vary from fantastic to dull, and issues that keep your gear in the repair shop.
To keep us from going broke, I put together some less expensive sources for almost the same gear.
Guitars and amps
'70s Sho-Bud LDG 10-string pedal steel guitar with George L E-66 humbuckers
The Sho-Bud company has been bought by Gretsch, now Fender and all they sell are t-shirts. Check out eBay and other second-hand sources for vintage Sho-Bud guitars.
1953 Gibson Les Paul goldtop – mods Firebird mini-humbucker, Bigsby tailpiece, Tune-o-matic bridge
You can buy Gibson Custom Shop '54 or '57 Les Paul Goldtops today, brand new. Since Lanois has changed the pickups, his rig is closer to a '56 than original. This gorgeous and highly playable guitar the Gibson Custom Shop 1956 Les Paul Goldtop Electric Guitar, Antique Gold

will set you back $4,700 but you will not need another to play rock and roll, which is the secret of a great guitar. In Canada the Gibson Les Paul Custom Goldtop is about the same price, a miracle considering the US/Can $ difference. There was a Les Paul Deluxe Goldtop on sale over the holidays and I resisted the temptation since I knew only the real thing would be the right guitar.
'60s Vox AC30 (dry)
The Vox AC30 is still in production and a popular amp. They range from $1,100 for the Vox AC30C2TV 2×12&Prime 30-Watt Tube Combo LTD Two-Tone

to the Vox AC30 Handwired 30 Watt Tube Head

that needs a cab. I also found the wonderful Vox AC30 Combo Guitar Amplifier Handwired. A friend had one of these – they are beyond for sound and power and not bad at $1,900.
1958 Fender tweed Deluxe (wet)
I am with Lanois on this since I'm partial to my Tweed amp, not a big as this one, but they do have a special sound. Fender are making these vintage series amps because everyone wants one like the Fender '57 Deluxe 12-Watt 1×12-Inch Guitar Combo Amp

. In Canada as Fender 57 Deluxe Guitar Amp. The Fender Tweeds are amps you want to keep.
Pedals
Korg SDD-3000 digital delay
The SDD-3000 was and is Edge's signature delay. He has 15 of these rack mounted jobs but today you can get the same thing in a pedal, designed and approved by Edge's guitar tech. The Korg SDD-3000 Programmable Digital Delay Pedal

has all the features of the rack mount with more modern electronics. I was in the market for a better delay pedal so this one is my first choice in Canada – Korg SDD-3000 Programmable Digital Delay Pedal.
Boss TU-3 tuner
The BOSS ROLAND COMPACT PEDAL TUNER – TU3

is your basic tuner and a standard. In Canada Boss TU-3 Tuner is the same price as the US. I like LA Music for that.
Morley Optical Volume
Morley EOV Optical Volume Guitar Effects Pedal Black

.
Backing tracks onstage
Pro Tools
Avid Pro Tools 11 (with DVDs) -Channel Audio Software

Antelope Orion 32 AD/DA
If you buy the Antelope they throw in ProTools Antelope Audio Orion32 – ProTools 11 Bundle 32 Channel AD/DA and Master Clock, ProTools Software and FREE Avid Fast Track Solo Interface

Apple MacBook Air
Apple MacBook Air MD760LL/B 13.3-Inch Laptop (NEWEST VERSION)

Mackie 1604 mixer
I had one of these industry standard mixers, very reliable and quiet – New Mackie 1604VLZ4 16-channel Compact Analog Low-Noise Mixer w/ 16 ONYX Preamps

.
Ampeg SVT-CL
Ampeg SVT-CL Classic Series 300-Watt Bass Amp Head

TC Electronic D-Two
TC Electronic D-Two Studio/PA Multitap Rhythm Delay Processor

Lexicon Prime Time
[Still working on this one]
By Stephen Pate, NJN Network